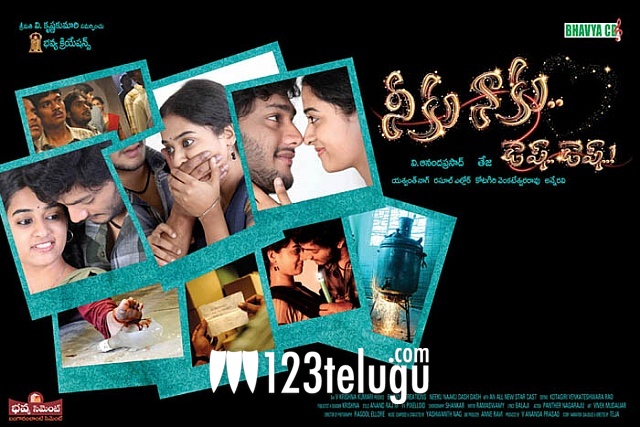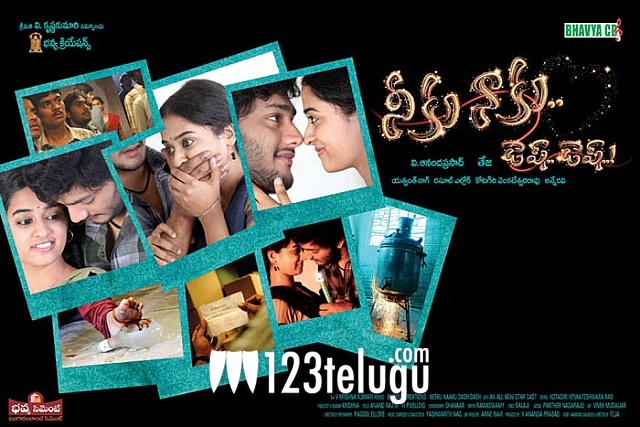 After a long hiatus, director Teja is all set to hit the screens with a new film which has been titled 'Neeku Naaku Dash Dash'. The audio album of this movie was launched yesterday evening and Yashwanth Nag has composed the music. Let us see how the songs stack up.
1, Song: Boy Boy
Singers: Deepak,Saranya,Gayatri,Sindhu
Lyrics : Sai

This peppy number will most likely be the introduction song of the hero and the heroine, the kind that is set in college campuses. Yashwanth Nag's music is pretty fast paced and there is a nice fusion of Western and Indian instruments. The vocals are handled with a lot of energy and the song is quite pleasant to listen to. Sai's lyrics are decent. Overall, a good number.
2.Song: Nuvve Nenanana
Singers: Yashwanth Nag
Lyrics: Anand

This soulful solo number has been rendered by Yashwanth. A heavy use of the synthesizer and percussion instruments can be observed in the musical score. The song describes the hero's intense feelings for his lady love. Musical score should complement the vocals in these kind of songs and it should not be the other way round. Good number but the recording could have been better. Anand's lyrics are ok.
3.Song: Chekumuki Vadana
Singers: Abhiram, Lipsika
Lyrics: Balaji

This is a breezy romantic duet that is rendered well by Abhiram and Lipsika. Yashwant's musical score is pretty routine but manages to keep the tempo of the song alive. Balaji's lyrics do the job. Not an extra-ordinary track but pretty decent. The song describes the leap pair's feelings of love for each other.
4.Song: Neekopam
Singers: Naresh Iyer, Chinmayi
Lyrics: Balaji

This is another romantic duet from the album and it is pretty ok. The vocals are taken care of by Naresh Iyer and Chinamayee. Chinmayee's voice stands out for its melodious timbre. Lyrics are pretty average and they do not have the necessary emotional depth to take a song of this kind to the next level. Yashwant's music is pretty ok. Again, nothing spectacular but not bad either.
5.Song: Aapakura
Singers: Dheeraj, Shruti
Lyrics: Balaji

This is yet another duet from the album and it starts off as a slow melody with very western beats. Shruti's voice oozes with passion and she does a good job with the vocals. Dheeraj is just about ok. Yashwant's music could have been better and the score does not really gel with the mood of the song. Expect a very erotic picturization from Teja for this song. Good music would have really elevated this track but it ends up being a very average number. Balaji's lyrics are not upto the mark.
6.Song: Parugu Parugu
Singers: Yashwanth, Balu
Lyrics: Balaji

This is a rousing bit song that will most likely be used as a background score in some chase sequence. The number has Teja's stamp all over it and the tempo builds up solidly with a terrific score that will succeed in stirring your emotions. Yashwanth and Balu do a good job with the vocals and Balaji's lyrics are decent. This number will make a huge impact if shot well.
7.Song: Dash Dash
Singers: Yashwanth, Kalpana
Lyrics: Anand

This rustic number is without a doubt the most enjoyable number from the album. The double entendre in the amusing lyrics will allow you to draw whatever meaning you want to and the vocals are taken care of beautifully by Yashwanth and Kalpana. The incredibly addictive music with folkish overtones is perfect for the song's mood and it gels beautifully with the lyrics. You will easily get addicted to this number and if shot well, this song will make a strong impact.
8.Song: Praanam ani Thalach
Singers: Yashwanth
Lyrics: Balaji

This is a sad solo number rendered by Yashwanth. Balaji's lyrics are just about ok and somehow, the song fails to impress. The required emotional depth is not carried forward to the listener. This song will most likely be picturized on a sad and depressed hero. Nothing remarkable about this track.
Verdict :
Neeku Naaku Dash Dash is a trademark Teja album. You can see the folk number, the duets and the rousing bit numbers he is famous for. Yashwant Nag's music shines through in a few numbers but is largely routine most of the time. 'Dash Dash' is the highlight number from this album and it is highly enjoyable. As for the other numbers, they are just about decent. With the audio album of Neeku Naaku Dash Dash, Teja has got himself a dependable platform to take the movie forward. Let us see if he can work his magic like in the old days.
K.S.Mahesh

నీకు నాకు డాష్ డాష్ ఆడియో సమీక్ష ని తెలుగు లో చదవండి
Articles that might interest you
Ad : Teluguruchi - Learn.. Cook.. Enjoy the food
Comments