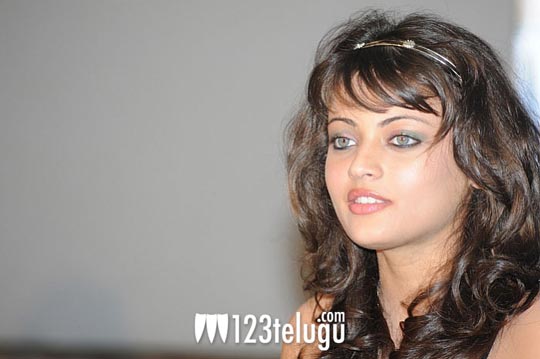 Sneha Ullal is like a bottle of Maggi 'Hot & Sweet'. She can charm you with her innocent sweet looks and she can catch you unawares with an intelligence that is quick,sharp and unpretentious. In a casual and informal interview session at the office of Timbuu Productions, Sneha spoke freely and intelligently about her career, life in general and her ambitions.
Q. With the release of Madatha Kaja so close, what are your expectations on the film?
A. This is the first time in my career where I have been so cool and relaxed about the outcome of a film. Madatha Kaja will do phenomenally well and I have no doubts about it. I was nervous even for my film with Salman Khan but not for Madatha Kaja.
Q. What are the major highlights in the movie?
A. The movie features a full length comedy role from me and I worked extra hard at getting the comedy timing right.I put in more efforts for my dances and they have come out rather well. Also, this is the first film where I have taken personal care about my look and presentation.
Q. Can you elaborate on 'personal care about my look and presentation'?
A. Usually I leave it to my directors and my film unit regarding my makeup and look in the film. But for Madatha Kaja, I took special care and I chose my own wardrobe. I also monitored my appearance in the movie constantly with the director of photography and you will see that I will look really beautiful.
Q. Well, you are a beautiful girl already
A. (Smiles sweetly) Yes,but can't a pretty woman look prettier?
Q.Point taken.How was it working with a debut director?
A. Seetharama Raju is a very capable director. Not once did any of us ever get a feeling that we were working with a novice. He was so cool and composed. And he knew exactly what he wanted. It was a pleasure working with him. In fact,this is the best production house I have ever worked with. They know how to treat a lady and the producer is a perfect gentleman. Given a chance, I would work for this production every time.
Q.Naresh is an accomplished artist when it comes to comedy. Were you nervous?
A.Very. But that nervousness drove me towards putting in more effort and you will see what a good job I have done. Naresh is such a nice and wonderful co-star. We are more of friends now. Naresh still hasn't completely recovered from the shock of his father's death.His usual jovial nature is not back yet.
Q.Who are your friends in the industry?
A. Lakshmi Manchu and Manoj are very close to me. I am not a diplomatic person and unfortunately,you need to be very diplomatic to survive in this industry. I tell it like it is.
Q.Who is your favourite actors in the industry?
A. I just love the way NTR performs on screen. His dances and acting abilities are just phenomenal. I did a short stint with Nagarjuna for his movie King.I would love to work with him again. He is such a cool and naughty guy. Among the heroines, I admire Anushka a lot. It takes a special kind of talent to work in roles she has done.
Q.Finally, any dream roles and projects?
A.For me, there is no such thing as a big project and small project. Everything is work and I accept any role if I like it. But if I had to pick a dream role, I would love to act as a Psycho Killer. I love those kind of roles. God has been kind to me. He has always given me good projects and I know he will continue to do so.
That was where the interview ended. So there is the smart and savvy Sneha Ullal for you folks. Get ready to watch her soon as she shakes a leg with Allari Naresh in Madatha Kaja.
Articles that might interest you
Ad : Teluguruchi - Learn.. Cook.. Enjoy the Tasty food