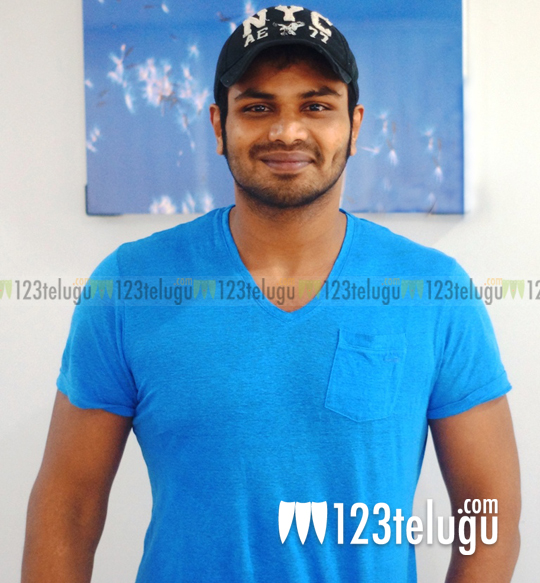 Manchu Manoj Kumar, the rocking young star, is all set to hit the screens this Friday with 'U Kodathara Ulikki Padathara'. The actor was at his energetic best in an exclusive chitchat with 123telugu.com. We caught up with Manoj in his office and he spoke on a wide variety of topics, ranging from UKUP to the problems of caste division among fans. Read the transcript to get an insight into the actor's mind.
Q. UKUP is gearing up for release with a lot of hype. How are you feeling?
A. Well, I can't exactly describe my feelings. But I guess you can call it anxiety. I am not nervous or tensed, for I am confident about the movie's content. For over two years, I gave myself to the movie completely. I even gave up my personal life for the project. Now that work is complete, I suddenly feel empty. It is almost like having withdrawal symptoms. (Smiles).
Q. You have given a lot to the movie, both physically and mentally. What convinced you to invest so much of yourself in the film?
A. The script. I have always wanted to do something new and novel for Telugu audiences. The script of this movie is superb. This film is actually a dark comedy. It is not something attempted in Telugu movies before. It will be a very fresh experience with a mixture of gore and comedy. For such a good script,  I wanted to give my 100%.
Q. Comedy! Thats surprising. UKUP has always been giving off the vibes of a supernatural thriller!
A. (Giggles). There is good comedy in the film. We left it out of the trailers on purpose to give the audience a thrilling experience when they see the film. There are supernatural elements and thrilling moments, but there is also good comedy.
Q. You have always tried to come up with something new in your films. Don't you want to try your luck in formula films as a commercial mass hero?
A. Ok. Define a commercial mass hero (He laughs). I do get what you are saying. Well, there is a lot of time to do those films and with the kind of background we have, it is not very tough to do. This is the age where I can and should try out new things. I want to create a separate identity for myself. "Mohan Babu gari abbay kabatti ochesadu ra" is something I don't want to hear. Thats the reason why I have always worked with new directors and with my friends. Once I score a blockbuster, I might do something else with big directors. Lets see.
Q. You take a lot of risks in action sequences. Is it for the thrill or is it for the satisfaction of being honest?
A. Satisfaction of being honest. Perfect! Thanks for giving me that line. I will use it whenever someone asks me this question in future. I basically want to show what I am truly capable of.I have always been a big fan of Jackie Chan and stunts come naturally to me. I also want to keep costs low. Vishnu anna's training has also helped me in this area.
Q. If not for Balayya, who would have played that role in UKUP?
A. Since Day 1, that role was meant for Balayya. Luckily, he agreed. If not Balayya, perhaps Dad or only one other actor could have done justice to that role.
Q. You have shown the film to a lot of Industry people as well as to outsiders. What was the reaction?
A. The best reaction has come from distributors. Some very big distributors have expressed happiness over the movie's output and they have started increasing theaters after watching the film. Hopefully, the movie will be the biggest blockbuster in our career. There are good vibes all around.
Q. What does Dr. Mohan Babu say about your career choices? Is he happy?
A. (Smiles mischievously) We do keep having some discussions. But he is very happy with my performances and my hard work. He wants me to work with established studios and big directors. I want to do it after achieving a blockbuster on my own. Thats about it.
Q. How do you feel about working with Balakrishna garu?
A. I feel blessed. Working with Balakrishna garu has been a revelation. People have a very wrong impression of him. He is actually the perfect gentleman and has always been very co-operative. For example, during one particular action sequence I directed, I was not 100% satisfied with the output. Since Balayya was a very senior actor, I did not have the courage to ask for a re-shoot. But Balayya caught on to my apprehensions immediately and he very sportively shot for the scene again, to my satisfaction. I could do nothing except to whistle in appreciation.
Q.Do you think Sekhar Raja has delivered as a director?
A. Absolutely! He has delivered in a convincing fashion. Apart from Sekhar, the entire direction team and the art director Bhupesh were crucial in the film's output. And cinematographer Rajasekhar was just fabulous.
Q. You are known as a very loyal friend in the industry. Who among the industry is most loyal to you?
A. Basically, once I like someone, I love them till the very end. I do not expect anything in return, so a lot of people are good friends with me. But my most loyal friends are Jr. NTR, Simbu and Sunil.
Q. Can we expect any multistarrers from you with Jr NTR or your other friends?
A. Script. Show me a script. We are open to doing multi-starrers, but we need good scripts to do it. And the problem is that fans these days are dividing themselves on caste lines. It is very sad. Telugu Cinema won't progress to the next level unless we overcome these caste barriers. If the film of a hero belonging to one caste releases, fans of heroes belonging to other castes spread negative talk on purpose. This is not right. Let us watch movies with a Telugu pride and not caste pride. Once we stop fighting among ourselves on caste basis, and start fighting with Bollywood or Hollywood on a merit basis, sky is the limit for our films.
Q. Very well said! Heroes have a great deal of influence over their fans. So why don't they put out tweets emphasizing this fact?
A. I do not know about others. They may have their own restrictions for doing it. But I always keep telling my fans this fact. And none of the young generation heroes have these caste divisions. We are all very good friends. Fans should realise this.
Q. What are your immediate plans after UKUP's release?
A. I will take a two month break after the release. I need to repair a lot of bridges with friends and family (Smiles). I have been keeping away from them all due to work. I would like to explain to them that I have been trying to make them all proud with my work. I will devote my time to family. I will also revolutionize the industry's fight against piracy.
Q. Revolutionize? What do you plan to do?
A. I will crack down severely on pirates and piracy. Someone has to start dealing severely with this problem and I would like to be the one. Rajamouli garu has been cracking down severely on piracy over the last few days and I will take this to the next level.
Q. Ari and Vivi.Are you having fun with them? And who is the more mischievous one among the two?
A. They are absolute darlings and I have a lot of fun with them. Avi is the more mischievous among the two while Vivi demands more attention. I am very close to both of them.
Q. So when are you getting married?
A. (Feigns Anger and laughs out aloud) "Manaki enduku andi aa questions. Pedda vaaru chuskuntaaru". Basically, I have been keeping away from everyone for the last two years. All my team members have been staying away from all distractions, so we have had no social life. Let us see how it goes. I have  started actively using twitter and FB only recently after Lakshmi Akka gifted an iPhone 4S for my birthday.
Q. What excites you apart from acting?
A. I am passionate about acting and car racing. Apart from those two, I have absolutely no clue about anything else. I am very bad with money and I keep giving it out to everyone. Films are my world.
Q. Any message to Telugu movie lovers?
A. Watch UKUP in theaters. Don't encourage piracy and appreciate Telugu films wholeheartedly. And don't encourage films on caste lines.  The day we stop fighting among caste lines, Telugu films will reach new heights, like Tamil cinema and Bollywood. And we as a team hope to win your appreciation.
With that, we ended the conversation with Manoj. Throughout the conversation, he was in high spirits and was very jovial. He has enjoyed working for UKUP and that shows in his face and in his relaxed body language. Let us wish Manoj the very best for UKUP.
Interviewed by Mahesh S Koneru
Click Here For Interview in Telugu
Articles that might interest you:
Ad : Teluguruchi - Learn.. Cook.. Enjoy the Tasty food