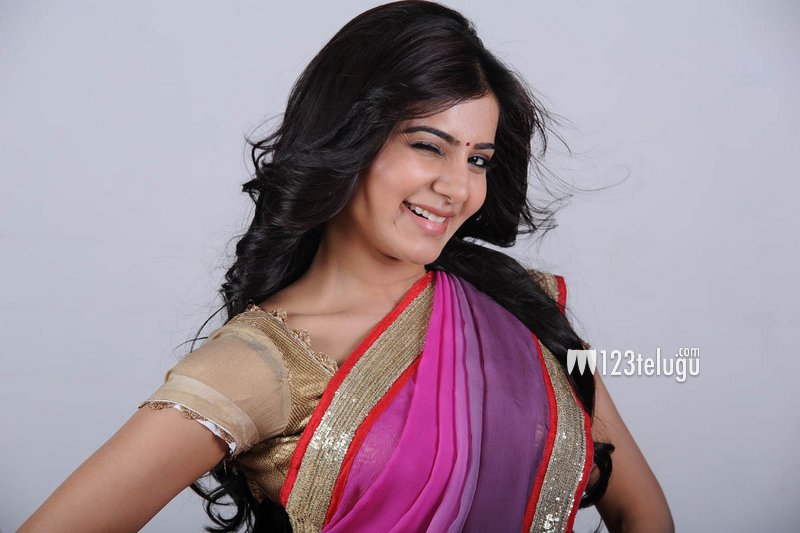 Samantha needs no introduction. She is currently the most sought after actress in Telugu Cinema and her track record speaks for her. Samantha has some pretty big projects lined up this year. We caught up with Samantha for an exclusive interview and were bowled over by her good nature and humour. She spoke candidly about her life, her career choices and about how she deals with gossip. She also had interesting things to say about Pawan Kalyan and NTR. Read on to get a glimpse into Samantha's warm personality.
Q. You have some pretty big projects lined up. AD is the first in line. How did it shape up?
A. Pawan Kalyan is at his best in 'Atharintiki Dharedhi' . The movie has shaped up really well. I really can't tell you how easy it has been to shoot for this film. AD  has come out really well and I had great fun while shooting. When a team has great fun shooting, it will show on screen. It is a family subject, with lots of humour and entertainment. And I just can't understand Pawan's craze. Pawan just walked and the teaser has created records. Even yesterday, when I met him, I asked him "Asalu em jaruguthundhi. What is this craze?". He just laughed.
Q. How was it to work with Pawan?
A. If you meet him, he will never ever make you feel that he is a superstar. He never showed me how big a star he is while shooting. He was always down to earth and so humble. Your eyes are a window to your soul. No matter how much you act in front of the camera, your eyes can give you away. I think people connect with Pawan in the same way. They can see that on screen in his eyes and he is just so awesome. (Smiles)
Q. What about NTR and 'Ramayya Vasthavayya'?
A. NTR in Brindavanam is very different from NTR in Ramayya Vasthavayya. He has a whole new personality. He is looking his best now and I have never seen NTR look so good. He has put in a lot of efforts for this and I am really happy for him. I am also happy that I am going to be a part of his best look (Laughs). As men age, they keep getting better and better. NTR is so much more confident right now.
Q. Trivikram and Harish Shankar are polar opposites. How was the experience to work with them simultaneously?
A. Trivikram has given me a very light hearted role in AD. I am usually associated with intense, dreary, and serious roles (Laughs). But I am not that kind of a person in real life. I am more like the character I play in AD, so you will see a little bit of me in that movie. Trivikram was able to balance so many stars in one film. I don't think anyone would have managed to do it so well. I really felt bad when the shoot ended. Trivikram has given me more than what I can ask of him.
When it comes to Harish Shankar, he is someone who knows the mass pulse perfectly. He knows what excites fans and how to appeal to them. He might be a mass director, but he has great sensibility. He knows when and where to draw the line between commercial elements vs sensibility. For example, if a saree flutters in the breeze more than it should, he immediately calls for a cut. He can so easily leave it. But he doesn't do that. So I respect him about that.
Q. When someone pitches a script to you, what are the elements that make you say yes?
A. I've taken a conscious decision to not be a part of films where my role is immaterial. I don't want to be a part of films where the story is in one direction and the heroine is present only for the sake of glamour. I can't get a 'Ye Maya Chesave' or an 'Eega' every time, but I want to get the best that I can get out of what is available. I also look at films from the perspective of a viewer. If a story has the potential to engage viewers I accept it. I don't always need a big, national award winning kind of a role. For example, I accepted 'Seethamma Vakitlo Sirimalle Chettu' because it was not a run of the mill film. It was different.
Q. Every actor will have a limitation. What do you think is your weak spot?
A. (Thinks) When a scene does not convince me or when I don't believe in it, I tend to ham. My performance won't be genuine and you can make out that I am hamming. I tend to become dramatic. I need to let go of that. I should learn to separate my judgement from what is required of the character. Other than that, I don't really have any difficulties with acting.
Q. That was candid. What do you enjoy doing as an actress?
A. I enjoy challenges. I don't like to get into a comfort zone with the same kind of roles. I had good fun with Atharintiki Dharedhi as I have more scope for humour. Comedians have the most difficult job in the world and I salute them. It is not easy to make people laugh, with all the problems and issues we have in our daily lives.
Q. Except you, no other contemporary actress takes social initiatives so seriously..
A. After my illness, I've changed. Perhaps, God was teaching me a lesson. I was a self absorbed person before that. I was always conscious of my looks and my costumes etc, like any heroine. But after my hiatus, I realised that everything does not revolve around me. In this industry,one movie can make you a star and the other can bring you down. I have been making conscious efforts to reach out and give back in whatever way I can. You can't take all the fame, all the money and ignore your responsibilities. You need to give back. I have changed that way. Perhaps, I am also getting older (Laughs)
Q. You literally have an army of fans,just like the top star heroes. How do you feel?
A. (Smiles) I would not call them fans. They are like my friends. I am really proud of them. They have good values, they are well educated and they work in good professions. They are very frank with me and they keep giving me realistic feedback. If they don't like how I look, they tell me. I do listen to them and make changes based on what they say. They are a part of my life, just like I am a part of theirs.
Q. Are you deeply religious?
A. No. But I am not an atheist either. I pray once in a while and I believe in God. I think when you believe in a God, it is easier to maintain self control and discipline. You don't let go so easily.
Q. Apart from films, what do you enjoy?
A. Some people might call me boring (Laughs). I love chilling out in loose clothes and old T shirts. I love sitting around and watching TV. I love not doing anything (Smiles). I like political dramas and documentaries. I hate loud places and loud music. I need to hear the other person when they are talking and I hate screaming. I love food and enjoy to eat. That is one of the things that makes me so happy. Right now, I am obsessed with Haleem (laughs)
Q. Wow. So what is your fitness secret?
A. I do exercise. But I don't workout to lose weight. I exercise to put on weight. (Smiles)
Q, How would you like to be remembered as an actress? What kind of a legacy would you like to leave a few years down the line?
A. (Thinks). I haven't really thought about "When I die…." (Laughs). Well, acting is just a job. I don't think a job can define who you are. What people think of you is so temporary. If you want to make everyone happy and make people like you, it is a war you can't win. If I can make my family and the people who are in my life happy and if they love me back, that would be good. If I can live my life on my terms and if my kids grow up to be good citizens with good values, that is enough of a legacy.
Q. How do you deal with gossip? Does it affect you?
A. Of course, it does affect me. I am human. But as I said, I am not going to act for people to make them happy. I have a 9 to 6 job. After 6, I stop acting. I become Samantha. I am not scared of gossip. I live life on my terms. But here and there, I do get affected when I see something. But it is not going to make me change anything.
Q. What is the best compliment you have received recently?
A. Hmmm (Thinks). I don't remember compliments too much, so I can't say. But I am very hard on myself when it comes to criticism. I take that seriously. Like I said, I tend to ham when I am not convinced. Trivikram gave me this feedback, based on his observations of my previous films.
Q. What can you tell us about your future projects? Any Bollywood plans?
A. I am proud of all three films I am working on right now – Atharintiki Dharedhi, Ramayya Vastavayya and Manam. I have good roles in all these films. I will be working in more Tamil films next year. I generally don't speak about my forthcoming projects until I go to the shoot. I don't have any Bollywood plans right now. I am happy here.
Q. Who is your favourite director?
A. I've been blessed to work with fabulous directors in my career. A film can work well only when there is a good working relationship between the team. Among directors, Nandhini Reddy, Rajamouli, Gautham Menon and Trivikram are some of my favourites.
Q. What about your co-stars?
A. (Gives a little smile). I am on good terms with all the heroes. They are not my best friends or anything, but I am fine with them all. Among actresses, I like Kajal. She has such an amazing personality.
With that, we wrapped up our conversation with Samantha and came away smiling. Her energy and smile just kept lingering with us. Let us wish Samantha the very best for her future projects. We hope you enjoyed reading this conversation folks.
Interviewed by Mahesh S Koneru
CLICK HERE FOR TELUGU INTERVIEW
Articles that might interest you:
Ad : Teluguruchi - Learn.. Cook.. Enjoy the Tasty food