First Posted at 21:00 on Apr 17th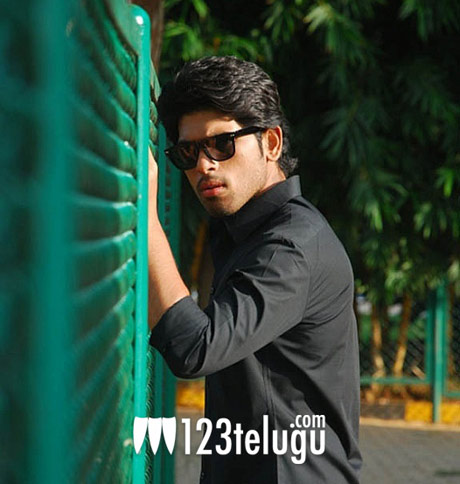 Allu Sirish is all set to make his debut with the film 'Gouravam'. The movie is gearing up for release this Friday and we caught up with him for an interview. Sirish spoke very candidly and intelligently about his career choices, his aspirations and his limitations. Why did he choose a film like 'Gouravam' for his debut? What advice did Charan and Allu Arjun give him?
We had a good time talking to him, so read on to see what he had to say.

Q. Your first film is getting ready for release. How are you feeling? Are you nervous?
A. I am excited actually. Maybe, the nervousness will come on Thursday night or on Friday morning (Smiles). But for now, I am excited. I am also curious to see how people receive this story. It is a story which not many people will be willing to touch. We have tried something new and bold.
Q. Your first film will be a hard hitting social drama. And a bilingual. What gave you the confidence to attempt something like this?

A. Even before I came on board , director Radha Mohan and Prakash Raj wanted to make this film as a bilingual. The problem is a universal one and they wanted a fresh face for the movie. They wanted a young lad who could pass of as a native Tamil lad as well as a Telugu lad. It was their idea. I just happened to fit the bill.
Q. Are you happy with the work you put in for this film?
A. Yes. I have seen the first copy and I am very happy with the output. Any person who works for a film will obviously lose a sense of judgement about it, but I am pretty sure that the film will connect well to a certain section of viewers. I am not expecting C center viewers to like this film. The movie moves along at a good pace and it is not preachy.
Q. Tastes of Tamil and Telugu viewers are very different. Do you think this film will appeal to both sections?
A. I agree with you. The tastes of Tamil and Telugu viewers are very different. That is the reason why this film has two very different cuts. The Tamil version of the film will be very different from the Telugu version. Telugu viewers like good pace in the movie, with more drama. We also like certain types of endings only. So the climax in the Telugu version will be different from the Tamil one. We took care to cater to both sections as per their tastes.

Q. Did Allu Aravind or Chiranjeevi garu listen to the script of 'Gouravam'?
A. Prakash Raj first narrated the script to me. I liked it. Later, both dad and Chiranjeevi garu listened to it and they liked it as well. They asked me "The film will not be a conventional debut film. Are you comfortable with such a launch?". I said yes.
Q. Why did you choose such an unconventional debut vehicle?
A. I can always do a masala film or a commercial entertainer as my second film or third film and that is what I told Dad and Chiranjeevi garu. To be honest, nobody will be excited about Allu Sirish's launch. So instead of designing a film around me, I thought it would be better to be a part of a good film, with a strong story. Sirish's debut should just be an added attraction for a film. I want to be remembered for a good film.
Q. Mega family fans expect good dances and entertainment from their heroes.Will they be satisfied with your film?
A. I did not get too many opportunities to showcase those abilities in this film, because of the story. I will attempt more of them in my upcoming projects. I will definitely work very hard to create my own image and style. I will attempt a variety of films. Between every two commercial entertainers, I will do films like 'Prasthanam' or a 'Vedam'.
Q. Being your first film, did you face any challenges while filming?
A. (Thinks) One constant challenge was the pace of the shoot. Being a bilingual, every scene had to be shot twice. There were a lot of senior actors on the set. So as a newcomer, I did not want to end up being the reason for delays. Technically, I did not face too many hardships. Shooting conditions for the film were quite tough, but they did not affect me too much.

Q. Yami Gautam seems mighty impressed with your work…
A. (Smiles) I think Yami is just being nice. She likes my work and she complimented a number of times during the shoot.
Q. Every actor has a comfort zone. Some like comedy, others like dance.. What do you think is your comfort zone?
A. With this film, I did not get a chance to try out all these things. I personally think I can do a good job with comedy. I also enjoy doing action sequences. I used to take martial art lessons with Bunny, so I enjoy doing them. When it comes to dance, I like hip hop.

Q. Did you train yourself professionally as an actor?
A. I did mass communications, so there was a lot of shooting involved during college. I had some exposure to acting then and I was quite comfortable. In order to polish my skills, I trained at a Mumbai institute known as Creating Characters for three months. Director Maruthi and Ravikumar Chowdhary made about three short films with me. We had a proper unit and the films were made very seriously. So I did a lot of homework. I also trained in Chennai under Pandian Master at YMCA. He is a well known fight master and he is the guru for most of our stunt masters.
Q. Did Charan or Bunny give you any suggestions?
A. They never gave me any suggestions about the craft. They just gave me a few tips about my career. Every actor needs to bring his/her own individuality into their craft. We have our own favourite actors,and we subconsciously tend to imitate them. Bunny advised me to avoid that. As for Charan, he gave me some very interesting advice. "We have about 40 – 50 Cr riding on us for every film. So our creative choices are limited by commercial equations. I had to let go of a number of films because of these limitations. You don't have to run that race. At this stage, do films that appeal to you as an actor. Do roles which have internal conflict. Do roles where you evolve as a character in a film. Such films will endear you to viewers". That is very smart.
Q. Would you like to be an Actor or a Hero?
A. As an artiste, I do not agree about this differentiation. You might say Kamal Haasan is an actor and Rajinikanth is a star. But what about Amitabh Bachchan? What about Chiranjeevi? They are super stars but can you rate them down as actors? Any artiste will want to be both. It all depends on the cinematic choices one makes.
Q. Are you happy with the film's music?
A. We were supposed to start with 4 songs. But we cut it down to two, since we did not want any distractions. I am happy with the two songs Thaman has scored for the film. They suit the genre of the film perfectly. But what deserves special mention is his background score. The instrumentation and orchestration are very fresh and they have an international feel. I wish I could make you listen to them now.
Q. Is the title 'Gouravam' apt?
A. Yes. The climax scene of the film defines this perfectly. Our traditional definition of Gouravam is wrong. Being born into a rich family or a high caste does not bring gouravam. It is all about how we carry ourselves and how we lead our lives. The film defines this perfectly.
Q. The topic of 'caste' is a big taboo…
A. Yes. After Balachander garu, no one really dared to touch upon the subject deeply. In the film, my character goes to a village in search of a friend. There, I get to see the dynamics of the caste system and I learn about its intricacies. My character learns about the evils of the caste system practically. There are no preachy dialogues. The film is designed very beautifully, to explain the evils of the caste system quite clearly.
Q. Will you be choosing an action entertainer as your next film?
A. I will be happy if an action entertainer materialises. But I will not force anyone to come up with such a script. The challenge will be to evolve myself to suit whatever roles come my way.
Q. Will your future films be bilingual projects as well?
A. No. I will not make bilinguals for the sake of dumping them in both markets. I will only work in bilinguals when I come across directors who understand the intricacies of two languages and the tastes of two very different kinds of viewers. My next films will most likely be straight films.
Q. What do you do in your free time?
A. I like travelling. I like to read books. I can read and write Telugu. I can read and write Tamil. So I try to keep in touch with publications from both languages. I also like to hang out at coffee shops with friends. I used to party in my younger days, but not anymore.
Q. Will you encourage new film makers? Like some talented short film makers perhaps…
A. There are some very talented short film makers here and they have a lot of potential. But the problem is, there is a difference between shooting a 15 minute film and a 3 hour commercial film. Most of these short film makers don't get it. They are all young and hot blooded, so they overrate themselves too much. I asked them to work under some top commercial directors and even offered to get them the jobs. But they don't want to do that. They want overnight success. They need to understand the intricacies of a full length commercial cinema. They see people like Maruthi and think that it is easy to make films with a Canon 5D. The thing is, Maruthi went through a lot of filmmaking grind for over 10 years before making his first film. He worked as an assistant director, he made short films, he made corporate films and he even co-produced a film. There is a lot of work behind his success.
Q. What should viewers expect from 'Gouravam' ?
A. The film is not a dry social flick. There is a beautiful family drama at its heart. There is a strong tale of friendship. This is not conveyed in the trailer. But there are such strong emotions in the film that will appeal to our viewers. There are beautiful scenes about things like untouchability etc. It is a thought provoking film.
With that, we ended our conversation with Allu Sirish. He is realistic about the film's chances and he is very clear about what he wants to as an actor. Let us wish him the very best for his debut film.

Interviewed by Mahesh S Koneru
Articles that might interest you:
Ad : Teluguruchi - Learn.. Cook.. Enjoy the Tasty food