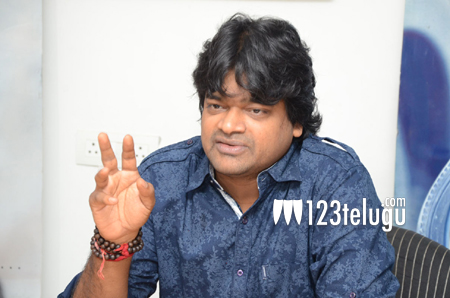 Harish Shankar is a director who has an enviable track record. He has scored one of Telugu Cinema's biggest commercial hits with 'Gabbar Singh'. The film broke Power Star Pawan Kalyan's poor form at the Box Office and Harish became the darling of Pawan's fans. He is now getting ready to hit the screens with Young Tiger NTR's 'Ramayya Vasthavayya'. Once again, he has managed to create a superb pre-release buzz among NTR's fans by showcasing NTR very stylishly. Harish does not mince words and he speaks his mind frankly, perhaps a bit too frankly at times. Read on to see what he had to say.
Q. In this present political climate, do you think it is wise to release RV?
A. I am a director and I my job is to take care of the 24 crafts and handover a film within the stipulated budget and time. I have done that. Dil Raju garu is a senior producer and he knows when to release a film. Perhaps, this question should be put to him.
Q. Do you believe in sentiments?
A. No I don't. I believe only in hard work. If I am person who believes in sentiments, Shruti Haasan wouldn't have been in Gabbar Singh.
Q. How have you portrayed NTR in this movie?
A. I like NTR in films like 'Aadi' and 'Simhadri'. We haven't seen him in such powerful roles for a while. I have also tried to showcase him in a new way. Basically, NTR has a great sense of humour offscreen. So I have tried to bring some of that into his characterisation. He is playing the role of a college student, but there are no classroom scenes. I wanted to showcase him in a very youthful way. Whether it is dances or fights or dialogues, NTR is a single take artist and it is so comfortable for a director to work with a talented actor like him.
Q. How did you convince Shruti to act in a guest role?
A. Star actresses usually do not appear in guest roles, as they are quite busy. But because of Gabbar Singh and the mutual concern we have for each other, Shruti agreed to do this role even before I narrated the characterisation to her. But after listening to her role, she got pretty excited and she allotted a good number of dates. Shruti Haasan is not the second lead in this movie. She is portraying a crucial guest role, that is all.
Q. What can you tell us about Samantha's role in the film?
A. Samantha has a rare mix of glamour and talent. I am her fan, ever since I saw her in Goutham Menon's film. In RV, she will be seen in a very interesting role. Her relationship with the hero starts off with quarrels and petty fights. But slowly, things change and there will be one twist that will be crucial for the story.
Q. You narrated a script, titled 'MLA', to NTR sometime back. What happened to that project?
A. That film is supposed to be a political satire, with a good dose of entertainment. After a while, I realised that I need more maturity to handle that story. That is the reason why I put that aside. I may or may not work on that script in future. NTR treats me like a friend and it feels very nice when such a top hero treats a director like that.
Q. Why are your scripts always hero centric ?
A. I believe in one thing. "Manaki Nacchindhi cheyatam kante, manaku occhindhi cheyatam correct". International films with high technical standards will be so good to watch. I enjoy scripts like 'Sagara Sangamam' or Sekhar Kammula's films. But they are not my strengths. My strength lies in conceiving scenes like the Antyakshari episode in Gabbar Singh. My strength lies in showcasing a hero in a new way,by using his image.
Q. Will NTR be seen with a six pack in this movie?
A. (Smiles). If I don't say anything and if there is a six pack, you will be thrilled. If I say yes, and if there is no six pack, you will be disappointed. So, I will not say anything in this matter. My answer is 'No Comment'.
Q. You seem to be very happy with Thaman's work in this film?
A. Yes. Thaman's audio is a big asset for this movie. The success of the audio has increased the expectations on this film. He was Manisharma's assistant and he seems to have picked up the art of re-recording from him. All the songs in this film are situational and Thaman has done justice to them.
Q. What influences you as a director?
A. Literature has a strong influence on me. Especially Yandamuri Veerendranath's works. Whatever I am today is because of his works. I also enjoy reading Tilak's poetry etc. I made my debut as a child artiste with Parishath Natakalu and I toured many cities with them. Therefore, I have a keen interest in dialects, regional linguistic influences etc. I was exposed to scripting and direction at that stage.
Q. What are your future projects?
A. The promotion of 'Ramayya Vasthavayya' is my first priority. I want to take this film to as many people as I can. After that, I will narrate a story to Allu Arjun. I also have a number of scripts that I would like to see on screen. I do not know if I or my associates will direct them.
Harish Shankar also made some comments about certain sections of the web media, who he says are trying to 'create and speculate' about things. In his own style that stays on the fine line between confidence and arrogance, Harish Shankar said, "Let the film release. Once it does, you will be able to see and decide which websites have credible information". Well, let us wish Harish Shankar the very best for 'Ramayya Vasthavayya'.
Interviewed by Mahesh S Koneru
CLICK HERE FOR TELUGU INTERVIEW
Articles that might interest you:
Ad : Teluguruchi - Learn.. Cook.. Enjoy the Tasty food