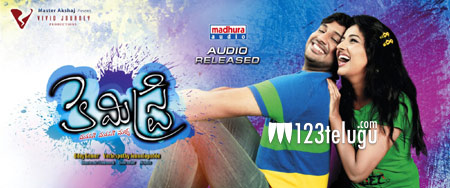 New, you and dynamic director Vasu (Vachespathy Jonnalagadda) and his team conducted a press conference and announced movie release date officially. Movie name is "Chemitry – Manasuki Mansuki Madhya". Here are their words:
Vasu, Director: Finally the day arrived after one year for our sincere time and efforts to present to public. It's almost impossible to release small movies in abroad, But, we e are lucky to have friends like Thirumala Reddy (RadioKhushi.com CEO and President) and Goutham ( Alloceanmedia President) who encouraged us and distributing/exhibiting the movie in all major cities in USA and Canada. Once again we are Thankful to them. "Sriram Kodali and Amitha Rao" are paired in this movie. Due to story demand we went with these two new artists. They justified 100% for their role and you must watch and share your thoughts and feelings with us at 90320655568. We respect your valuable time and never feel regret to spend by watching this movie. Feel free to reach us and express your happiness/anger. We are responsible for this movie and ready to take complement/complaint. Title may set some expectations for vulgarity, but it's very clean and healthy entertainment. Who come to watch this movie with a smile on their face and enthusiasm will have the same when you come out from theater. We believe work is worship and public talk/response is only main publicity for this movie. So, mark your calendar for 19th and wish you all a advanced Happy Srirama Navami. Thanks to media friends for coming and spreading "Chemistry" movie release news to all over the world. We respect your efforts and appreciate that.
Sriram, Lead male role: This movie is very clean and family entertainment. It's between two hearts and you feel when you watch this movie and will be proud to watch this kind of movie. Whole family can enjoy. We hope you all enjoy and bless us for our future.
Amitha, Lead female role: We see that audio thru Madhura also big success and people are enjoying it. We need your blessings and best wishes. Please mark your calendar for 19th April to watch this movie and we are sure you all enjoy this Chemistry movie.
Kittu, lyricist: I wrote all songs and proud to express that audio is big hit and people are enjoying. Director, Vasu made this movie so well. So they way you enjoyed the music, you will enjoy the movie more than that.
Nicholas, Editor: Feel Good movie and you all enjoy this clean and family entertainment.
Vara Prasad, Co-Director: We tried our best to present how two genders before marriage and after. We succeeded on that part and whole family can relax and enjoy this movie. Played character role in this movie.
Sanjay, Bhaskar, Jagadish, Rohit, Naga Srinivas, Veera Bhadram, Padmaja, Bhavya are played important roles in this movie. Camera by Chakradhar, Music by Vishwanadham Ghantasaala, Lyrics by Kittu Vissapragada, Editing by Nicholas, Co-Producers are G. Srinivas, Sridhar Adavi, Produced by Uday Kumar, Story, Dialogues, Screenplay and Direction by Vachespathy Jonnalagadda (Vasu).
Articles that might interest you:
Ad : Teluguruchi - Learn.. Cook.. Enjoy the Tasty food