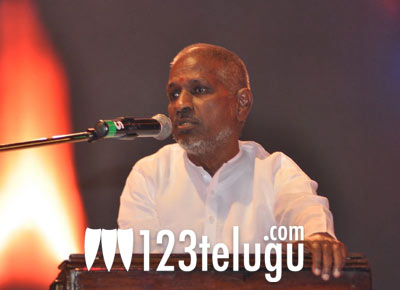 "Maestro" Ilaiyaraaja "Sir" mesmerized California audience with 4 ½ hrs scintillating musical magic
'idi Sangeetha thirunallu' (this is a music festival) said the legend, musical maestro, Padmabhushan Ilaiyaraaja in one occasion, though he never speaks much about himself or his music to the nearly 10000 cheering audience in HP Pavilion, San Jose, California, on Friday, 1st March 2013 when he gave a non-stop musical performance from 7.30pm to 12 midnight.
This concert was hosted by Kalalaya, Swagat Entertainments, and Bay Area Telugu Association (BATA). This was the first time that any South Indian organizations have held a concert of this magnitude at HP Pavilion, and first ever South Indian concert which was attended by a record breaking number of guests in the Bay Area. In spite of it being a Friday, thousands of guests have arrived the venue ahead of the time, and concert started right on-time. Mr. Jayaram Komati of Swagat Entertainments, Mrs. Vijaya Assure from BATA and Mrs. Kala Iyer from Kalalaya jointly welcomed the audience and said that this is dream come true event for which we have been waiting and working for last few months eagerly. MC for the evening, Vijaya Aasuri, invited Ilaiyaraaja "Sir" onto the stage with warm greetings.
The program started with Guru Brahma Guru Vishnu slokam and then Maestro dressed in traditional Dhovatti & Kanduva entered the stage amid thunderous applause by all the audience and started with wonderful song from "Thai Mookambikai"- the evergreen "Janani Janani". Maestro delivered the song in a commendable way.
For music lovers drawn from both Tamil & Telugu community in and around Bay Area, it is a feast to the eyes and ears as they could see all their favorite music celebrities at one go..namely S.P.Bala Subrarahmanyam, K.S.Chitra, Hariharan, Mano, Karthik, Yuvan Shankar Raja, Bhavatharini, Geetha Madhuri, Priya, Anita, Ramya, Priya Darshini, and above all the Music Maestro Ilaiyaraaja.
Ilaiyaraaja sir, the old thespian of the Music industry, used his magic box (Harmonium) and pulled out popular melodies of last two to three decades from both Telugu & Tamil films. For the audience, it is one after another popular hit songs.
Some of the songs performed:
In Telugu:
Jagadananda Kaaraka- (Sreerama Rajyam), Ninnu Kori Varsam – (Gharshana), Mounamela Noyi (Saagara Sangamam), Enno Rathrulostayi (Dharma Kshtram), Balapam Patti Bhama (Bobbili Raaja), Lalitha Priya Kamalam (Rudra Veena), Prathi kshnam nee -(Anumanaspadam), Chukkalu temanna –(April 1st Vidudala), Priya Priyatama raagalu –(Killer), O Priya Priya –(Geetanjali), Botony Patamundi–(Siva), Ade Neevu – (Abhinandana), Keeravani –( Anveshana) , Priyatama Nanu –(JVAS), Thakita Thadimi –(Saagara sangamam)
In Tamil:
Om Sivaham – (Naan Kaduval), Isayil Thodanguthamma –(Hey Ram), Senbagame senbagame – (Enga Oru Pattukaran), idhayam oru kovil – (Idhaya Kovil), mancholai kili thano – ( Kizhakke Pokum Rail ), Raaja Kaiya Vecha – (Vichitra Sahodaral), Thamtana Thamtana, Sundari Kannal (Thalapati).
Every song is big hit and popular number. Both Telugu & Tamil audience were treated to some of the most haunting melodies one after the other. The audience expressed their happiness as the show catered to both the Telugu & Tamil songs and most of the songs were very popular numbers in both languages.
Ilaiyaraaja sir said that music is more than temple and people with their love for music shall not kindle it, someone in the auditorium rightly said that only Ilaiyaraaja is named as Maestro because he considers music as more than temple.
Highlights:
Ilaiyaraaja sir wanted to bring out of best from his troupe. When there were few minor mistakes, he asked them to restart again.
SP Balu & Ilaiyaraaja sir were engaged in some entertaining conversations to engage the audience. The two had great memories and experience to offer to the audience that was priceless. Their team work and common thoughts on stage was a feast to watch and enjoy.
SP Balu sang Lalitha Priya Kalalam (Rudra Veena).. He said he tried to improvise it a bit .. But said the original sung by Sri Yesudas was a classic. SP Balu enthralled the audience with his perfection in complex songs such as "Thakita Thathimi", "Oh Priya Priya", "Idhazhil Kadhai", "Keeravani", etc.
Among the songs sung by Hariharan, the "Ennai thalatta varuvaalo" was a standout. Also, Hariharan sang the Raaja composed Jayachandran sung classic "Maanjolai Kilidhano". Yuvan and Karthik sang hits such as "Sigappu Rojakkal" song "Ninaivo oru paravai". Mano sang many Telugu songs jointly along with SP Balu. One of the Tamil songs "Shenbagame" was a hit from Mano.
"Chinna Kuyal" Chitra's songs were greatly received by audience with standing ovation and thunderous claps. Among the songs sung by Chitra, "Ninnukori Varanam", "Thamthana thamthana", "Sundari Kannal", "Oo Priya Priya" were brilliant.
In addition to the legend singers, the large orchestra and backing vocals was a feast to hear and watch. Over 70 musicians on the stage with different instruments really took the songs to the utmost high-level leaving the audience speechless and glued to the chairs for entire concert till the end.
Speaking very briefly Mr. Jayaram Komati of Swagat Entertainments, said that they are proud to have brought "Raaja Sir" to Bay Area. Mrs. Vijaya Assure from BATA said that never in the Bay Area history there was a concert drawing nearly 10000 people, and thanked one and all for making it a grand success. Further, Vijaya stated that "the idea about the Ilairaaja concert started with a small determined thought that prompted a trip to Toronto a few months ago for a meeting with Ilairraja sir to seek his permission and approval to do a concert in California. From that point onwards, every moment was exciting and memorable that can never be replaced with anything"
Mrs. Kala Iyer from Kalalaya said that her dream of doing Ilaiyaraaja Concert is fulfilled and thanked everyone. Mr. Veeru Vuppala from BATA said it was a challenging job to cater to a sound system with 90+ mikes. Dr. Hanimi Reddy congratulated the organizers for a wonderful show and requested the audience to give a standing ovation to the "Maestro". Consul General of India N. Parthasarathi, Dr. Romesh Japra, President of Federation of India Associations in Northern California were among the dignitaries who have attended the concert.
There was a huge support for this event from the businesses. Bodhtree Solutions Inc. was the Event sponsor. Ravi Tax Services, embedUR Systems, Scopus Consulting Group, Peacock Indian Restaurants, and Swagat Pickles were the Gold Sponsors. Sirisha Homes, Aloha Mind Math, and Prince Reality & Finance Inc. were the Silver sponsors. Additionally, Desi 1170 AM was Exclusive Radio partner, and TV9 was Exclusive TV partner. Also, Virijallu Telugu Radio program, Telugu Times, GreatAndhra, IdleBrain, 123Telugu.com and Telugu Cinema were the Media sponsors. Ananda Bhavan, Dosa N Biryani, Peacock Indian Restaurents, and Swagat Indian Restaurents have sponsored the food.
Dr. Ramesh Konda, President of BATA, thanked all the sponsors by announcing the names of the sponsors from the stage. Speaking at this occasion, Ramesh stated that "we are very fortunate being part of the hosting organizations and witness the amazing concert".
Ramesh thanked all the audience for gracing the occasion and making it a grand success. Ramesh thanked current BATA Executive Committee, Ravi Thiruveedula, Prasad Mangina, Karun Veligeti, Srilu Veligeti, Sridevi, Hari, Kalyani, Srikar, Jhansi, Shiva, Durga, Deepti, Ratna & his friends, Swathi, Kiran, Keshav, Ashok, and other volunteers who worked tirelessly to make the event a grand success.
BATA executive committee consists of: Ramesh Konda (President), Kamesh Malla (Vice President), Kalyan Kattamuri (Secretary), Sirisha Battula (Treasurer), Yaswanth Kudaravalli (Joint Secretary), Vijaya Aasuri (Advisor & Cultural Secretary), Veeru Vuppala (Advisor), Jyotsna Bendapudi, Sumanth Pusuluri and Kondal Komaragiri.
Pictures from the concert can be found at:
http://srikarboddu.smugmug.com/Events/BATA/Ilayaraja-Live-in-Concert-SF/28271355_dqTPkM
Articles that might interest you:
Ad : Teluguruchi - Learn.. Cook.. Enjoy the Tasty food