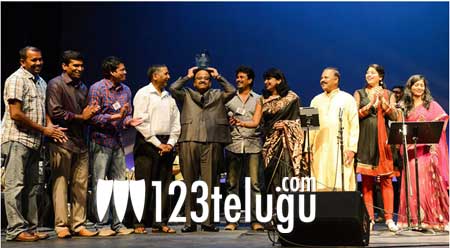 Padmabhushan S.P. Balasubrahmanyam, Padmashri K.S. Chitra, S.P.Sailaja, S.P. Charan, and the orchestra team delivered a wonderful evening of Telugu music in the Bay Area on Sept 15th, 2012. Bay Area Telugu Association (BATA) organized this music Concert on Sept 15th at Chabot College, Hayward, California.
Ravi Tax Services was the "Grand Sponsor" for this event. You Smile Dental, Scopus Consulting, PNG Jewelers, Swagat Indian Cuisine, Peacock Indian Cuisine, and Chimatamusic.com were the "Platinum Sponsors". Desi 1170AM, Virijallu, and Telugu Times were the "Media sponsors" of this event.
Tickets for the musical extravaganza were sold out well in advance and the auditorium was fully packed with more than 1400 people attending this event. BATA volunteers and committee members have worked tirelessly for last few weeks making the event arrangements, and the smooth flow of everything at the event was the great evidence of this hard work. The fully multi-colored stage with orchestra looked very attractive mesmerizing the guests with very best musical orchestra throughout the show.
Vijaya Aasuri (BATA Cultural Chair) welcomed S.P. Balasubrahmanyam (SPB) onto the stage thanking him for giving BATA an opportunity to host his concert for the 8th time in the Bay Area. In his introductory speech, SPB thanked BATA for hosting his team and he always enjoys coming to the Bay Area because of audience's love and encouragement that they have been receiving. Vijaya also introduced K.S Chitra, SP Sailaja and Charan, and the orchestra team on to the stage.
SPB and the team of his singers started the program with " Jagadaananda Kaarakaa ". Then the following songs followed
• Veena Venuvaina (Intinti Raamaayanam) –> SP Balu & SP Sailaja
• Paluku Telupu Tallive (Devasthaanam) –> Chitra
• Anjali Anajali.. Pushpaanjali (Anjali) –> SP Balu & Chitra
• Laaloo Darvaaza (Mondi Mogudu.. Penki Pellam) —> SP Sailaja
• Nenu Negugaa Lene (Manmadhudu) –> SP Charan
• Nuvvenaa.. Sampangi Puvvula (Guppedu Manasu) –> SP Balu
• Subhalekha Raasukunnaa (Kondaveeti Donga) –> SP Balu & Chitra
• Venuvai Vacchaanu (Maatrudevobhava) –> Chitra
• Navvindi Mallechendu (Abhilasha) –> SP Balu & SP Sailaja
• Raa Raagamayee (Ananda Bhairavi) –> SP Balu
• Manasaa Vaachaa (Godaavari) –> SP Charan & Chitra
• Asalem Gurtuku Raadu (Anthahpuram) –> Chitra & SP Charan (Beginning Aaalapana)
• Purushottamaa (Annamayya) –> SP Balu
• Aura Ammaku Chellaa (Aapadbhaandhavudu) –> SP Balu, Chitra & Chorus (SP Sailaja & SP Charan)
• Desamante Matam Kaadoy (Jhummandi Naadam) –> SP Balu
• Priyaa Priyatamaa Raagaalu (Killer) –> SP Charan, Chitra & SP Sailaja (Chorus)
• Pibare Raamarasam (Padamati Sandhyaaraagam) –> SP Balu & SP Sailaja
• Abba Nee Teeyani Debba (JVAS) –> SP Balu & Chitra
• Innaallaku Gurtochchanaa Vaana (Varsham) –> Chitra & SP Charan (Initial Saakee)
• Mouname Priyaa (Chinni Krishnudu) –> SP Sailaja
• Mellagaa Karaganee (Varsham) –> SP Charan & Chitra
• Vedam.. Anuvanuna Naadam (Saagara Sangamam) –> SP Balu & SP Sailaja
• SP Balu's Medley (mix of several hit songs)
• Jagari Sigalo Jaabilamma (Paradesi) –> SP Sailaja & Chorus (SP Balu, Chitra & SP Charan)
SPB and his team thanked the audience and the organizers for this opportunity. For every song, the artists received a big applause & a standing ovation from the audience. The concert went for over three overs without any break.
During his commentary and comments in between the songs, SPB praised several of prominent song writers and composers and music legends.
Dr. Ramesh Konda, President of BATA, praised SPB and the artists for the great show. Ramesh termed this event as a grand success, and thanked the audience, volunteers, and the sponsors of this event for the great support and teamwork. Then, Ramesh introduced the BATA committee on the stage, Dr. Ramesh Konda (President), Kamesh Malla (Vice President), Kalyan Kattamuri (Secretary), Sirisha Battula (Treasurer), Yaswanth Kudaravalli (Joint Secretary), Vijaya Aasuri, Veeru Vuppala, Jyostna Bendapudi, Sumanth Pusuluri, and Kondal Komaragiri.
Ramesh also thanked former BATA committee members like Karun Veligeti, Ravi Thiruveedula, Prasad Mangina, and all other volunteers (Sridevi, Aparna, Anusha, Meghana, Hari, Durga, Kalyani, Anantha, Sirisha Palla, Aditya, Ratna, Murty Savitala, Vihar, and many others) for their tireless support in conducting the event successfully.
BATA Committee presented plaques to all of the Sponsors and Media partners. BATA committee invited Dr. Lakireddy Hanimi Reddy garu & Jayaram Komati garu (Former TANA President) to present plaques to all the Artists. Deepak from PNG Jewelers presented special gifts to SPB and his team on the stage.
Articles that might interest you:
Ad : Teluguruchi - Learn.. Cook.. Enjoy the Tasty food