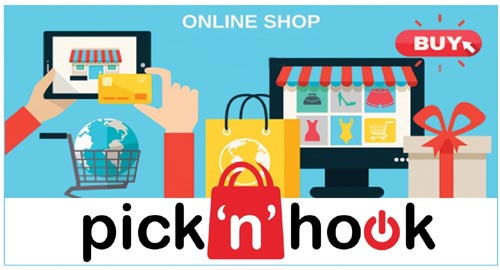 It's not that often we get to know across success stories of people from humble backgrounds coming of their own and making it big in the world of business, glamour or politics.
It is not everyday that one gets to meet and know such a person. Such people with this mettle may be rare and difficult to find but not impossible to find. There are these men who not only build enterprises, organizations or empires but also inspire millions of others to go beyond their limitations, overcome obstacles and rise higher in life. Endeavour, persistence and perseverance are just a few of the qualities which one can learn.
Meeting Monish Pattipati, CEO of PickNHook and getting to know about him is an experience which can influence one deeply. It also reaffirms the belief that business and philanthropy can go hand in hand and one can pursue his materialistic dreams while giving back to the society at the same time.
Monish, a young business scion who hails from the town of Ongole in Andhra Pradesh, realized at a sprog age, the potential that rural India holds. He could envision the scope of e-commerce in the villages and smaller towns and decided to focus on the handloom workers and the unorganized sector. His philanthropic ideologies led to the development of his online business and created a platform for millions of traders and small businessmen from remote areas of the country to grow their businesses and incomes.
Monish loved to innovate things rather than indulging in regular academics. Despite being a graduate from Amity University, Noida, he is one of those few who believe that only academic success and academic laurels cannot necessarily guarantee success in life.
Monish always wanted to start with his own dream business. Initially, he researched a lot on bikes and its parts. At that time, he used to do a lot of shopping online. But he frequently encountered problems like steep prices, poor quality and faulty delivery. These recurring difficulties and issues with e-commerce sites motivated him to start an e-commerce business which would be more sensitive to customer needs.
But just a few months into business made him realize that being an entrepreneur is not a cake walk. It is a bit of a sticky wicket. When he first started out, his business proposals were rejected by many online shopping sites. But not the one to give up easily, he started researching and surveying the local neighbourhood markets. This gave him fresh business ideas and honed his business skills. He started working on the idea of introducing the sellers or craftsmen from the local areas to a larger market place.
This was not an easy task as it involved convincing and encouraging the local sellers and craftsmen to improve their skills and make them aware of e-commerce platforms. Monish had to be in constant touch with the local sellers and build a bond of trust and faith with them. Once that was done, Monish launched his e-commerce platform PicknHook where these sellers could easily sell their products and reach out to potential buyers spread across the length and breadth of the country and earn their livelihood.
Monish is one of those rare species of businessmen who can overlook margins when it comes to customer satisfaction. He wants the manufacturer to come to light through PicknHook platform and hence accepts them on very easy terms. As a brand, PicknHook is constantly improvising and on the lookout for ways which can make the lives of customers easy and hassle-free while shopping.
PicknHook is not only a profitable avenue for plenty of sellers who win their breads through it but also a platform which encourages them to innovate and provides them with all the support and solution they need to grow their businesses.
Good quality, genuine products, regular quality check and on time delivery are the driving principals behind the success of PicknHook. Excellent customer service has earned it a loyal base of customers who keep coming back for more and more. PicknHook's strategic alliances with the best logistic and delivery companies ensure that the products reach out to almost all the villages in Telangana and Andhra Pradesh on time.
Monish believes that every e-commerce giant has grown from humble beginnings and hence he is confident of his innovative steps taken for his start-up. He would like to continue to focus on native places as he believes every region in the country has its own distinct identity and flavour and he would want every district to take part in the opportunities provided by him.
Monish's father Mr. Prasad Pattipati has been his inspiration since childhood and also his pillar of strength in his business endeavours, successes and temporary clinkers. Monish's passion is not limited to PicknHook alone. His fascination for movies is equally strong and his foray in Tollywood proves his mettle as a businessman. He has been into the branding of block buster Telugu movies and tasted success there too.
At a very young age, Monish has not only fulfilled his dream of becoming an entrepreneur, but he has also been able to generate employment for thousands of small businessmen and craftsmen, thereby, contributing his share to the society and inspiring many others in the process.
PicknHook now serves both urban niche and aspiring tier 2 and 3 locations.
Articles that might interest you:
Ad : Teluguruchi - Learn.. Cook.. Enjoy the Tasty food