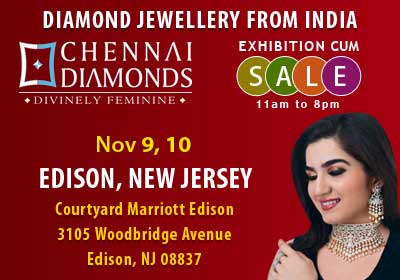 After a successful event last year, Chennai Diamonds is introducing the latest diamond jewellery in an exhibition-cum-sale held in various parts of USA at Indian prices. Traditional designs from India will highlight this occasion and with each piece of jewellery made to suit the youthful attire of the modern woman. So you can look beautiful with fusion outfits as well as gowns. Find traditional Indian designs which will make you shine with generation's beauty and represent the spirit of your family. These amazing collections of jewellery with Precious and Most Precious stones, on you, will have the ability brighten your home and dazzle the streets.
Be delighted in awe at jewellery for all ages with diamonds which will last forever. Eager to try you will be, when you imagine how each jewel will look on you. Elegant diamond Necklaces will make you the center of attraction. Brilliant diamond Bangles will make you feel like celebrating the good times. Sparkling Earrings to glitter your evenings. Sensational Pendants will bring light to your occasions. Glamorous nose pins to make you a beauty Desi. Rings will speak the characteristics of your unique true love. Exquisite Padakam will highlight your beauty. Harams, bracelets watches and so on will add mesmerizing to your looks in all walks of your life. Whatever be your occasion there will be diamond jewellery to epitomize it.
Men can also indulge in style. A variety of branded diamond studded accessories for the sophisticated man will be also showcased. Look for a choice of desi and contemporary designs. Creatively set Diamond Pens, Cufflinks, Tiepins, Kurtha buttons, Belt buckles, Glass Frames, Phone cases, etc., will be most attractive to wear and make your appearance most fashionable.
The diamonds are of high quality and are exquisitely crafted by generations of skilled craftsman to give a sensational look. Every jewel will be a masterpiece, giving substance to style and bringing together a bright medley of awe and inspiration. All diamonds are Dosham-free Belgium Diamonds and are of different designs, features, settings, metals and many more.
Nothing like a solitaire diamond, but for the trendy women there also will be jewellery that's really unique. Like a braided diamond band that has a vintage yet contemporary feel. If an oval stone's not stunning enough, find ones surrounded by a halo of diamonds. Emerald-cut diamonds are typically understated, but on display, will quickly become pure glamour. Princess cut diamonds, classic and always in style. But chic ribbon-inspired band wraps around your diamond will be like a gift waiting to be opened.
Find diamond jewellery for every gifting occasion, from the simplest moments of no reason to the grandest occasions like weddings. The collections for festivals like New Year, Valentine's Day, Akshay Tritiya, Ramzan, Diwali, Christmas, etc., are one of the most special one's. To make a loved one feel wonderful, our jewels for Mother's Day, Father's Day, Friendship Day, Raksha Bandhan, Jubilee, etc., will best say your love. Reach to every heart with a gift of diamonds and make your loved one's feel the most wonderful people in the world.
If you're in search of fine wedding jewellery, find bridal collections you'll absolutely love, just in the same way that you've found someone you absolutely love!
In short, there's diamond jewellery of traditional as well as contemporary designs to suit the modern woman and accessories for the classy man. Trusted for over 5 decades for providing high quality diamonds, Chennai Diamonds offers 100% exchange on diamonds and provides excellent service for you every maintenance need. Whatever your requirement, from expressions bracelets to pendants with family birthstones, we can customize jewelry to every detail so that it will perfectly represent you. The prominent concept of Best Value purchase from India has been extended to USA. Here's a chance to purchase brilliant and striking diamond jewellery to celebrate beauty and power of life.
Articles that might interest you:
Ad : Teluguruchi - Learn.. Cook.. Enjoy the Tasty food