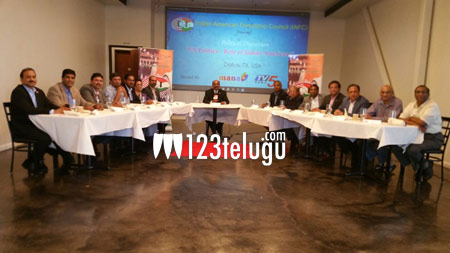 Dallas, TX: "US Politics and the Role of Indian-Americans" a political discussion organized by the Indian American Friendship Council (IAFC) to focus on the current US Presidential Elections that was hosted by TV 5 and Mana TV in Touch Nine Restaurant in Irving, TX on Sunday, October 30th was very successful.
Mr. Rao Kalvala, Vice-President of IAFC TX State Chapter, who initiated opened the session stated the objectivesof the discussion were to shed some light on topics like Economy, Health care, IT, Science &Technology, Academic Research, Security, Taxation, NRI outlook etc.
The 14 member panel speakers, some supporting Democratic, some supporting Republican candidates while some taking a neutral stand, represented from diverse fields expressed their honest opinions and views on various topicssuch as — Mr. Rao Kalvala – on Technology; Mr. Gopal Ponangi – Spiritual; Dr. Ramana Juvvadi – Economy; Mr. Chandrahas Maddukuri – NRIs political affiliation; Mr. Satish Reddy (IAFC National BOD) – on Immigration & Racial Discrimination; Dr. Bhanumathi Ivatury – Taxes & Women issues; Dr. Raju Indukuri – Healthcare & Insurance; Dr. Kishore Sunkara – Judiciary; Mr. Sridhar Tummala – Employment growth; Mr. Mahesh Guduru – Safety & Security; Prof. Jagadeeswaran Pudur – Education & Research; Mr. MVL Prasad – New Immigrants assimilation and Mr. Anil Kilaru – IT industry challenges.
Dr. Prasad Thotakura, IAFC President who moderated the panel discussion highlighted that even though USgot its independence from British on 1776 July 4th, the first general elections weren't held until 1789. So far, out of 44 US Presidents 18 from Republican Party, 15 from Democratic Party and 11 candidates from other parties got elected to serve as US Presidents. Now, Americans are again getting ready to elect their 45th President on November 8th. Along with US President, US Citizens are exercising their voting rights to elect 435 US House of Representatives and 34 US Senators. The whole world is eagerly waiting to see who will be the next US President either Mrs. Hillary Clinton (Democrat) or Mr. Donald Trump (Republican) because US is the Worlds' largest trading nation and future President's trade agreements, political decisions etc., will affect the lives of Billions of people worldwide.
Dr. Prasad Thotakura, IAFC President, reiterated that "IAFC is a non-partisan organization and supportspolicy makers irrespective of their party affiliations who strive forbetter Indo-US relations. I humbly urge all eligible NRI voters to franchise their voting rights on November 8th as a civic responsibility".
Mr. Gopal Ponangi thanked Dr. C.R. Rao (IAFC-TX Treasurer), Mr. Satyan Kalyandurg, Mr. Purnachandra Rao Talluri for their support, Touch Nine for providing the elegant facility, Mr. Sridhar Chillara, CEO, Mana TV & TV 5 USA and Mr. Sundar Rao Turumella, TV 5 Journalist for telecasting the entire panel discussion live on TV 5 and Mana TV.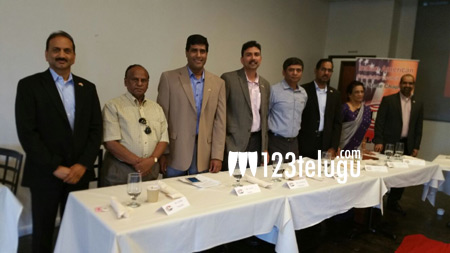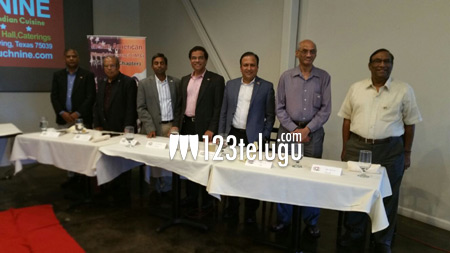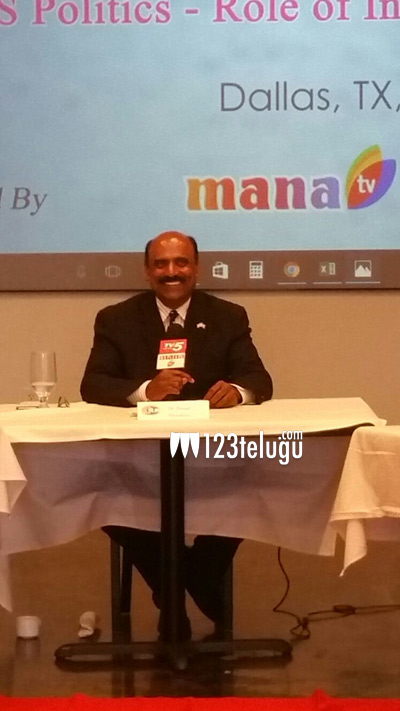 Articles that might interest you:
Ad : Teluguruchi - Learn.. Cook.. Enjoy the Tasty food