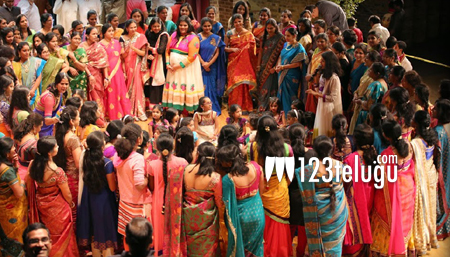 Minneapolis, Oct 11: Minnesota Area Telangana Association (MATA) celebrated its signature event Bathukamma & Dasara in Minneapolis on October 11th, 2014 at Olson Middle school in Bloomington with a large crowd of more than 600 people.
This event started with Vinayaka pooja and followed by cute performances by many young children. There were around 50 Bathukammas with beautiful flower arrangements that were brought by women. All the ladies gathered on stage and participated in singing & dancing in rhythmic circular formation around Bathukamma. (floral decorations of Goddess Gowri). Bathukamma's were immersed in water with traditional prayers. Later on traditional Jammi pooja was performed with exchange of Jammi leaves (bangaram) by men, women and children as part of Alai Bhalai tradition. Many visiting parents and elders from India also attended this event and expressed their happiness and satisfaction to see this big of an event out side India also. Famous folk singing artists Kalasri Bikshu Naik and Madhu Priya entertained attendees with energetic and electrifying folk songs. Minnesota local talent groups peformed classical dances and medleys in the fun filled evening. Delicious Telangana food was served at the event.
MATA President Ravi Sagi spoke about many successful events conducted throughout this year including Bonalu Vanabhojanalu, Volleyball tournament, Bathukamma Dasara along with newly started Sri Rama Navami and financial awareness programs. He also introduced the new president Sudhakar Japa, who in turn introduced the new board for 2014-15. Ramesh Ravva, ex-president spoke about MATA's charitable activities back home. MATA is a Non- Profit organization striving to preserve Telangana culture and educate the younger generation about their traditions and festivals. As part of charitable activities this year MATA is awarding scholarships to many blind students through Devnar Foundation in addition to providing scholarships through Saraswati Vidyapeeth.
This event would not have been successful without the tireless efforts by MATA Board members Mahender Ginuga , Nagendar Nella, Rajeshekher Bachigari, Niranjan Allamaneni, Ramesh Ravva, Bhagwan Reddy, Venu Miryala, Srini Reddy, Venky Miryala, Mahi Nagendar, Rakesh Kamjula, Pavan Koyada,Raja Mudignati, Ramesh Komakula, Sakru Vankdoth, Srinivas Gaddam, Buchi reddy Mudireddy, Yugendar Patturi, RajKumar Kaukoti, Bhawani Chepuri, Anusha Kadarala, Kavitha kapidi, Shivani Madisetti, Ashwini Gunuganti, Malathi Kura and many other volunteers.
Mahender Ginuga and Pavan Koyada thanked all the sponsors, performers and volunteers for making the event a Grand Success.
Some of the festival highlights include –
·Hundreds of ladies and kids joined on stage and played Bathukamma with the songs of Madhu Priya and Bikshu Naik to pray Goddess Gowri Devi.
·All the attendees celebrated Dasara with Jammi Pooja and Bangaram exchange (Alai Bhalai).
·Bikshu Naik and Madhu Priya entertained the large crowd with their signature folk songs, audience and MATA Board danced to their songs with a high spirit.
·Golla Mallamma Kodallu and local teams mesmerized the audience with their electrifying performance.
·Delicious and traditional food was served by Bawarchi restaurent.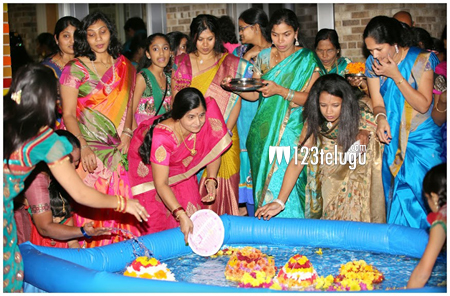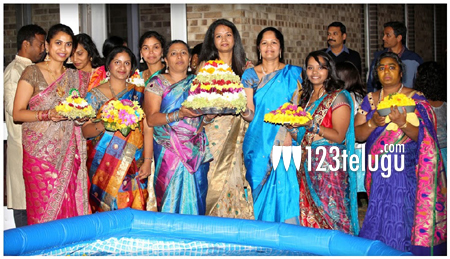 Articles that might interest you:
Ad : Teluguruchi - Learn.. Cook.. Enjoy the Tasty food