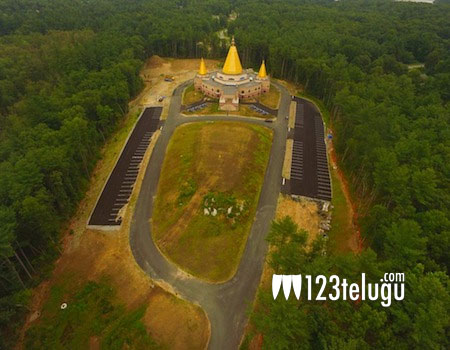 GROTON, MA, USA – After almost three years of extensive design, planning and construction, the New England Shirdi Sai Parivaar Temple (NESSP) announced North America's biggest temple dedicated to late 19th- century Indian spiritual saint Sai Baba of Shirdi, received its occupancy permit on August 9th, 2018 allowing Sai Baba devotees across North America and globally to worship at the temple.
"This temple is the biggest temple of its kind outside Shirdi, India, dedicated to Shirdi Sai Baba. As a spiritual center, the temple will offer devotees a glimpse into the spiritual experience outside Shirdi", said NESSP President Mahender Singh.
Braintree architect B.D. Nayak FAIA provided pro bono architectural and construction supervisory services for the design and erection of the 40,000-square-foot polished concrete edifice on 28 acres. About 254 parking spaces will be provided on the temple grounds, which will also be landscaped with rows of trees flanking a pedestrian approach of fountain pools to the temple's central entrance.
Designed in a traditional Indian temple style with a symmetrical trio of gilded conical gopurams, the building follows Vastu Shastra, a Hindu system of harmonizing architecture with nature according to ancient Hindu rules of geometric symbolism in temple architecture. Thus, the exterior of the building is the outcome of its interior functions.
The towering central gopuram, vividly representing the seat of Sai Baba as one approaches the temple, signifies the octagonal main worship hall for gatherings of up to 500 devotees, from which eight auxiliary spaces radiate in all directions.
The lower gopurams that symmetrically crown two of those spaces represent other deities. The tall flight of steps to the main hall entrance stands for the people's rite of passage from the earthly world of Maya (illusion) to the divine world of God.
The ground floor will be used for diverse community activities and functions. Fully accessible with elevator, the temple has a well-insulated building envelope to conserve energy, large windows around the perimeter for cross ventilation and natural daylight, and skylights and windows around the dome to illuminate religious ceremonies with more natural light, symbolizing the light of God.
The magnificent abode of Sri Shirdi Sai Baba will be inaugurated this October-9th to 21st, 2018: the centennial month and year of Baba's Mahasamadhi. It is not often that one gets to participate in the Kumbhabhishekham and Pranapratishtha festivities of a temple. This festival, spread over 12 days, will include the consecration and worship of all the temple deities.
NESSP warmly invites you all to this auspicious occasion at this inauguration ceremony for a celebration of festivities, tradition and food. Plus a showcase of music, dance, culture and culture.
For more information, please visit: www.nessp.org
Press release by: Indian Clicks, LLC
Articles that might interest you:
Ad : Teluguruchi - Learn.. Cook.. Enjoy the Tasty food