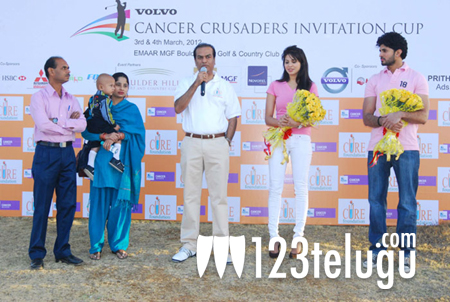 Two year old Rehan Ali flags off 'Cancer Crusaders Invitation Cup – 2012' in the presence of Rishi movie lead stars Arvind & Supriya Sailaja!
Hyderabad, March 3rd, 2012: The 'Cancer Crusaders Invitation Cup – 2012' – a fund raiser and awareness initiative being organized by Cancer Crusaders of CURE Foundation on March 3rd & 4th, 2012 at EMAAR MGF Boulder Hills Golf Club, was flagged off by two year old eye cancer patient and CURE Foundation beneficiary Master Rehan Ali. Present on the occasion were lead stars of Rishi movie Arvind & Supriya Sailaja; Dr. P. Vijay Anand Reddy, Founder, CURE Foundation & Director, Apollo Cancer Hospital, Hyderabad and several Golf enthusiasts from India and abroad.
The mother of Rehan Ali, Ms. Niqat Ali who was overwhelmed by the occasion, thanked CURE Foundation and all those present for aiding her child in getting treated. With tears in her eyes she said, it was a nightmare to learn about cancer afflicting my little one and the cost involved in the treatment. We couldn't afford the treatment and lost all hope. Dr. Vijay Anand Reddy and CURE foundation came forward to rescue us and cure our child. Let all such missions which contribute funds to CURE Foundation be a success always, so that they can help several more children, she added.
Rishi movie hero Arvind said, CURE Foundation is a powerful initiative. This event is aptly titled as Cancer Crusaders Cup, as each one of us can be a crusader in spreading awareness about cancer and early detection being vital. Lead actress of Rishi movie Supriya Sailaja said, we need to do our bit in spreading awareness far and wide about cancer.
Speaking on the occasion Dr. Vijay Anand Reddy said, through this event, we are raising money and are spreading cancer awareness in the society through extensive participation from ace golfers, celebrity figures and opinion leaders. This will be a remarkable day as the opinion leaders
of the community set an impactful example through participation and by declaring support to this virtuous cause. He thanked the participants for the amazing response and support for the cause.
The response for the tournament has been overwhelming with over 150 Golfers participating. Several of these are from all the Golf Clubs in twin cities and from different walks of life software professionals, Doctors, Engineers, Business honchos, Police officials, Women etc. Some keen golfers from outside AP like Delhi, Bangalore, Chennai and some from Singapore and Malaysia are also participating.
Texas Scramble format game
It's a four member team game. All will drive and then select the best shot and mark it. Everyone then hits the next shot from this point. Repeat procedure with each shot until you hole out. This event is played off handicap and we shall add all the teams member's handicaps together and divide by ten. Deduct the handicap from the final total. Maximum Handicap allowed for men is 24 and for ladies is 36.
Catch – All players have to hit minimum 3 drives from the Tee Box
Winners would be four members team – 4 Winners & 4 Runners.
Also some individuals prizes for Longest drive; Straight drive; Shortest drive; Close to the PIN; Blind Putting etc.
The Event partners
The event partners are Apollo Cancer Hospital, Hyderabad; Boulder Hills Golf & Country Club, Hyderabad; Novotel Hyderabad Convention Centre, Hyderabad and Talwar Volvo Cars, Hyderabad
The Co-sponsors of the event are HSBC Bank, Mitsubishi Heavy Industries Ltd., Hyderabad, Seating World, Hyderabad, FOUR Divisions, Hyderabad, Konaseema Institute of Medical Sciences, Amalapuram, Pragati Offset Printers, Hyderabad, Prithvi Ads., Hyderabad and Flying Circus, Hyderabad.
About CURE Foundation
CURE Foundation is a spirited initiative to create consciousness on cancer prevention, early detection, cure & rehabilitation especially for the needful. In addition to spreading awareness for the benefit of the society, the foundation has so far made available quality cancer treatment to more than 500 needy patients, and engaged in numerous rehabilitation, research and education programs.
Articles that might interest you:
Ad : Teluguruchi - Learn.. Cook.. Enjoy the Tasty food