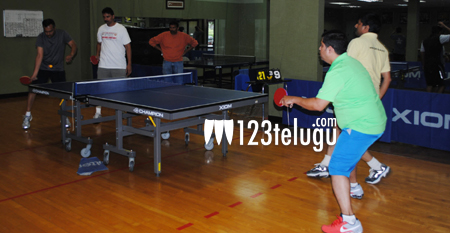 TANTEX/NATATable TennisTournament : Fun and Fitness for the Dallas Telugu Community
September 13, 2014, Dallas, TX
"Let's play Table Tennisfor fun and fitness and bring sportsmanship to the Telugu community" is the theme of the Table Tennistournament jointly conducted by Telugu Association of North Texas (TANTEX), a non-profit, non-religious organization established in 1986 to preserve, promote and perpetuate the cultural heritage of Telugu speaking people of North Texas and North American Telugu Association(NATA), a non-profit, on-politicalorganization established to address the needs and concerns that affect the everyday lives of Telugu people living in North America, as well as, to provide the needed social, financial and educational support services to the North American Telugu community in an effective and efficient manner.
The objective of this historic tournament is to enhance fitness and bring sportsmanship tothe Telugu community. The tournament was held at the Dallas Table Tennis Center located in Carrollton, TX. There has been an overwhelming response from the participating Telugu community. Venkat Danda, Chair, Youth & Sports committee, TANTEX extended a warm welcome to the enthusiastic crowd, providedprogram details and objectives of the Youth & Sports Committee, as well as, the rules of the game and explained the tournament proceedings.
Dr. Narasimha Reddy Urimindi, President-Elect, TANTEX reiterated the organization'scommitment to involve the community and reaching out to the diverse needs of the members and quoted "this tournament will help bring sportsmanship and unify the Telugu community irrespective of the outcome of the game". He thanked all the players for their active participation and encouraged to promote this sport.
Mr. Jayachandra Reddy, NATARegional Vice-President said that "NATA is very happy to be part of this tournament and continue to support this sport among the DFW Telugu community". He expressed his happiness over large number of teams taking part in this tournament and making it a success.
TANTEX and NATA organizers Venkat Danda, Mahesh Adibhatla, Rama Krishna Reddy Rodda, Jayachandra Reddy, RajThodigala, Raj Gondhi, Ramasurya Reddy, and Ramana Putlurhave played a key role in planning, executing, and providing hospitality to the participants. Vijay Mohan Kakarla, Subramanyam Jonnalagadda, Satyam Veernapu, Rao Kalvala, Srinivas Reddy Gurram, Sridhar Korsapti, Ramana Kristapati and MahenderKamireddyrendered tremendous support for successful execution of the tournament. Winner's team includes Mahesh Adibhatla&ManoharNimmagadda and Runners-up team includes Rejish and Krishna Dasyam.
In children category, winners include Anika Reddy, Riya Reddy, and SakethUpperla. TANTEX Sports Chair Venkat Danda and NATA Sports Chair Raj Thodigala thanked Umpires, Scorers, Event Coordinators, Photographers, Volunteers,Special Media Partners Desiplaza / DP TV & Radio Khushi and Media Partners 6TV, TV9, TV5 for successfully organizing and extending their support to this event.
Tournament photos can be viewed at: http://tantex.smugmug.com/2014/Sports/Table-Tennis-Tournament-2014/44035864_2rdPf7#!i=3530253734&k=R9hXhVt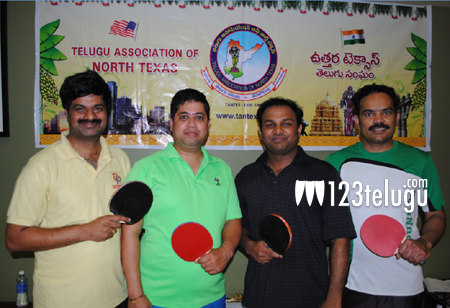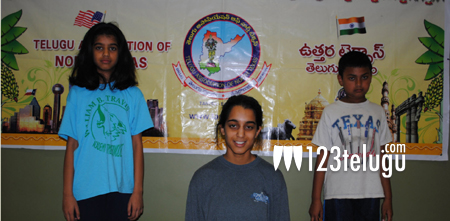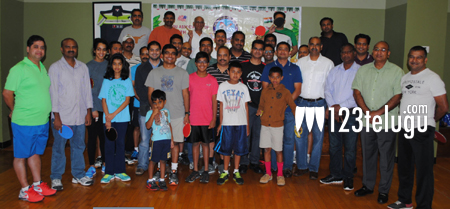 Articles that might interest you:
Ad : Teluguruchi - Learn.. Cook.. Enjoy the Tasty food