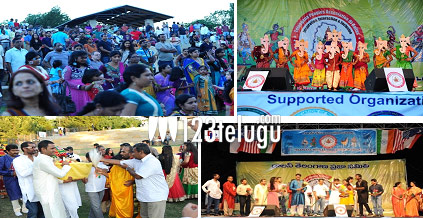 Dallas, TX (June 7th): Telangana Peoples Association of Dallas (TPAD) organized Grand Celebrations in Dallas-Texas to mark the formation of Telangana as 29th state of India. The event aptly named 'DHOOM –DHAAM' and was set in a Mela environment, attended by well over 2500 people. Several passionate volunteers from Telangana state took part in various activities and contributed for the grand success of the event.
With the support of the volunteers, TPAD Event Executive team planned and executed the event – Anand Kathroju, Harish Patlolla, Kavitha Arutla, Kiran
Vodhandapani, Madhavi Sunkireddy, Madhukar Sama,Nikhil Tummala, Pavan Gangadhara, Praveen Arkala, Praveen Billa, Rajendar Reddy, Ram Annadi, Ravi Bajjuri, Satish Janumpalli, Satya Perkari, Sridevi Nuvvula, Srini Gangadhara,SrinivasVemula, Sudhakar Kalasani, Sudhir Lingareddy, Vamshidhar Sudini, Venkatesh Tirumani, Yugandhar Methuku.
TPAD Interim Advisory Board Rao Kalvala, Mahendar Kamireddy, Updendar Telugu, invited Dallas-Fort Worth Indian community at-large to celebrate the event in an inclusive manner. Several Telugu organizations provided their support and attended the Telangana Formation Day on June 7th.
The event started with Lord Ganesha and Lord Venkateswara pujas conducted for the well-being and prosperity of new state of Telangana. A colorful procession took place with Telangana talli photo, and young girls carrying bonalu with dholak drumbeats. MCs for the event Swapna Udimella. Ashwin Kowtha energized the audience throughout the evening.
The unveiling of Telangana map was very jubilant, with speeches by Rao Kalvala and Ajay Reddy, hundreds of helium balloons released, followed by cake cutting and sweets distribution and Fire works with Jai Jai Telengana song by Ramachari.Personal messages from Telangana Ministers Etela Rajendar, and Harish Rao played during the event, Representatives from various organizations TANTEX, IANT, TEA,KalaVahini,ManaBadi, SDF, HSNT, ATA, NATA, NATS, TANA, TDF, and community leaders Mr,Atma Charan Reddy, (Ex,MP), Dr,Gunukula, Mr, Dayakar Puskoor, Dr. Prasad Thotakura, Mr, Jagpal Naini, Dr. Sridhar Korsapati, Dr. Anantha Babbili were called on to the stage.
Vijay Pitta invited sponsors Dr. Pailla Malla Reddy (NATA), Mr, Hanumantha Reddy (ATA), Trupti Dixit (Omega Travels), Battula&Assocaites, MyTaxFiler, RSM Tech,IT Spin, United IT, Carewell Kidney Doctors. Raghuveer Bandaru Invited media representatives FunAsia, YuvaRadio, RadioKhushi, TV9, TV5, 6thTV, DesiPlaza, TORI.Upendar Telugu with Sharada Singireddy planned and executed cultural activities for 4 hrs with 150 local talented artists. Singer Rahul and Sahiti came from Hyderabad to entertain the crowd.Mela environment was set with Food booths to serve authentic Telangana cuisine,including various types of Hyderabadi biryanis, Khubani ka meeta, Double ka mita,
haleem etc. vendor booths were set to sell Sarees, Jewelry and other items, face painting for kids, mehandi for women, cash bar to serve drinks.Mahendar Kamireddy gave vote of thanks and called TPAD Event Executive committee on the stage.
With support and Best wishes from TPAD Founders – Ajay Reddy, Rao Kalvala,Vijay Pitta,Upender Telugu,Mahendar Kamireddy, Janaki Mandadi, Raj Godhi, Raghuveer Bandaru.
Articles that might interest you:
Ad : Teluguruchi - Learn.. Cook.. Enjoy the Tasty food