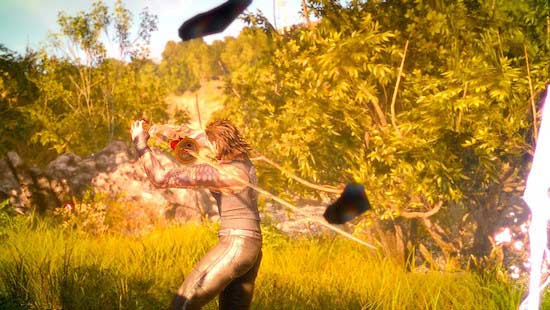 Final Fantasy XIV is an MMORPG that was produced and published by Square Enix. Released back in 2010, the game\ was in development for five years and was first announced as Rupture.
When first announced, the game was supposed to be released for the PS3 and Xbox 360, but due to some disagreements with Microsoft, the game did not receive a console version for the Xbox, and as for the PS3, SquareEnix decided that it would not release the game until it met their standard for the console version, and it ended up being delayed until August of 2013.
An MMORPG Fantasy
The game was originally released back in 2010, and it was supposed to be available for PC and the PS3, but due to some memory problems, the console version was pushed back to 2011. There was also supposed to be a version for the Xbox 360, but Microsoft had some issues with the game, as Square Enix envisioned the game to share servers across the different platforms, and Microsoft did not want that.
At its release, the game was not well received by both critics and players, as it was filled with different types of bugs and glitches, so the general opinion was that the game was released before being completely finished. There were no fun aspects to the game, and other than having good graphics and a great soundtrack, the game did not have anything else to offer. The game did have a good idea, and some of its concepts were interesting, but that wasn't enough to make up for the mess that the game was. Complaints about the confusing interface, weird pace and progress overall was very frustrating.
That was a big shock for fans and for Square Enix, as they have always been well known for always delivering excellent games, and their RPG games are well renowned for being some of the best out there. To try and solve this, some changes to the team working on the game were made, Naoki Yoshida, who previously worked on the Dragon Quest series took over the position of director and producer. Some other staff changes were made as well, in the art and gameplay department.
This team tackled the task of transforming the game into a more enjoyable experience, to make up for its horrible reception at release. Sizable changes were made to the game, there was more gear customization, the battle system was revamped, among many other notable changes. An official Final Fantasy XIV forum was created so that the team could interact more directly with the players, and to get suggestions and feedback about the game.
But sadly, that was not enough to turn the game around. There were still too many issues with the core of the game regarding its engine and server structure. The only option to revive the games was to start over from the start. So instead of announcing a completely new game, a reboot was announced instead. Square Enix issued an apology at the Tokyo Game Show back in 2011, and two years later, the new game was released and was now named Final Fantasy XIV: A Realm Reborn.
A Game Reborn
This was Final Fantasy XIV's second chance. Again, it was released initially for Microsoft Windows and PS3, and now it can be played on the PS4, PS5, and even has a macOS version.
This new version of the game introduced a new story, game engine, better-looking interface, and a combat upgrade. So, unlike its previous version, this one was a huge success and was well-received by critics and fans. Everyone was surprised with the result, and it was comforting to see a company as big as Square Enix be so thoughtful with its fans. They were able to fix all the problems with its previous version and presented a well-made and polished game that is getting updated until today. So it is safe to say that A Realm Reborn was a huge success, and proved that Square Enix can deliver something amazing when they work hard on a game.
Gameplay
Now we will talk about just how much the game changed, focusing especially on the gameplay aspect. If you are the type of player that enjoys focusing on creating and customizing your own characters, Final Fantasy XIV has a lot to keep you busy. There are plenty of features for you to mess around with, different races and classes for you to choose before choosing a server, and beginning your journey.
Completing missions and side quests will reward the players with experience points and equipment. There are different ways for players to gain experience, you can progress through the main story, and even go on dungeons. For lovers of PVP, there are three different types that can be played. Wolve's den, a four versus four-mode, Frontlines, a mode where up to twenty-four players team up, and battle against other teams to see who can first reach the targeted points. And lastly, Rival Wing is a mode where players manipulate their troops to destroy the enemy's objective.
Now there are twenty-two classes, and in the game, they are referred to as jobs. So there are plenty of different choices so you can find the job that suits your gameplay style the best. So be sure to explore all different types of jobs, as you can easily change between them by simply changing your weapons.
It also has an interesting economic system that is primarily influenced by players. Gil is the currency used within the game, and with it, you can buy different kinds of equipment, and an assortment of other things. So if you're struggling to earn enough FF14 Gil, be sure to visit our site, where you can find the best deals to buy Gil. There you will find options that are available in all regions and servers in the game.
For players who are craving an MMORPG, Final Fantasy: A Realm Reborn is an amazing game, where you can sink hours into and have fun playing with friends, and making new friendships in the game.
Content Produced by Indian Clicks, LLC
Articles that might interest you:
Ad : Teluguruchi - Learn.. Cook.. Enjoy the Tasty food