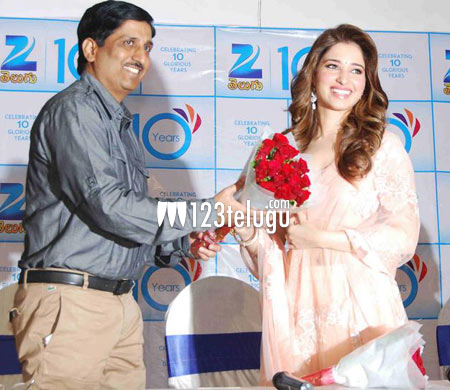 Zee Telugu – Sari KottaVelugu!! Meaning New light.
• Launched by Mega Star Chiranjeevi on May 18, 2005
• Zee Telugu the first southern regional channel from Zee bouquet. And a household name today for its enthralling family entertainment and greets over 13MN households every week!!
Gold Rush – Nee IlluBangaramkaanu
• Gold Rush: Zee Telugu has redefined the concept of entertainment with a clutter breaker show Gold Rush – Nee IlluBangaramkaanu, and become the first channel to giveaway more than 15kgs of Gold to around1200 participants.
A perfect platform for showcasing Talent
• Aata&Sa Re Ga Ma Pa are the most successful format shows, synonymous to Dance and Singing in Telugu Television History. Both the shows offered a perfect platform for the upcoming talent and gave an opportunity to become youth icons in the industry.
A Trendsetter with Aspiring and Young Protagonists!!
• The first channel to dominate Telugu Fiction Genre with its original and homegrown content.
• Differential and familial stories with young and aspirational protagonists who fights for their rights.
• Characters are close to heart with immense connect.
First of its kind and Original Content!!
• Innovation never stops at Zee. Our viewers enjoy the most – ChittamChitttamPrayaschittam, ChotaChampion, Super Mom, KonchemTouchloUnteChepta etc.
• Gadasari Atta SogasariKodaluis the first ever female game show in Telugu TV that was being shot at the door steps of participants. Mondi Mogudu Penki Pellam is a unique couple's game show quite popular amongst all Telugu viewers.
Celebration of Festivals and Special days the 'Zee way'
• Zee is pioneer in creating out of box content, festival special events are unique to Zee.
• Zee Kutumbam Awards- the first of its kind Reshtey awards on Telugu TV. Other special events like Zee Golden Awards, OkarikiOkaru and Festive Celebrations like Sankranti Sambaralu, KarthikaKantulu, Aha MaaPellanta, Pradeep Swayamvaram, Dubai Lo Ugadi are unique in the industry.
Big Movies
• Zee has a Big library of latest hits to all-time hits to entertain its viewers.
• Recent block busters like Iddarammayilato, Balupu, Loukyam, Geethanjali,KottaJanta, Lakshmi RaaveMaaIntikietc. have recreated the magic even on small screen.
• Latest musical sensation – Mukunda will be aired very soon on Zee Telugu
The 'Friend, Philosopher & Guide'
• The highly recalled Zee Telugu devotional shows in the morning like BhakthiSamacharam, Gopuram ,Shubhamasthuetc ensure that every day has a special beginning.
• BhakthiSamacharam, Only show that started its journey along with the channel and completed more than 3300 episodes, and is still going strong.
• The first cookery show on Telugu TV-Mee Inti Vantawith over 3000 episodes has made a big mark in the industry.
Zee 10 the Mega Event:
• An Event to pay tribute to all the path breaking moments in this 10years of successful journey.
• An opportunity to thank all the Stake Holders for what we are today.
• To reveal a fresh overall channel packaging and channel id along with a special 10th year Anthem.
• Event shoot on Apr 25th and 26th
• Tamannah our Brand ambassador will be doing a sizzling performance on her 10 big hits of the decade.
• Also 'never seen before' performances by leading TV and Film artists. Many more big stars and other stalwarts to participate as guests.
Zee Telugu Stats:
Currently Zee Telugu is No.2 in Fiction and Non Fiction Genres and also No.2 in Overall in Telugu GEC.
FAQs
Tamannah
– I'm thrilled to learn, that I'm the Brand Ambassador for Zee Telugu 10thyr Celebrations. I thank Zee Team for keeping trust in me.
– Zee Telugu is very vibrant, innovative and most happening channel in Telugu GEC space today. I feel it's like 'me' in many ways. Protagonists of Zee Shows represent my thought process in some way or the other…
– In fact our association started when I was requested for KTUC in last Nov(2014). I am very much impressed with Zee Team, they were thoroughly professional in their approach be it while shooting the episode, post production, promoting the episode etc. they showcased a different perspective in me. I and my family enjoyed watching both the episodes aired on 8th and 15th Nov. I got lot of appreciation from my friends and peers on this.
 Zee National Network: Zee is the first private Entertainment channel in India, and now with over 35 channels spread across country and also into 169 countries.
 I am a big fan of Zee TV Hindi, I regularly watch Zee's Shows like DID, Qubool Hai, Jamai Raja, KumkumBhagya etc. and …actually I started watching Zee Telugu from recently..from my episodes on KTUC.
 I enjoy watching few shows particularly soaps like VarudhiniParinayam, MangammagariManavaraluetc also the Celebration events of Indian festivals and… of course KTUC.
Zee Perspective:
– Tamannah resonates with the values of Zee Telugu in true sprit!!
– Aspirational (Fiction Characters)
– Young & vibrant (Fiction Characters and Nonfic host and youth movies – KottaJanta, Lovers, Geetanjali, Loukyam, Laxmi Rave MaaIntikietc)
– Unique (Events like Pradeep Swayamvaam, Dubai lo Ugadietc)
– Innovation (Non fic game shows: GASK, ChittamChittam .., Super Mom, KTUC and now 3..2..1..Go)
– Respect tradition (Devotional band – Gopuram, Bhakti Samacharam etc.)
– Yet Contemporary (Events like – OkarikiOkaru, Dubai Lo Ugadi etc.)
Detailing of our Brand association & future plans:
– The association is for whole of the 10th anniversary year, i.e. from Apr 1, 2015 to Mar 31, 2016
– Now shooting for 5 concept promos and 10th year anthem
– We look forward for Tamannah presence in few of our signature properties for mutual benefit.
How this association is mutually beneficial?
– Both Zee and Tamannah will get the synergy benefit like '1+1=3'.
– With this association our fans will rejoice the most with fresh line up of content on Zee Telugu and my upcoming movies like Bahubali and Bengal Tiger etc.
– One step closer to Telugu viewers through Zee Telugu, with thorough promotions both on the channel and off channel, that Zee Telugu is always good at.
Articles that might interest you:
Ad : Teluguruchi - Learn.. Cook.. Enjoy the Tasty food