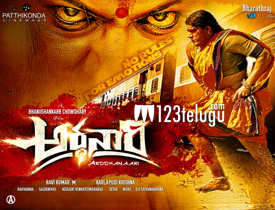 Release date : July 01st, 2016
123telugu.com Rating : 2.75/5
Director : Bhanushanker Chowdary
Producer : M. Ravi Kumar
Music Director : Ravi Varma
Starring : Arjun Yajath, Mouryaani

Ardhanaari is one film which has created a decent buzz for itself. Based on the life of a transgender, this film has hit the screens today. Let's see how it is.
Story:-
Ardhanaari(Arjun) is a transgender who comes to the city and starts killing everyone. She, especially targets the government employees and keeps killing them one after the other according to a plan.
The cops go on a high profile mission and finally manage to nab Ardhanaari. They bring her to the court and ask her as to why she committed all these murders. An upset Ardhanaari then reveals that she will speak directly to the public.
Who is this Ardhanaari ? What is she up to ? Why did she commit all these murders ? What will she tell the public. To know answers to these questions, you need to watch the film on the big screen.
Plus Points:-
Concept of the film is quite good. Credit should go to the director Bhanu for thinking of something unique like this and making a transgender a central character. Second half of the film is very good and especially the emotional narration elevates the proceedings quite well.
Arjun, who plays the lead role is superb and delivers a knockout performance. Very early in his career, he has got a complex character like this and he has done quite well to hold all the important emotions right through out the film.
Minus Points:-
First half of the film is way too long. Even though the character of Ardhanaari is quite good, too much time has been spent on showcasing him and this takes a long time and bores the audience at times.
The way Ardhanaari goes about killing high profile officials is showcased in a very silly manner. The emotion showcased through Ardhanaari's character during the first half lacks focus at times.
Logic goes for a toss in many scenes during the first half. The film is very loud in nature and might not go well with many.
Technical Aspects:-
Background score by Ravi Varma is quite good. Dialogues are realistic and make you think twice. Editing is below average as many scenes during the first half could have been trimmed. Coming to the director Bhanu, he has done a decent job with the film. The way he has narrated the emotional part during the second half is very good. Had he toned the film during the first half and made more sense showcasing the killings, the output would have been even better.
Verdict:-
Ardhanaari is a serious message oriented film which is hard hitting. Interesting premise and laudable performance by Arjun as the transgender are the major assets. If you manage to sit through the loud and boring first half and do not expect any commercial aspects, this film might impress you with its emotional narration. Watch it with an open mind.
123telugu.com Rating : 2.75/5
Reviewed by 123telugu Team
Articles that might interest you:
Ad : Teluguruchi - Learn.. Cook.. Enjoy the Tasty food
TAGS:
Ardhanari Cinema Review
,
Ardhanari Film Review
,
Ardhanari Movie Review
,
Ardhanari Movie Review in Telugu
,
Ardhanari Review
,
Ardhanari Review and Rating
,
Ardhanari Review in Telugu
,
Ardhanari Telugu Movie Review
,
Ardhanari Telugu Review
,
Mouryaani Ardhanari Review
,
Mouryaani Ardhanari Review in Telugu
,
Mouryaani Ardhanari Telugu Review