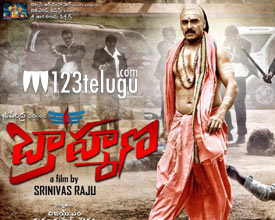 Release date : July 08th, 2016
123telugu.com Rating : 2.25/5
Director : Srinivas Raju
Producer : M Vijay and Gurram Mahesh Chowdary
Music Director : Mani Sharma
Starring : Upendra, Saloni

Upendra's hit Kannada film Shivam has been dubbed into Telugu with the title Brahmana. The film which is directed by Srinivasa Raju has hit the screens today. Let's see how it is.
Story:-
Basavanna(Upendra) is a Brahmin boy who does not believe in the basic formalities of daily life. He hails from a family of priests who are the ancestral care takers of a prestigious temple. What ever important task the temple has to undergo, some one from Basavanna's family fulfils it.
Twist in the tale arises when Basavanna's dad dies and he is forced to take the duty of the priest in the temple. Right when Bavsanna takes things in his hand, a meticulous murder attack is planned on him which he survives cleverly.
Why is Basavanna being targeted ? What is the back story behind this animosity ? and how does he deal with all this chaos forms the rest of the story.
Plus Points:-
First half of the film has good emotions. The way Upendra changes gears and takes up his family problems, all these things have been showcased quite well. Upendra's transformation into a priest is shown in a wonderful manner.
As usual, Upendra is at his wittiest best and mouths some unique dialogues. He is especially good as the priest and showcases wonderful body language which also elevates his heroism. Saloni is decent in what ever role she got. Ragini Dwivedi provides the necessary eye candy.
Minus Points:-
After a promising first half, the entire second half goes for a toss. The movie changes track and aspects like mafia, terrorism and intelligence department take front seat and disappoint the proceedings big time.
The emotions, fights and unnecessary scenes showcased during this time side track the film and also irritate the audience. Yet another draw back of the film is the villain Ravi Shankar. He is no where truthful to his role and gives a disappointing performance. Also, the Telugu dubbing is a huge let down.
Technical Aspects:-
Surprisingly, Mani Sharma's music is quite disappointing. Background score is an even bigger disaster as Mani has copied some of his old tunes for this film. Editing is quite bad and so was the camera work. Coming to the director Srinivasa Raju, even though he chose a decent story, his execution is pathetic. Right after the first half, the film nose dives as Srinivas' direction lacks focus and clarity in any of the scenes till the end.
Verdict:-
As in every film of Upendra, even Brahmana has an interesting premise and note worthy performance by the Kannada star. But it is the pathetic second half which side tracks the film completely and disturbs the viewing for the audience. All those who love Upendra films can give this film a shot just for that interesting first half and can walk out once that is done.
123telugu.com Rating : 2.25/5
Reviewed by 123telugu Team
Articles that might interest you:
Ad : Teluguruchi - Learn.. Cook.. Enjoy the Tasty food
TAGS:
Brahmana Cinema Review
,
Brahmana Film Review
,
Brahmana Movie Review
,
Brahmana Movie Review in Telugu
,
Brahmana Review
,
Brahmana Review and Rating
,
Brahmana Review in Telugu
,
Brahmana Telugu Movie Review
,
Brahmana Telugu Review
,
Upendra Brahmana Movie Review
,
Upendra Brahmana Review
,
Upendra Saloni Brahmana Telugu Review