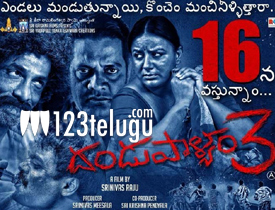 Release date : March 16, 2018
123telugu.com Rating : 2.5/5
Starring : P. Ravi Shankar , Pooja Gandhi, Makarand Deshpande
Director : Srinivas Raju
Producer : Rajani Talluri
Music Director : Arjun Janya
Editor : Ravi Chandran
The much-awaited sequel of the Dandupalyam franchise, Dandupalayam 3 has finally hit the big screens today. Let us check whether the third outing packs a punch or not.
Story:
A gang of psychopaths, famously known as Dandupalyam, who go to any extent for their pleasures creates a havoc in the city. Their lust and desire for money keep provoking them to kill people in the most brutal way possible. This gang is directly involved in close to 80 criminal cases. In the process, a rude police officer( Ravi Shankar) works his way around the gang members and tries to prove them guilty in law. Will he be successful in captivating these social criminals? Watch the movie on the big screens to know the answer.
Plus Points:
The movie offers a raw experience to the viewers. The way criminals act, their mentality, and sadistic nature have been studied and executed well. The main star cast comes up with decent performances and brings depth to the movie.
The sadistic nature and lust of the real-life gang have been emoted well by the actors. The interval block sets a perfect platform for the second half and builds an intense atmosphere. The near to life storyline and a decent screenplay gives a new experience to the audience.
Minus Points:
The movie takes its own sweet time to enter the actual plot. The movie gets interesting only towards the end of the first half, where we see glimpses of the actual storyline. This movie is a strict no-no for the family audience. The way the gang objectifies women may disturb a few viewers.
A few unwanted scenes in the initial stages may put off the audience. A few scenes destroy the tempo right in the beginning of the first half. Too much gore and violence may not go well with certain sections of moviegoers.
Technical Aspects:
The director, Srinivasa Raju does not sugar coat the movie and keeps thing realistic. His definition of detailing needs to be appreciated. He adapted the real-life incidents and executed them in a decent manner.
Music by Arjun Janya is just decent. His background score elevates a few scenes and adds impact to the proceedings. Camera work is fine, but one may feel that proper care should have been taken towards camera angles while filming a crime story.
Verdict:
On the whole, Dandupalyam 3 is a raw and intense movie which is strictly made with B & C centers in mind. The excessive usage of curse words and too much gore make it a skippable fare for the family audience. The adaption of the real-life story may offer a new experience for a certain section of the audience. All those who want to watch a raw crime story can give this film a shot and the rest can explore other options.
123telugu.com Rating : 2.5/5
Reviewed by 123telugu Team
Articles that might interest you:
Ad : Teluguruchi - Learn.. Cook.. Enjoy the Tasty food
TAGS:
Dandupalyam 3 Cinema Review
,
Dandupalyam 3 Film Review
,
Dandupalyam 3 Movie Review
,
Dandupalyam 3 Movie Review in Telugu
,
Dandupalyam 3 Review
,
Dandupalyam 3 Review and Rating
,
Dandupalyam 3 Telugu Cinema Review
,
Dandupalyam 3 Telugu Movie Review
,
Dandupalyam 3 Telugu Movie Review and Rating
,
Dandupalyam 3 Telugu Review
,
Dandupalyam 3 telugu Review and Rating
,
Ravi Shankar P. Dandupalyam 3 Telugu Movie Review