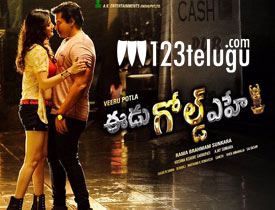 Release date : October 07, 2016
123telugu.com Rating : 3/5
Director : Veeru Potla
Producers : Sunkara Ramabrahmam
Music Director : Sagar Mahati
Starring : Sunil, Sushma Raj, Richa Panai
After the success of Jakkanna, Sunil is back with yet another entertainer Eedu Gold Ehe. Directed by Veeru Potla, this film has hit the screens today. Let's see whether this film gives Sunil yet another hit.
Story:-
Bangarraju (Sunil) is an innocent guy who is always on the lookout of helping others. After a string of odd jobs, he finally settles down in Hyderabad with a family who takes care of him as if he was their own son.
One fine day, a huge robbery takes place at a notorious criminal's home. After checking the security footage, it is revealed that Bangarraju has stolen a gold artifact.
Hell breaks loose and an upset Bangarraju is forced to run away from Hyderabad. Who is this Bangarraju ? and What made him attempt this huge robbery ? To know the answers, you need to watch the film on the big screen.
Plus Points:-
Sunil, once again carries the entire film on his shoulders and gives an honest performance. Sushma Raj looks good and does well in her limited role. Richa Panai is just about okay. The film has some time pass comedy in the form of Shakalaka Shankar and 30 years Pruthvi.
A ten-minute farm house comedy episode in the second half will work with the B and C centres quite well. The interval bang is interesting and a few twists have been showcased nicely.
The crisp runtime is another bane for Eedu Gold Ehe. The background score is decent and the skin show by the lead actresses will work well with the masses.
Minus Points:-
Even though the film starts off on an interesting note, the first half bogs down after a while and provides nothing in terms of story. The love story between the lead pair is also non-existant and Sunil's characterization goes for a big toss.
Logic is also missed for the most part. Veeru Potla wrote an interesting story but his improper screenplay fails to hold the film together. Songs also come as major speed breakers and should have been left out. Sunil looks out of shape and seriously needs a make-over.
Technical Aspects:-
Given the film's budget, the production values are splendid. Background music by Sagar is impressive while the songs are forgettable. Editing is just about okay as a lot of unnecessary songs come in the way. Camera work is acceptable. Dialogues are nothing great to boast about.
Coming to Veeru Potla, the talented director does a mediocre job. He creates a good story that has both thrilling and comedy elements but his narration is a bit let down as the script had good scope which the director missed out on utilising it.
Verdict :-
On the whole, Edu Gold Ehe is a film which has some very interesting twists. Sunil's performance and decent comedy are some assets of this pakka commercial film which is aimed at the B and C centers. On the flip side, the lack lustre narration makes this film just an okay watch this festive season.
123telugu.com Rating : 3/5
Reviewed by 123telugu Team