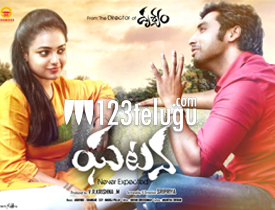 Release date : November 18, 2016
123telugu.com Rating : 2.25/5
Director : Sripriya
Producer : V.R Krishna.M
Music Director : Aravind Shankar
Starring : Nithya Menen, Krish J Sathar, Naresh
Director Sripriya impressed everyone with the hit film Drishyam. She is now back with yet another project Ghatana which has been waiting for a release for quite a long time. The film has finally released today and lets's see how it is.
Story:
Malini(Nithya Menon) is a nurse who dreams of working in Canada. She comes across a guy named Varun( Krish J) and falls in love with him. After a certain time, Malini decides to move in with Varun for a live-in relationship. When things seem to be going just fine, Malini gets raped all off a sudden by Varun's boss Prakash(Naresh).
Hugely upset by this tragic incident, Malini moves away to another city. But there too, she gets raped once again and is put behind bars in a drug case. A devastated Malini takes things in her hand and decides to take revenge on those who spoiled her life completely. How did a single woman manage to do all these forms the rest of the story.
Plus Points :-
The film becomes watchable only because of Nithya Menen. She is a perfect fit in the role of a helpless rape victim and gives a superb performance. Especially the scenes where she gets traumatized after getting raped showcase her acting prowess. Even though the climax of the film is a bit dragged, it has been ended well.
Naresh is the surprise package of the film and does supremely well in his role. It is good to see an actor of his caliber attempt something like this and carry out with a lot of ease. Even though he appears for a less time, his role stands out.
Minus Points :-
The original was a huge hit in Malayalam and was again remade in Telugu. But for the Telugu version, things are not the same as the film lacks the necessary effect. Firstly, the film takes forever to get into the actual story. The scenes that come during this time have no sense and irritate you completely. The comedy featuring Kovai Sarala and many other routine scenes put you off at once.
The pace of the film is slow that it can depress you at times. Stories like these need to be very crisp and to the point. When the audience is already having a tough time outside, there is no point irritating them by dragging the pathos and problems to no extent.
Ghatana has many episodes interlaced into once. It starts with a love story, then becomes heroine oriented and finally a revenge drama. The jail scenes could have been wrapped up in a short time but the director goes too much into details which are also a big problem of this film.
Technical Aspects :-
Production values are quite good and the decent camera work only adds to it. The background score by Aravind Shankar is pretty good and so are the dialogues. One of the biggest drawbacks of the film is the lackluster screenplay which is quite lethargic. Except for the twist shown, there is absolutely no novelty in the entire proceedings. Director Sripriya takes forever to get the film rolling. She has some decent stuff to be said but drags the film with her slow paced narration which bores the audience.
Verdict:-
On the whole, Ghatana is a film which deals with woman empowerment. Though the subject chosen is good, the film completely falters with a slow paced narration and too much pathos which is hard to digest for regular Telugu audience. The outdated storyline and routine revenge drama disappoint things even more. The only saving grace of the film is Nithya Menen who delivers a superb performance and makes this film watchable only for her.
123telugu.com Rating : 2.25/5
Reviewed by 123telugu Team
Articles that might interest you:
Ad : Teluguruchi - Learn.. Cook.. Enjoy the Tasty food