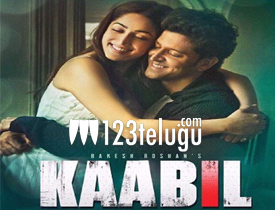 Release date : January 25, 2017
Director : Sanjay Gupta
Producer : Rakesh Roshan
Music Director : Rajesh Roshan
Starring : Hrithik Roshan, Yami Gautam, Ronit Roy
After a huge round of promotions, Hrithik Roshan's Kaabil has hit the screens finally. Let's see how it is.
Story:-
"Kaabil" tells a very simple two-storeyed story. In the first opulently romantic overture, Rohit(Hrithik) is set up for a date with Suparna(Yami Gautam). They meet in a string of beautifully beaded encounters. Then they fall in love and get married.
This is all familiar mush territory shot by cinematographer Sudeep Chatterjee in a filtered haze of delirious romanticism. There is just one difference. Both Rohit and Suparna are blind. Well, technically, that is. For all practical purposes, they can see far better than many people around them.
The hideous doings of Amit Shellar (Rohit Roy) and his friend Wasim (Shaidur Rehman) break the idyllic beauty of the couple's paradise with a shattering impact. It's an ugly turning point in the plot and one that signals the turn-around in mood from tender soft supple colors to a splash of angry blood red orange glow hues.
Plus Points:-
Hrithik's transformation from romance to rage is so credible, compelling and chilling you flow with his fury to the battered, bruised, bloodied, wounded love-soldier wondering if hell hath any fury like a blind man scorned. He plays blind with a blinding brilliance. Intelligently enough, his unseeing character stumbles and panics when thrown into strange circumstances and places rather than act cool heroically super confident.
To understand this star actor's mastery over his character's dithering destiny, we just have to see how he dances with his significant other in an elaborately staged ballroom sequence. Yami Gautam as the love of his life is capable and likable and seems to love the attention she gets from the camera and her co-star.
But after Hrithik, it is Ronit Roy as an unscrupulous contractor-politician who stuns with his ability to say much without speaking it all. Watch him in the sequence where he visits Hrithik to console. His casual reference to crime and a sexual violation will shock you. Ronit's Marathi accent is bang-on.
Minus Points:-
A lot of the film's warmly conversational dialogues take good-natured digs at people who can "see" but can't really comprehend the immense power of humanity to heal. Instead, they choose to hurt one another, sometimes just for fun.
Technical Aspects:-
Action director Sham Kaushal conceives elaborately staged stunts where Hrithik fights using his extra sharp audio perceptions to compensate for his character's visual impairment. Sound designer, Resul Pookutty has done a fabulous job. No other Indian film in recent times has made such telling use of sound. Voices and whispers blend into the sanguinary fabric to create an aura of ominous retribution and redemption.
As a director, Sanjay Gupta has seldom been more willing to let his characters appear vulnerable and undefended though not defenseless. Gupta creates a romance splendid and tender, only to quash it with a brutal spin that takes us kicking and screaming to a finale that never ceases to amaze us without losing its plausibility.
Verdict:-
On the whole, Kaabil is a film about love and its abrupt send-off. But the emphasis is on the damage done to the soul of the wronged man. It must be seen for Hrithik Roshan's incredibly moving performance and for the unexpected glimpse it provides into its director's romantic personality.