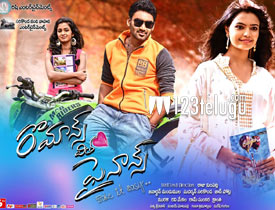 Date of Release: 18th March 2016
123Telugu.com Rating: 2/5
Director: Rajju Kumpatla
Producer: Janardhan Mandumula
Music Director: John Potla
Starring : Merina Abraham, Satish Babu
Continuing with the trend of low budget films, yet another project which has hit the screens today is Romance with Finance. Let's now see what is this film all about.
Story:-
The story of the film is quite simple. Jai(Satish Babu) is a college youth who falls in love with Chaitra(Marina Abraham). As time passes by, even she starts liking Jai.
The couple spend some cosy times together and right when Jai proposes to her, Chaitra rejects him on his face. Why did Chaitr reject Jai ? What is her problem ? and how does Jai win his love back ? That forms the rest of story.
Plus Points:
The female lead, Marina Abraham is sole and only asset for this film. She looks decent and has also done her part pretty well. All her college going scenes and emotional outbursts have been showcased well.
Surprisingly, music of the film is pretty good. Even though they pop up at regular intervals, they sound good and have also been shot decently. The guy who did the role of hero's friend has done a good job in his role.
Minus Points:-
There is absolutely no story in the film. A guy proposes to his girlfriend and she rejects him for a silly reason. Even this silly reason is only revealed during the end by the time your are already knocked over by the film's traumatic narration.
The plot of the film is so thin that it will look long even if it is made as a short film. Except for the last ten minutes, the film has absolutely nothing to offer and leaves the audience in surprise as to what is going on in the proceedings.
There is absolutely no chemistry between the lead pair and emotional angle goes for a toss. The way heroine's character gets subdued during the second half has no meaning. The film's main lead needs acting classes and his dubbing also looks horrible.
Technical Aspects:-
As said earlier, music of the film is pretty good. All the songs have been composed quite well. Production values are laudable and the decent camera work only elevates the visuals.
Coming to the director, Rajju Kumpatla, he has done a horrible job with his narration. Even though the film has a simple point, he could have narrated the film with some entertainment. Instead, he drags the film for ever and handles all his characters on a horrible note leaving the audience in a jolt.
Verdict:-
Romance with Finance is one of the most silliest and dragged out films that has come out in the recent past. Except for the film's female lead Marina Abraham, the story line, performances and narration, everything goes for a toss and leaves the audience in a disarray. Ignore this film even when it comes on TV.
123telugu.com Rating : 2/5
Reviewed by 123telugu Team
Articles that might interest you:
Ad : Teluguruchi - Learn.. Cook.. Enjoy the Tasty food