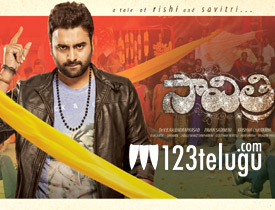 Release date : April 1st, 2016
123telugu.com Rating :3/5
Director : Pavan Sadineni
Producer : Dr. V.B. Rajendra Prasad
Music Director : Shravan
Starring : Nara Rohit,Nanditha Raj
Nara Rohit, who is quite busy with a handful of films in his hand is back with a family drama titled Savitri. Also starring Nanditha, the movie has built-up a positive pre-release buzz and has released today. Let's see how it fares.
Story:
Savitri (Nanditha Raj) is crazy about getting married right from her childhood days. With this being her soul aim, she convinces her family to find a good groom for her. Her family decides to get Savitri married to Rishi (Nara Rohit), although both of them are not aware of this decision.
While on her way to Shiridi, Savitri meets Rishi, who instantly falls in love with her even though she is not interested. Due to some circumstances, both of them miss the train. During their journey back to catch the train, Rishi tells his family that he is not interested in marrying the girl they fixed as he is in love with someone else now.
How does Rishi make a disinterested Savitri fall in love with him? and How does he convince Savitri's family for her hand ? The answers to these questions form the rest of the story.
Plus Points:-
One of the major plus points of the film is that it will appeal hugely to the family audience. Being branded as a wholesome family entertainer, it succeeds in carrying the theme most of the time.
Another major plus is the casting. All roles in the film have been filled by experienced actors which makes the film look authentic. Nara Rohit succeeds in pulling off his role well but it is Nanditha who takes away the cake with her natural performance and manages to impress big time.
Prabhas Srinu and Fish Venkat bring a few laughs to the mix. The songs by Shravan are wonderful and have also been showcased quite well. The short run-time is another boon for the flick and the film carries marvelous production values.
Minus Points:-
Even though the film starts off on a interesting note, the story is ages old and has been seen many a times previously. Also, the director loses track and brings in unnecessary scenes which makes the film feel dragged at places, especially during the second half.
Another bane for the movie is the screenplay. A tighter and racy screenplay would have taken the movie to places. The director had the right theme in mind but faltered in executing satisfactorily. A few characters like Ravi Babu and Vennela Kishore are unnecessarily introduced in the second half, making the film longer than it should be.
The whole track involving Posani is also logic-less and could have been avoided completely. A few fights could have been avoided as they seemed unnecessary for the most part.
Technical Aspects:-
Though the film is made with a small budget, the production values are exceptional. Music by Shravan, especially the background score is superb and elevates the film in places. RJ Kajal's voice suits Nanditha's character nicely and elevates her role well. Camera work is nothing great to talk about. Dialogues on the other hand, especially during the climax, have been written exceptionally well.
Coming to director Pavan Sadineni, he has already proved that he has ample amount of talent with his debut film. Even though the story he chose is ages old, he has tried his best to execute it in an entertaining manner and has handled the climax exceptionally well.
Verdict:-
On the whole, Savitri is a film which is high on family emotions. Although, the film feels dragged at most places and story is ages old, the lead cast and overall theme manages to provide just about ok entertainment and can be given a shot if you have absolutely no options to explore this weekend.
123telugu.com Rating : 3/5
Reviewed by 123telugu Team
Articles that might interest you:
Ad : Teluguruchi - Learn.. Cook.. Enjoy the Tasty food