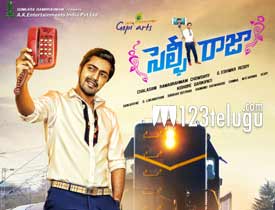 Release date : July 15th, 2016
123telugu.com Rating : 2.75/5
Director : G.Eshwer Reddy
Producer : Chalasani Ramabrahmam Chowdary
Music Director : Sai Kartheek
Starring : Allari Naresh, Sakshi Chaudhary
Allari Naresh is in a crucial stage of his career. He needs a desperate hit and has now come forward with yet another comedy caper Selfie Raja. Directed by Eshwar Reddy, this film has hit the screens today. Let's see how it is.
Story:-
Selfie Raja( Allari Naresh) is a happy go lucky youth who marries the daughter(Kamna Ranaut) of a police commissioner(Nagineedu). As his father in law has some personal issues with a dreaded criminal, the wicked man decides to take revenge and creates problems in Selfie Raja's marital life and breaks up his marriage.
Left with no choice, Selfie Raja, decides to end his life and hires a contract killer(Ravi Babu) to shoot him. Twist in the tale arises when the same contract killer brings in his special partner and plans something big instead of killing Selfie Raja.
Who is this special partner ? What is his plan ? To know answers to all these questions, you need to watch the film on the big screen.
Plus Points:-
As always, Allari Naresh does a sincere job in his role. With Selfie Raja, he has stopped experimenting and is back to his routine comedy which looks good. The various spoofs that have been showcased throughout are executed well. Especially those designed on 30 years Pruthvi are hilarious.
First half of the film is a bit decent and has a sensible story line. Interval twist is interesting and the climax evokes good comedy. Heroine Kamna Ranaut makes a decent debut and performs well too. Shakalaka Shankar and his snake comedy is good in parts.
Minus Points :-
After delivering a decent interval bang, the makers throw in some meaningless scenes and characters. Ravi Babu's role is out right silly and lacks any meaning. The way his track is mixed with the main theme of the film lacks conviction.
Songs come at regular intervals and disturb the flow of the proceedings during the second half. The makers tried to induce too many gigs and this made things even irritating.
Even though Selfie Raja has a simple premise, the narration is where things go haywire. The makers have written comic episodes and tried to forcibly mold them into the story line which has no effect.
Technical Aspects:-
Production values are pretty decent as the film is filled with good visuals and enough comedians. Music by Sai Kartheek is pretty decent but these numbers come as speed breakers. Screenplay is horrible as the film changes track post the first half. Dialogues are witty and have been written quite well.
Coming to the director Eshwar Reddy, he has done a poor job with his direction. It is his narration which lacks any focus as he makes the film go out of place with his inexperience. Had he handled the comedy episodes well and used them in a proper way, the output would have been better.
Verdict:-
On the whole, Selfie Raja is just an average comedy caper. The film is filled with gags which click at times and also irritate you to an extent. Allari Naresh's sincere performance and some spoofs make the proceedings lively. Rest of the film is out of place and does not have much flow. All those who are hellbent on watching this film after watching its interesting teasers, they can give it a shot but go in well prepared.
123telugu.com Rating : 2.75/5
Reviewed by 123telugu Team
Articles that might interest you:
Ad : Teluguruchi - Learn.. Cook.. Enjoy the Tasty food
TAGS:
Allari Naresh Selfie Raja Movie Review
,
Allari Naresh Selfie Raja Review
,
Selfie Raja Cinema Review
,
Selfie Raja Film Review
,
Selfie Raja Movie Review
,
Selfie Raja Movie Review in Telugu
,
Selfie Raja Review
,
Selfie Raja Review and Rating
,
Selfie Raja Review in Telugu
,
Selfie Raja Telugu Movie Review
,
Selfie Raja Telugu Review