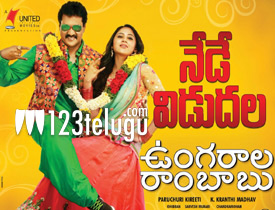 Release date : September 15, 2017
123telugu.com Rating : 2/5
Director : Kranthi Madhav
Producer : Paruchuri Kiriti
Music Director : Ghibran
Starring : Sunil, Miya George
Ungarala Ram Babu is one film which is very crucial for Sunil's career. The film which was postponed many a time has finally hit the screens today. Let's see how it is.
Story:-
Ram Babu(Sunil) is a rich man who loses everything after his grand father's death. Left with no choice, he visits Badam Baba(Posani) for some solace. Upon his suggestion, Ram Babu goes to a barren land and starts planting a tree. To his luck, he finds gold biscuits worth 200 crores and he, once again becomes rich.
This incident makes him a strong believer in astrology. But as time passes, he starts incurring losses in his business. Once again, the baba asks him to marry a certain girl(Miya Goerge) in his office to become safe in life. The twist is the tale arises when Ram Babu is pit against the girl's dad(Prakash Raj) who is a communist in nature. Rest of the story is as to how Ram Babu wins his love and becomes successful in life.
Plus Points:-
Sunil tries very hard to entertain in his badly written role and does his best to make things lively. Prakash Raj is a sincere actor and does his job well. The comedy generated by Posani as Badam Baba clicks here and there.
Heroine Miya Goerge looks decent and does her role to the best of her capabilities. Once again, Vennela Kishore in one man who brings life to the proceedings. Though his comedy is not that great, he manages to save us at least for a while from the torcher that goes on screen in the second half.
Minus Points:-
The film is filled with drawbacks and it is very difficult to put everything here. Firstly, Sunil needs to stop accepting scripts like these which have absolutely no value at all. Through the film, the first doubt you get is the movie you are watching is made by the same director who directed films like Onamalu and Malli Malli Idi Rani Roju.
The film has meaningless scenes, over the top acting, irritating songs and even disappointing screenplay. There are times where you clearly feel claustrophobic and look at the exit doors to rush out of the theaters to save yourself. Such is the pain that this movie gives.
There is absolutely no direction to the film in the first half and there is a particular surprise scene which is showcased three times which make things unbearable to watch. There are hundreds of such scenes which fail the film in every department completely.
Technical Aspects:-
Production values are decent as the film looks quite rich during the second half. Ghibran's music is unbearable as songs come in at regular intervals and leave you agitated. Dialogues are just about okay and so was the entire set up. Camera work was pretty good and showcased the film in a decent light.
Coming to the director Kranthi Madhav, what ever impression he gained in the past few years is lost with Ungarala Ram Babu. It is shocking to see him conceive the film in such a bad manner. Not one episode in the film is good and this only reveals in which way the director has killed the movie. His screenplay is pathetic as the narration never engages you even for for ten minutes in the film.
Verdict:-
On the whole, Ungarala Ram Babu is one film which leaves you irritated to no extent. Clearly, the times have changed and such silly stuff does not work anymore in Tollywood. Sunil needs to seriously rethink his strategies in selecting scripts as films like these will only leave him in problems. Except for some scenes featuring Posani and Vennela Kishore's comedy, this film has absolutely nothing to offer and can safely be ignored this weekend.
123telugu.com Rating : 2/5
Reviewed by 123telugu Team
Articles that might interest you:
Ad : Teluguruchi - Learn.. Cook.. Enjoy the Tasty food
TAGS:
Sunil Ungarala Rambabu Telugu Movie Review
,
Telugu Movie Review
,
Ungarala Rambabu Cinema Review
,
Ungarala Rambabu Film Review
,
Ungarala Rambabu Movie Review in Telugu
,
Ungarala Rambabu Review
,
Ungarala Rambabu Review and Rating
,
Ungarala Rambabu Telugu Cinema Review
,
Ungarala Rambabu Telugu Movie Review
,
Ungarala Rambabu Telugu Review
,
Ungarala Rambabu telugu Review and Rating