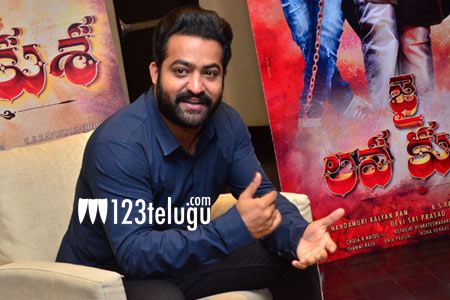 NTR is super busy giving interviews all over and is promoting his new film Jai Lava Kisa. On this occasion, we met NTR for a detailed interview. Here is the transcript.
How exhausted are you after working on Jai Lava Kusa?
It feels like I have worked for 100 films. There was a lot of pressure on me as I was doing three roles for the very first time and believe me, things were quite hectic as well.
Preparation for doing the negative role?
For the first time, I did a lot of hard work and worked on minute details as to how each character should behave. As Jai is an ardent follower of Raavana, all his traits have been used. The icing on the cake happened when my director Bobby gave the idea that Jai's character should stammer. This sealed everything and things became clearer for me to get into the role. I spent a lot of time enacting my lines and after a point in time, I finally cracked the way I need to look and how I should speak.
How big be a success will JLK be according to you?
For me, the collections do not matter anymore. It is only the praise that comes from the audience. Even if the audience does not praise my film, they should at least appreciate my sincere efforts and I feel that the same will happen with JLK too.
How will the film be narrated and what's special in it?
The film is the story of three brothers and what happens to them in the course of time. The entire story runs in Jai's perspective and I personally loved playing Jai's role which had negative shades all over. But the end of the day, I personally feel that I have all the traits of three brothers in my real life as well.
About your dances in the film?
I have danced according to the characters and you will clearly see the variation on screen. But I loved dancing for Jai's role as I feel that I have done Shiva Tandavam during the last song Swing Zara which is shot on me and Tamanna.
At this stage how are you choosing your films?
I want to challenge myself an actor. Nowadays, I look at roles which will challenge me to perform better. I feel that the future is very vague and you never know what will happen to you and your stardom in the coming days. So, as long as I am hale and healthy, I want to do good projects which have a lot of scope for performance.
Did you watch any of your grandfather's films for reference?
When Bobby narrated me this role, there was no reference point for me to enact. Above everything, it was a triple role which added even pressure on me. So, I never took any reference and did not watch any films which had triple roles. I gave my own touch to the proceedings.
Working in the home banner?
It was quite an enriching experience for both me and my brother as we worked like one team. Many a time, I took crucial decisions regarding the film and during other times, he did the same. At the end of the day, I missed my other brother Janaki Ram who would have been even prouder with this film.
Who according to you will win the Bigg Boss?
Laughs! Even I am excited to know who will win the title. I have a clear favorite but will never let it out. The TV show has given me a good reach among the audience and already the pressure for the second season has started. But I want this season to end on a successful note first and think about anything else.
Talk is that you will be doing Mahabharatha?
I would love to do Rajamouli's Mahabharata. If Rajamouli approaches me I won't hesitate one bit. As he is a very good friend, he clearly knows which role to put me in. But all these news are vague and only it is on Rajamouli to talk about the project.
Articles that might interest you:
Ad : Teluguruchi - Learn.. Cook.. Enjoy the Tasty food