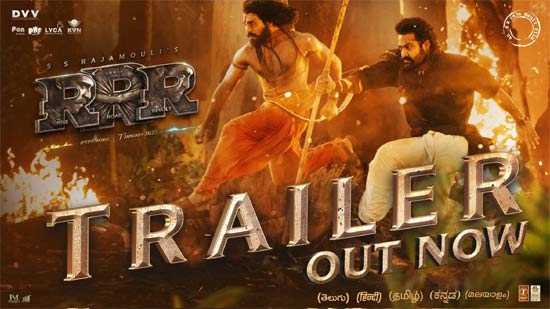 Finally, the long wait has come to an end today. India's biggest action entertainer, RRR's trailer is released in theaters followed by online.
Packed with emotions and action sequences, the trailer left everyone amused and celebrities are no exception.
Many famous actors in India took to their social profiles and shared their responses after watching the trailer of Rajamouli's RRR.
RRR Trailer బీభత్సం …ఇక ప్రభంజనం కోసం జనవరి 7 వరకు ఎదురుచూస్తుంటాను.

— Chiranjeevi Konidela (@KChiruTweets) December 9, 2021
Setting the bar higher each time!
Can't wait to experience this visual spectacle on the big screen! #RRRhttps://t.co/zcEgfNnvc4

— Ravi Teja (@RaviTeja_offl) December 9, 2021
Proud 🤙🔥
Next level cinema! #RRRMoviehttps://t.co/wFV0jgYBO1

— Vijay Deverakonda (@TheDeverakonda) December 9, 2021
Ummm… SPEECHLESS. Just gonna stand and applaud the entire team till I figure out how to explain my feelings 👏🏼👏🏼👏🏼👏🏼👏🏼 #RRRTrailer https://t.co/uSr4GhQNU5

— Pooja Hegde (@hegdepooja) December 9, 2021
Madness! 🔥 https://t.co/vlAxClzdjF

— Rashmika Mandanna (@iamRashmika) December 9, 2021
I can only see PASSION ANGER & HUNGER IN EYES OF @ssrajamouli GAARU !!

Dreaming is EASIER
Making it realistic is TOUGHER

He makes his dream TRUE and makes us Believe it tat is #SSR 🔥

ON FIRE @tarak9999 & @AlwaysRamCharan 💥💥💥💥💥💥💥

— thaman S (@MusicThaman) December 9, 2021
CAPTAIN "R" @ssrajamouli you're on fire 🔥🔥🔥🔥🔥 all the best to TEAM RRR!! 🔥🔥🔥🔥 https://t.co/lyAUEmN27G

— Rana Daggubati (@RanaDaggubati) December 9, 2021
#RRRTrailer = Mind blowing!🔥🔥🔥 https://t.co/R5myQH3Tft

— Varun Tej Konidela 🥊 (@IAmVarunTej) December 9, 2021
UNSTOPPABLE.

The MASTER unleashes a STORM.

RRR Trailer (Telugu) – NTR, Ram Charan, Ajay Devgn, Alia Bhatt | SS Raja… https://t.co/WNtWBGSpbs via @YouTube

— Adivi Sesh (@AdiviSesh) December 9, 2021
🔥🔥🔥🔥🔥🔥🔥🔥🔥🔥🔥#RRRMovie #RRRMovieTrailer 🙏🤟🏼🙏🤟🏼 https://t.co/9IrIBL1526 pic.twitter.com/F1YGLK3wTY

— vennela kishore (@vennelakishore) December 9, 2021
https://twitter.com/Rakulpreet/status/1468856074824400898
Goosebump inducing!!!! The power of cinema at its most grandest, glorious self!! Hats off @ssrajamouli sir!! 🙇🏻‍♀️ https://t.co/H1ei4sFmG9

— Lara Dutta Bhupathi (@LaraDutta) December 9, 2021
OH MY GOD, LORD, ALLAH, JESUS!! What is this #RRRTrailer!! Goosebumps & blood rush while watching this stupendous trailer. Cannot wait to watch this on the BIG SCREEN.

https://t.co/zFTMTq8dSg#RRRMovie@ssrajamouli @AlwaysRamCharan @ajaydevgn @mmkeeravaani @aliaa08 @RRRMovie

— Lakshmi Manchu (@LakshmiManchu) December 9, 2021
High on emotions, high on action with outstanding performances.. So power packed!!! Sir, you are the pride of Indian cinema! 🙏🏻🙏🏻 #RRRTrailer https://t.co/MtnyTwozKx

— Raashii Khanna (@RaashiiKhanna_) December 9, 2021
We take pride in calling u our own, but you are out of this world sirr @ssrajamouli No one can match your vision 🙏🙏🙏. @tarak9999 sirr and @AlwaysRamCharan sirr it's like two atom bombs exploded with performances 🙏🙏🙏 #RRR https://t.co/xQeUPhol5w

— Radha Krishna Kumar (@director_radhaa) December 9, 2021
a S.P.E.C.T.A.C.L.E to binge watch and be proud for generations to come. Boxoffice కుంభస్థలాన్ని కొల్లగొట్టబోతున్న #RRR team కి శుభాకాంక్షలు 💐@RRRMovie @ssrajamouli @AlwaysRamCharan @tarak9999 @ajaydevgn @aliaa08 #RRRMovieTrailer #RRRTrailer #RRRTrailerDay https://t.co/VT8BeSsUfP

— Sampath Nandi (@IamSampathNandi) December 9, 2021
Am short of words to express this feeling … "goosebumps"
"adrenaline rush " are not enough to describe the mental state after watching this ….. @ssrajamouli @tarak9999 @AlwaysRamCharan
🙏🙏🙏🙏🙏🙏🙏🙏🙏🙏🙏🙏 https://t.co/QiVSUXdka6

— Harish Shankar .S (@harish2you) December 9, 2021
I most certainly believe that this work of GOD 🙏 https://t.co/EJf8vUe32X#RRRtrailer #RRRMovie@ssrajamouli @tarak9999 @AlwaysRamCharan@ajaydevgn @mmkeeravaani @aliaa08 @DVVMovies

— Sandeep Reddy Vanga (@imvangasandeep) December 9, 2021
Goosebumps literally 🙏#RRRTrailer is full of surprises, @ssrajamouli sir once again proved his Supremacy in emotions and elevations. 👌 @AlwaysRamCharan & @tarak9999 excelled with their magnificent screen presence 🔥🔥
Can't wait to watch on Big screenhttps://t.co/2AxukAPZov pic.twitter.com/iBgQY1yBDY

— Bobby (@dirbobby) December 9, 2021
FANTABULOUS TRAILER !!! 🔥🔥

Take a bow for @ssrajamouli sir! For his Rousing Extravaganza! 👏🏻👏🏻@tarak9999 Garu & @AlwaysRamCharan Garu are Truly STUNNING! 💥💥

Awaiting for Jan 7th! 😍#RRRTrailer #RRRMovie@DVVMovies @RRRMovie

— Gopichandh Malineni (@megopichand) December 9, 2021
#RRRTrailer is extraordinary with a beautiful mix of grand spectacle, subtle character moments and gripping emotion.. looking forward to this magic from magnificent team of @ssrajamouli @tarak9999 @AlwaysRamCharan @ajaydevgn @aliaa08 @mmkeeravaani https://t.co/9logazbQAQ

— Krish Jagarlamudi (@DirKrish) December 9, 2021
Superb…Very exciting.
High in emotions.
స్టార్స్ కనపడటం లేదు…పాత్రలు కనపడుతున్నాయి.అద్భుతమైన చిత్రీకరణ.#RRRTrailer https://t.co/vzLBgGPJyG#RRRMovie @ssrajamouli @tarak9999 @AlwaysRamCharan @ajaydevgn @aliaa08 @mmkeeravaani @DOPSenthilKumar @DVVMovie @RRRMovie #ShriyaSaran

— Gopi Mohan (@Gopimohan) December 9, 2021
Mass🔥🔥🔥 https://t.co/FzO2rgJpDH

— Manjima Mohan (@mohan_manjima) December 9, 2021
EPIC 👌👌👌👏👏👏!!
Cant wait to watch Ram & Bheem together on Big Screen.#RRRTrailer #RRRMovie https://t.co/g7Kr4ddk4p

— ram achanta (@RaamAchanta) December 9, 2021
SIR!!! Blown away by the BRILLIANCE and MAGNITUDE of this EPIC trailer! WOW!!! Huge congratulations to @tarak9999 @AlwaysRamCharan @ajaydevgn @aliaa08 and the entire cast & crew of this insanely massive film! #RRRMovie https://t.co/wVv6mw40nw

— Karan Johar (@karanjohar) December 9, 2021
Articles that might interest you:
Ad : Teluguruchi - Learn.. Cook.. Enjoy the Tasty food