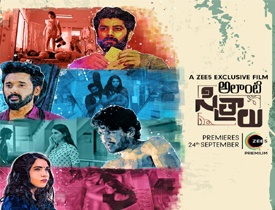 Release Date : September 24,2021
123telugu.com Rating : 2.75/5
Starring: Shwetta Parashar, Yash Puri, Tanvi, Ajay Kathurvar, Prawin Yendamuri and others
Director: Supreeth C Krishna
Producer: Supreeth C Krishna, Rahul Reddy D, Lokku Srivarun
Music Director: Santhu Omkar
Cinematography : Karthik Sai Kumar
Editor: Ashwath Shiva Kumar
Continuing the trend of reviewing low-budget films, today's release is Alanti Sitralu which is now streaming on Zee 5. Let's see how it is.
Story:
The film deals with the lives of four people in the form of Yash(Ajay Kumar Kathurvar), Pallavi(Shweta Parashar), Raag(Yash Puri), and Dilip(Prawin Yendamuri). Each of them has their own set of issues and how they manage to stay afloat in difficult times and is there a connection to their stories? That forms the crux of the movie.
Plus Points:
As the title suggests, the word Sitralu showcases the various emotions and conflict points of the four characters quite well. The director has written these aspects and also set them up uniquely amidst these four actors in an impressive manner.
Prawin Yendamuri is the best of the lot and does so well. The manner in which he suppresses his inner feelings is showcased so well by the young actor. Yash Puri, Ajay, and other supporting cast do well in their respective roles. Ravi Varma was decent in his key role.
Minus Points:
Though the film starts on an impressive note, it does not hold attention later on. The characters are true to their nature but the screenplay should have been even more gripping. The track of Pallavi and Raag is stretched to no extent.
Yet another drawback of the film is the lack of gripping drama in the second half. Though there are a few scenes that stand out, the rest of the proceedings do not create much impact.
Technical Aspects:
Production values of the film are top-notch and even better was the camerawork which is quite colorful. The music is okay but the BGM was impressive. But the editing plays a spoilsport as there are so many scenes that could have been chopped off. Coming to the director Suprith, his story idea and characterizations are good but his screenplay takes down the film.
Verdict:
On the whole, Alanti Sitralu is a film that has a unique theme but falters with its lack of gripping screenplay. The second half is also dull and the needed impact is not created. All those who like slice-of-life films and with realistic characters can give this film a shot and the rest can look for something else.
123telugu.com Rating : 2.75/5
Reviewed by 123telugu Team
Articles that might interest you:
Ad : Teluguruchi - Learn.. Cook.. Enjoy the Tasty food
TAGS:
Ajay Kathurvar
,
Alanti Sitralu Movie Rating
,
Alanti Sitralu Movie Review
,
Alanti Sitralu Movie Review and Rating
,
Alanti Sitralu Rating
,
Alanti Sitralu Review
,
Alanti Sitralu Review and Rating
,
Alanti Sitralu Telugu Movie Rating
,
Alanti Sitralu Telugu Movie Review
,
Alanti Sitralu Telugu Movie Review and Rating
,
Dayanand Reddy
,
Prawin Yendamuri
,
Ravi Varma
,
Shwetta Parashar
,
Tanvi Akaanksha
,
Yash Puri