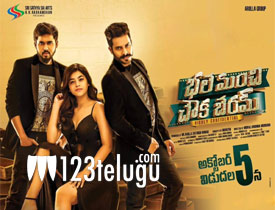 Release date : October 05, 2018
123telugu.com Rating : 2.75/5
Starring :  Naveed, Kerantha Nookaraju, Yamini Bhaskar, Mujtaba Ali Khan
Director : Murali Krishna
Producer : Satish Kumar
Music Director : Hari Gowra
Cinematographer : Bal Redddy
Editors : S. B Uddhav
Noted director, Maruthi has provided the script for yet another small film titled Bhale Manchi Chowka Beram. Banking on his brand name, this film has hit the screens today. Let's see how it is.
Story:
Pardhu (Naveed) and Saleem (Kerintha Nooka Raju), who get duped by a Dubai visa broker start doing odd jobs for livelihood in Hyderabad. While Pardhu works a cab driver, Saleem chooses to be a Courier Boy. The twist in the tale araises when Saleem picks up a wrong parcel from an ex-army man's (Raja Ravindra) house. What is that parcel? How did it change the lives of the two best friends? To know this, you have to watch the film on the screen.
Plus Points:
Credit should be given to actor Raja Ravindra as it is his ease of dialogue delivery and spontaneous comedy timing which brings a lot of depth to the proceedings. The way he performed in all the comedy scenes evokes good laughs. His emotional and patriotic dialogues in one particular scene during the latter half is too good.
Kerintha fame, Nooka Raju is hilarious in his role of a frustrated guy. His expressions and energetic screen presence are visible on the screen. Looks wise, hero Naveed is good and gave a decent performance. Heroine Yamini Bashkar is beautiful in her role as a kind-hearted person. A few pre-climax comedy scenes are hilarious and evoke healthy laughs.
Minus Points:
Though the film has a few fun elements, it lacks proper story and well-developed characterizations. The bond between the hero and heroine is not established in a convincing manner and the same is the case with the villain's thread as well.
A few scenes like villain being the most wanted terrorist happily creating his own den in the city and planning anti-nation activities are illogically narrated. The first half of the film was wasted completely with some silly episodes which would have been better if worked on the script side.
Technical Aspects:
Director Murali Krishna tried to narrate the film in an entertaining manner and succeeds to an extent. If he worked on the script and comedy sequences in the first half a bit more, the result would have been even better. Editing is okay as the film's runtime is reasonable. The cinematography is good as the dark and rustic frames used in the house look apt. Music is not up to the mark as the film has no great songs, But the background score during the climax sequence is good. Production values for this low budget film are adequate.
Verdict:
On the whole, Bhale Manchi Chowka Beram has a few hilarious scenes in the second half. But the logicless storyline and a dragged first half are basic drawbacks. If you are the ones who like simple comedy irrespective of the silly narration, give this film a shot but the others can take it easy.
123telugu.com Rating : 2.75/5
Reviewed by 123telugu Team
Articles that might interest you:
Ad : Teluguruchi - Learn.. Cook.. Enjoy the Tasty food