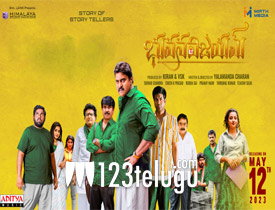 Release Date : May 12, 2023
123telugu.com Rating : 2.5/5
Starring: Sunil, Sreenivas Reddy, Vennela Kishore, Prithvi Raj, Dhanraj, Goparaju Ramana, Viva Harsha, Sonia Chowdary, Snehal Kamat, Raj Tirandasu, Vasanthi, and Sathi Pandu
Director: Yalamanda Charan
Producers: P. Uday Kiran, V. Srikanth
Music Director: Shekar Chandra
Cinematography: Sai
Editor: Chota K Prasad
Related Links : Trailer
A comedy-drama film named Bhuvana Vijayam starring Sunil, Sreenivas Reddy, Vennela Kishore, and Dhanraj in the lead roles is now running in theatres. It is directed by debutant Yalamanda Charan. Let's see how it is.
Story:
After the death of Yadagiri (Dhanraj), two Yamadutas (messengers of death) land on earth to take his soul. From Chitragupta, the Yamadutas also receive another piece of information which states that a person working in the producer Chalapathi's office (Goparaju Ramana) is about to die. Meanwhile, producer Chalapathi plans to produce a film with Feeling Star Preetham Kumar (Sunil). So they invite seven writers for the same. But all these seven should enter a room in the same office and finalize one story. It is certain that one among these seven will die, and Yamadutas get ready to take that person's soul. Who is that person that is going to die? How did the story end? The film has the answers.
Plus Points:
There used to be eight poets in Sri Krishna Devaraya's Bhuvana Vijayam. Likewise, there are seven writers in this Bhuvana Vijayam movie. Elements such as the writers' stories, writers playing a game to finalize one story, the emotional story of a driver, and the comedy track between Sunil and an office boy will impress to an extent. Sunil as a mentally retarded hero, gave a good performance.
Also, Sreenivas Reddy, Vennela Kishore, Prithvi Raj, Dhanraj, Goparaju Ramana, Viva Harsha, Sonia Chowdary, and Snehal Kamat did their job perfectly. However, the main attraction was Vennela Kishore. Also, Dhanraj and Goparaju Ramana lived in their roles. Raj Tirandasu, Vasanthi, and Sathi Pandu did justice to their characters.
Minus Points:
Though the main point is good in Bhuvana Vijayam, the story is pretty weak. Also, the screenplay doesn't engage the audience. The main problem was with the presence of many scenes that were not necessary for this story. These unwanted scenes lack logic, too, and it feels like they were added just for the sake of comedy. Also, the director, Yalamanda Charan, failed to present his content effectively on the screen.
The film could have been made more exciting by adding many interesting elements. There was scope for a lot of entertainment and comedy, but the director failed to present the movie that way. Also, a few scenes were overdramatized, which made the story lose naturality. Though there are a bunch of comedians, the fun portions work only in bits and pieces but not completely.
Technical Aspects:
Coming to technical aspects, Yalamanda Charan failed as a director. Sai's cinematography is neat, and he made his mark in a few scenes. Shekar Chandra's music is decent. The editing is neat, and it is in accordance with the film. The production values of producers Uday Kiran and Srikanth are splendid.
Verdict:
On the whole, Bhuvana Vijayam has just a few good comedy portions. Vennela Kishore and Sunil's comedy is good here and there. However, unexciting narration, lack of a proper flow, and slow and boring first half affected the film. But the good thing is that many comedians are amazing in their roles. Though a few comedy and emotional scenes are good, the movie doesn't impress as a whole.
123telugu.com Rating: 2.5/5
Reviewed by 123telugu Team
Articles that might interest you:
Ad : Teluguruchi - Learn.. Cook.. Enjoy the Tasty food
TAGS:
and Sathi Pandu
,
Bhuvana Vijayam Movie Review
,
Bhuvana Vijayam Review
,
Bhuvana Vijayam Review and Rating
,
Bhuvana Vijayam Telugu Movie Review
,
Bhuvana Vijayam Telugu Movie Review and Rating
,
Dhanraj
,
Goparaju Ramana
,
Prithvi Raj
,
Raj Tirandasu
,
Snehal Kamat
,
Sonia Chowdary
,
Sreenivas Reddy
,
Sunil
,
Vasanthi
,
Vennela Kishore
,
Viva Harsha