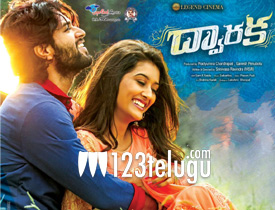 Release date : March 03, 2017
123telugu.com Rating : 3/5
Director : Srinivasa Ravindra
Producers : Pradyumna Chandrapati, Ganesh Penubotu
Music Director : Sai Karthik
Starring : Vijay Deverakonda, Pooja Jhaveri
"Dwaraka" is one of the 3 movies releasing this Friday and despite the competition, this film managed to create a pre-release buzz. The main reason behind this curiosity is Vijay Deverakonda who was the lead in last year's surprise superhit "Pelli Choopulu"! "Dwaraka" is his second film as the main lead and so let's read on to see what Vijay has in store for the audience.
Story:-
"Dwaraka" gets to the plot very quickly by introducing Srinivas(Vijay Deverakonda) as a small-time thief who cons people along with this two friends. One day, while trying to escape from a failed robbery attempt, Vijay takes refuge in an apartment complex named Dwaraka. Prudhviraj, who plays a pujari, conveniently proclaims Vijay to be Swami Krishnanand for his own benefit.
A series of lucky coincidences result in the Swami becoming famous for his problem-solving abilities. Seeing his fame, Prudhvi along with Prabhakar & others set up a trust in the Swami's name to swindle the donations.
Oblivious to this, Vijay is enjoying his Swami avatar as it gives him a chance to interact with Vasudha(Pooja Jhaveri) with whom he is hopelessly in love with. In parallel, we have Ramakrishna (Murali Sharma), a rationalist, who has exposed fake Godmen and his latest target is Swami Krishnanand.
The second half sees Vijay trying to come clean about his Godman image to impress Vasudha while Prabhakar and others want him to continue the profitable drama. Soon, the CM (Prakash Raj) gets involved and the story gets complicated. How does Vijay handle the devotion of his followers and come out of the Swami act is what the rest of "Dwaraka" is about.
Plus Points:-
"Dwaraka" rides on the popularity of Vijay Deverakonda and he certainly lives up to the expectations. He shines in his role as the small time thief turned fake Swami turned social do-gooder while playing a loverboy. He stands out during the comic scenes and is supported by the rest of the cast.
Prudhvi has a well-defined and lengthy role to which he does complete justice. His dialogues and comic timing are perfect in his role as the smooth-talking pujari. Prabhakar, Murali Sharma, Raghu Babu and Prakash Raj throw in their weight to ensure their characters stand out. Pooja Jhaveri is adequate.
The strength of the film is its comic sequences that are clean and smartly written without having to depend on double-meaning dialogues.
Minus Points:-
Dwaraka has a problem with its run time which is almost 2.5 hours long. The makers could have trimmed out a few scenes to rectify this. Also, if one looks for logic about how a fake Swami with a criminal record could easily be collecting crores of rupees while also being remote-controlled by a few people is hard to digest.
Technical Aspects:-
There are only four songs and they flow with the narrative with "Entha Chritam" standing out for its lovely picturization. There are some continuity issues especially with Vijay's looks which could be because the film was a long time in the making. Most of the time, the film has the look of a very low budget film.
Verdict:-
On the whole, Dwaraka is a watchable entertainer that keeps you occupied by providing some clean comedy. Vijay Devarakonda once again shines in his diverse role which has many shades. The film holds the viewer's interest about the situations and the conflict between the Swami and his opponents. Despite a lengthy runtime, this film has some good moments and merits an easy one-time watch.
123telugu.com Rating : 3/5
Reviewed by 123telugu Team
Articles that might interest you:
Ad : Teluguruchi - Learn.. Cook.. Enjoy the Tasty food