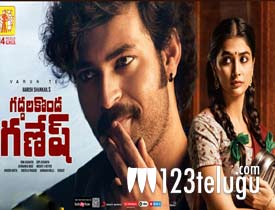 Release date : September 20, 2019
123telugu.com Rating : 3/5
Starring : Varun Tej, Atharvaa, Pooja Hegde, Mirnalini Ravi
Director : Harish Shankar
Producers : Achanta Ramu, Achanta Gopinath
Music Director : Mickey J Meyar
Cinematography : Ayananka Bose
Editor : Chota K Prasad
Varun Tej's Valmiki has been renamed as Gaddalakonda Ganesh in the last minute and has hit the screens today. Let's see how it is.
Story:
Abhilash(Atharva) is an upcoming director who wants to make it big at any cost and for this, he decides to make a film based on a criminal. He starts researching about Gaddalakonda Ganesh(Varun Tej) a brutal criminal and finally meets him and starts to know him closely. After a point, he reveals to Ganesh that he is ready to start the film. But the twist in the tale arises when Ganesh demands that he himself will be the hero of the film. Rest of the story is as to how Abhilash handles a deadly Ganesh and finishes the film.
Plus Points:
The first thing that hits you with this film is Varun Tej's makeover. His transformation from a soft guy from his previous films to a hardcore criminal is superb. Full credit should go to Harish Shankar for showcasing Varun in a superb manner. Varun's dialogue delivery is superb and his body language is amazing.
Atharva Murali makes a decent debut and is neat in his role. Special mention should go to Mickey J Meyer's BGM which is top-notch and elevates the film to another level.
Comedian Satya is hilarious in his role and evokes superb comedy in the first half.Brahmaji and his teacher's role comes at a crucial point and evokes good fun. Pooja Hegde looks beautiful as Sridevi and does what is required of her in a guest role. Supriya Pathak was ok. Raccha Ravi gets a good role and he is neat in it.The first half establishes Varun as this dreaded criminal and has good mass elements along with comedy.
Certain changes made from the original set well in the Telugu version. The fun scenes in the film are good as they keep lifting the film whenever it goes down.
Minus Points:
On the biggest minus points of the film is the length which is a tad too long. Harish Shankar takes way too much time to establish each and every character which eats away a lot of run time.
The second half gets dull as the basic emotions are missing here. Things look a bit forced in the end and the climax is also a bit lengthy. Even though Pooja Hegde's track was good many scenes could have been edited out to make things crisp.
Also, Atharva and Varun's confrontation scenes could have been more entertaining. Varun's role is very strong but the rest of the conflict point is not that strong and this is where the film the goes down and disappoints the audience in a few areas.
Technical Aspects:
Production values of the film are top-notch as every penny spent on the film shows on screen. But it is the superb camerawork by Bose which shows the film in a specific tone which suits the subject of the film. Mickey J Meyer and his music score are impressive but his BGM was best in recent times. Varun Tej, Pooja Hegde, and the entire cast have superbly designed by Gauri Naidu. Her work is really impressive as it gives the film a whole new angle altogether. Editing is a letdown as at least 15 minutes could have been trimmed. The production design is good and so were the lyrics.
Coming to the director Harish Shankar he has done just an okay job with the film. Full marks to him for the way he made changes to the original and also showcasing Varun in a superb manner. But in all this, he missed the basic emotions in the film. The conflict point is weak and because of the lengthy time, Harish Shankar loses grip on proceedings in the second half. But he added good mass elements and comedy here and there.
Verdict:
On the whole, Gaddalakonda Ganesh is a passable mass drama which has a few good moments. Varun Tej leads from the front with his solid performance and rocking makeover. The fun generated works in places and keeps the audience engaged. But a lengthy run time, lack of strong emotions and dragged climax take down the film and make it an okay watch this weekend. Just go in with your expectations in check.
123telugu.com Rating : 3/5
Reviewed by 123telugu Team
Summary
Reviewer
Gaddalakonda Ganesh Telugu Movie Review
Review Date
Reviewed Item
Author Rating
Articles that might interest you:
Ad : Teluguruchi - Learn.. Cook.. Enjoy the Tasty food
TAGS:
Atharvaa
,
Gaddalakonda Ganesh Movie Review
,
Gaddalakonda Ganesh Review
,
Gaddalakonda Ganesh Telugu Movie Review
,
Nani Gaddalakonda Ganesh Review and Rating
,
Pooja Hedge
,
Valmiki
,
Valmiki Movie Review
,
Valmiki Review and RatingGaddalakonda Ganesh Telugu Movie Review and Rating
,
Valmiki Telugu Movie Review
,
Varun Tej
,
Varun Tej Valmiki Movie Review