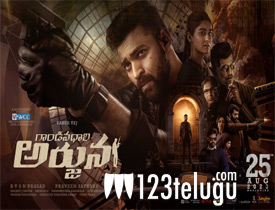 Release Date : August 25, 2023
123telugu.com Rating : 2.5/5
Starring: Varun Tej, Sakshi Vaidya, Nassar, Vimala Raman, Vinay Rai, Narain, Roshini Prakash, Manish Chaudhari, Abhinav Gomatam, Ravi Varma, Kalpalatha, Baby Veda
Director: Praveen Sattaru
Producer: BVSN Prasad
Music Directors: Mickey J Meyer
Cinematographer: Mukesh Gautam
Editors: Dharmendra Kakarala
Related Links : Trailer
Varun Tej starrer Gandeevadhari Arjuna has released in theaters today amid huge expectations. Check out our review to find out how the film is.
Story:
Adityaraj Bahadur (Nassar) is a central minister from India and is in London to participate in the UN Summit on global warming. However, his safety is jeopardised by Ranveer (Vinay Rai) and his cohorts. As circumstances unfold, Arjun Varma (Varun Tej) steps in to shield Adityaraj from the impending threat. Why has Adityaraj become a target of Ranveer? What is the connection between them? Who is Arjun? How is Ira (Sakshi Vaidya) involved in this story? The answers will be found in the movie.
Plus Points:
Varun Tej is a perfect fit for this role. He looks handsome and has proven that he can effortlessly handle outright action roles. His subtle performance as an agent is balanced with his fierceness in action sequences.
The next character worth mentioning is Nassar, who portrays Adityaraj, a minister. He also delivered a commendable performance.
The visuals are impressive, thanks to the exceptional work by Mukesh Gautam. The sound design has also contributed significantly to the film's entertainment value.
Minus Points:
Since the project's announcement, director Praveen Sattaru had clearly stated that the film would tackle the concept of global warming and the garbage issue. Unfortunately, this central point is sidetracked, and the primary focus shifts to saving a kid.
It doesn't take long for the audience to disconnect from the film, as it lacks freshness in the first half. Even when one anticipates the second half to improve, it turns out to be more boring than the first hour.
The director struggled to narrate the story engagingly and failed to utilise the characters effectively. At times, one might wonder about the significance of casting several well-known characters that haven't been developed well. Sakshi Vaidya, Narain, Vimala Raman, and Ravi Varma create no significant impact on the film.
The emotional aspect also didn't resonate well. The director could have devised a more compelling approach to engage the audience. The climax is also not very engaging, which can be attributed to the slow-paced screenplay.
This type of action drama requires intriguing action sequences, and unfortunately, Gandeevadhari Arjuna falls short in this regard. There isn't a single standout moment among them.
Technical Aspects:
As a writer and director, Praveen Sattaru fell short in making Gandeevadhari Arjuna an engaging action drama. His weak writing and laggy screenplay are to blame.
Mickey J. Meyer attempted something new and managed to give a decent score, but the songs are forgettable. Cinematography by Mukesh Gautam is commendable.
The editing by Dharmendra Kakarala could have been crisper to provide a more engaging experience. The producers should be appreciated for investing decent resources to give the film a rich look.
Verdict:
On the whole, Gandeevadhari Arjuna is a routine action drama that fails to engage. Varun Tej and Nassar are good in their roles. On the flip side, no other character stands out in the movie. The poor writing and laggy screenplay make one feel bored in both halves. If you are okay with this, you may watch this film this weekend, but keep your expectations in check.
123telugu.com Rating: 2.5/5
Reviewed by 123telugu Team
Articles that might interest you:
Ad : Teluguruchi - Learn.. Cook.. Enjoy the Tasty food
TAGS:
Abhinav Gomatam
,
Baby Veda
,
Gandeevadhari Arjuna Movie Review
,
Gandeevadhari Arjuna Review
,
Gandeevadhari Arjuna Review and Rating
,
Gandeevadhari Arjuna Telugu Movie Review
,
Gandeevadhari Arjuna Telugu Movie Review and Rating
,
Kalpalatha
,
Manish Chaudhari
,
Narain
,
Nassar
,
Ravi Varma
,
Roshini Prakash
,
Sakshi Vaidya
,
Varun Tej
,
Vimala Raman
,
Vinay Rai