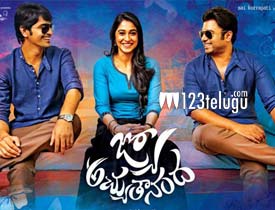 Release date : September 9, 2016
123telugu.com Rating : 3.5/5
Director : Srinivas Avasarala
Producer : Sai Korrapati
Music Director : Kalyan Koduri
Starring : Nara Rohit, Naga Shourya, Regina
Jyo Atchutananda is one of the most awaited films in the recent times. Directed by Srinivasa Avasarla, this film has Nara Rohit, Naga Shourya and Regina as the main leads. Produced by Vaarahi, this film has hit the screens today. Let's see how it is.
Story:-
Atchyut(Nara Rohit) and Anand(Naga Shourya) are two brothers who are very close to each other. Their lives change upside down with the entrance of Jyotsna(Regina). As expected, both the brothers fall head over heels and start wooing her.
Right when everything seems to be going fine, a small mishap changes their lives and creates differences between them. What is that mishap ? Why kind of problems did it create between the brothers ? How will they solve their problems ? To know answers to these questions, you need to watch the film on the big screen.
Plus Points:-
Srinivasa Avasarla is undoubtedly the hero of the film. It is his taut and crisp writing that makes things work for this film. Credit should go to him for showcasing a very simple story in such an engaging, funny and emotional way. Right from the first frame, he draws you into the story of two brothers and how they evolve with age and time.
The casting is top notch as both Naga Shourya and Nara Rohit look exactly like brothers and play their parts extremely well. After a point in the film, you are just engrossed with the chemistry that these actors showcase on screen. Be it the comedy they generate or their emotional performance during the climax will leave you with a lump in your throat.
This is Nara Rohit's best role till date and boy, he performs with aplomb. His histrionics as the elder brother, lover and more importantly the comic touch that he gives with his one-liners is too good. On the other hand, Naga Shourya gives an emotional performance and plays within the limitations of his role. His performance during the last ten minutes and climax speaks volumes of this talent.
The first half is superb with some hilarious comedy and love triangle. The second part has many emotional moments and the interesting climax ends the film on a high. Pavani Gangi Reddy and the other girl who played Naga Shourya's wife look natural and do their roles well.
Minus Points:-
The second half starts on an interesting note but there are certain scenes which look out of place. Regina's role needed more clarity. Scenes such as her engagement and the way she forces the brothers to help her out of a tricky situation should have been narrated more effectively.
Things get bogged down for at least ten minutes during the second half as the proceedings get slightly slow. The hit title song is wasted and is just played in the background. All those who think that this film is a complete love story and expect some fun will get disappointed.
Technical Aspects:-
Production values by Vaarahi are top notch. Credit should go to the art director for showcasing every minute detail with a lot of effect. Music by Kalyana Ramana is yet another highlight. All the songs come up at right places and have also been shot quite well. Editing is sleek but it is Srinivasa Avasarla's dialogues that hit you instantly. They are witty, contemporary and very emotional during crunch scenes.
After giving a hit film with Oohalau Gusagusa Laade, Srinivas Avasarla comes up with a coming of age story between two brothers and narrates it beautifully. The chemistry that he generates from Naga Shourya and Rohit and the way he binds them emotionally throughout the film is a treat to watch.
Verdict:-
Overall, Jyo Atchutananda is a beautiful film about love, brotherhood and family values. The engaging first half and a superb chemistry between Nara Rohit and Naga Shourya will entertain you thoroughly. Srinivasa Avasarla shows his caliber yet again and takes you on a journey filled with many happy and emotional moments. The film is bound to work exceptionally well in the A centres and overseas audience. Finally, if you just ignore the slightly slow second half, this is a film which can be watched with the entire family and come out with a big smile on your face.
123telugu.com Rating : 3.5/5
Reviewed by 123telugu Team
Articles that might interest you:
Ad : Teluguruchi - Learn.. Cook.. Enjoy the Tasty food