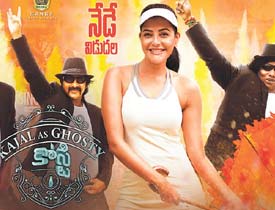 Release Date : March 22, 2023
123telugu.com Rating : 1.5/5
Starring: Kajal Aggarwal, K.S.Ravikumar, Yogibabu, Oorvasi, Radhika Sarathkumar, Redin Kingsley, Thangadurai, Adukalam Naren, Manobala, Motta Rajendran and others
Director: Kalyaan
Producers: Seed Pictures
Music Director: Sam CS
Cinematography: Jacob Rathinaraj
Editor: Vijay Velukutty
Related Links : Trailer
Star heroine Kajal Aggarwal's long-delayed film Khosty (dubbed version of Ghosty) hit the screens today. Check out our review to know how the movie is.
Story :
Inspector Aarthi (Kajal Aggarwal) is on a mission to arrest a criminal named Das (KS Ravi Kumar), who was arrested by Aarthi's father 20 years ago. During this mission, Aarthi accidentally kills an innocent civilian (Jai). Since then, she experiences absurd events in her life. What are they? Did they happen because of Jai or someone else? What happened next? The film has the answers.
Plus Points :
Star actress Kajal Aggarwal looks good in some scenes. Comedian Yogi Babu tries to give his best. His witty one-liners are a bit of a relief to sit through the film.
KS Ravi Kumar appears as a gangster, who's serious actions turn out to be funny. Watching him in this kind of a funny role is something new for audiences.
Actor Jai does a meaningful cameo in this movie. Though he hardly appears for 5 minutes on-screen, he gives his best. Urvashi is fine in her role. Comedian Rajendran justifies his role and evokes laughs.
Minus Points :
The first question that comes to one's mind is, "How could the star actress Kajal Aggarwal accept this kind of a meaningless film that is neither spooky nor funny." She looks gorgeous on screen, but that doesn't alone help the film run well at the box office. Her performance is unimpressive and she has nothing much to perform.
The movie is so silly, as it has no proper plot. One will wonder what exactly the director wants to convey with this film. The scenes he wrote are so outdated and don't make anyone scream out of fear. The said-to-be-horror scenes are not scary. Moreover, they are quite funny. The lights on and off trick, doors slam shut and open game, and other tricks generated good fun but not fear. Besides, the emotional angle doesn't work well, either.
It looks like director Kalyaan intentionally created a lag in the scenes, especially those of KS Ravi Kumar. There is no proper connection between a scene and the immediate one, which can be confusing. Also, when the director reveals the suspense in the latter half, one will definitely sigh with disappointment.
The film has only one song and it is… forget about it. The makeup men might have followed the quote, "Add colour to your life" and applied too much makeup to the faces of Kajal and KS Ravi Kumar.
Technical Aspects :
Kalyaan fails both as a writer and director. He should have come up with a better story, especially when he got a chance to direct a star actress like Kajal Aggarwal. The cinematography is just average and so is the background score. The dubbing is fine. Editor should have trimmed off many unnecessary scenes in both the halves. Production values are just fine.
Verdict :
On the whole, Kajal Aggarwal's Khosty is neither scary nor funny. It is, in fact, a disgrace to the horror-comedy genre. The poor writing and screenplay make the movie a boring fare. Even Kajal Aggarwal can't help the film's prospects. Skip it.
123telugu.com Rating: 1.5/5
Reviewed by 123telugu Team
Articles that might interest you:
Ad : Teluguruchi - Learn.. Cook.. Enjoy the Tasty food
TAGS:
K.S. Ravikumar
,
Kajal Aggarwal
,
Kajal Aggarwal's Khosty Movie Review
,
Khosty Movie Rating
,
Khosty Movie Review
,
Khosty Movie Review and Rating
,
Khosty Rating
,
Khosty Review
,
Khosty Review and Rating
,
Khosty Telugu Movie Rating
,
Khosty Telugu Movie Review
,
Khosty Telugu Movie Review and Rating
,
Oorvasi
,
Radhika Sarathkumar
,
Yogibabu