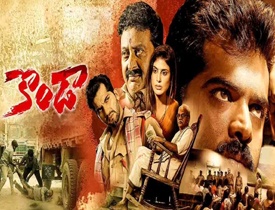 Release Date : June 23, 2022
123telugu.com Rating : 2/5
Starring: Thrigun A, Irra Mor, Prudhvi Raj, Prashant Karthi, Parvathi Arun
Director: Ram Gopal Varma
Producer: Konda Sushmitha Patel
Music Director: DSR Balaji
Cinematography : Malharbhatt Joshi
Editor : Manish Takur
RGV is churning out back-to-back duds in the last few years. He is now ready with one more film titled Konda. Based on the real-life of Telangana politician Konda Murali, this film has hit the screens today. Let's see how it is.
Story
The film is based in Telangana and is about Konda(Trigun) who is a hot-headed youth. He has revolutionary ideologies and seeing this, RK(Prashanth Karthi) encourages him and gets him to join the Naxal backdrop. Seeing Konda's fearsome attitude and strength, Nalla Sudhakar(Prudhvi) invites him to join his party. Konda joins him but does not know that Sudhakar is using him as a pawn. He stays away and this does not go well with Nalla Sudhakar who plans his assassination. How will Konda escape the death trap? What is his real intention? What did he do in his political career is the rest of the story.
Plus Points
The film starts on a decent note as the attitude of Konda is showcased in a decent manner. Trigun looks decent as Konda in the first half. 30 Years Prudhvi plays the main villain and he is decent in his character. Auto Ram Prasad gets a very good role and he impresses big time.
The major highlight of the film is Irra Mor who plays Konda Surekha. Her character is the only one that makes some sense in the narrative and Mor is sincere with her performance. She is the main lead and the film looks like it is her biopic more than Konda's.
Minus Points
RGV used to be the king of casting in his films but these days, he is using all B-grade actors for his films. None of the supporting cast makes any sense. The cops and Naxals played are all junior artists and look funny in the film.
The film has a basic storyline of a youth who goes against the system, getting padding from politicians and growing powerful. Such stories have been narrated by RGV years back and it is hard to understand what masala he found in the story of Konda Murali to showcase.
The main lead, Trigun looks out of focus in the second half and is lost in translation. The actor is clueless and hams to no extent which does not create any impact on the story. The emotion and drama which we are used to in all RGV films are missing big time.
Technical Aspects
Production values are below par and everything has been wrapped up in a cheap manner. The BGM is just about okay and the lyrics were written for revolutionary songs are good. The casting, production design, and editing are below par.
Coming to RGV, it is sad to see him make such films that lack basic sheen. Every time he picks up stories with good backdrops and back in time, his casting used to be top-notch if not the narration. But here in Konda, every aspect of RGV's filmmaking is disappointing and looks old school.
Verdict
On the whole, Konda is an action drama that lacks a basic sheen in narration. The film starts on a good note but RGV's narration, casting, and emotions are below par. There is nothing new that this film showcases and ends as one more dud in RGV's career.
123telugu.com Rating: 2/5
Reviewed by 123telugu Team
Articles that might interest you:
Ad : Teluguruchi - Learn.. Cook.. Enjoy the Tasty food
TAGS:
Irra Mor
,
Konda Movie Rating
,
Konda Movie Review
,
Konda Movie Review and Rating
,
Konda Rating
,
Konda Review
,
Konda Review and Rating
,
Konda Telugu Movie Rating
,
Konda Telugu Movie Review
,
Konda Telugu Movie Review and Rating
,
Prudhvi Raj
,
Ram Gopal Varma
,
Ram Gopal Varma Konda Movie Review
,
Thrigun A