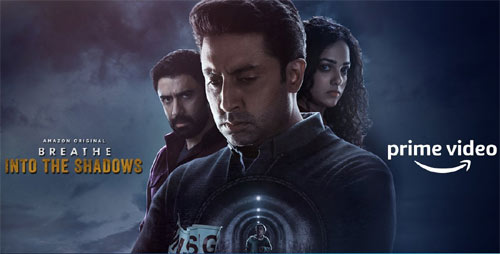 Cast : Abhishek Bachchan, Amit Sadh, Nithya Menen, Ivana Kaur, Saiyami Kher, Hrishikesh Joshi, Shruti Bapna, Resham Shrivardhan
Directed by : Mayank Sharma
Producers : Vikram Malhotra, Nidhi Agarwal, Ajay G Rai, Vijash Kothari
Cinematography by : S. Bharathwaaj
Editing by : Sumeet Kotian
So, continuing the series of reviewing movies and shows during the lockdown period, our today's pick is the Hindi web series Breathe Into The Shadows which has Abhishek Bachchan in the lead role. The series is available on Amazon Prime video and let's see how it is.
What's it about
The series is set in Delhi and is based on the life of a couple, Avinash Sabarwal(Abhishek and Abha Sabarwal(Nithya Menen) who have a six-year-old daughter Siya. Things start getting worse when Siya gets kidnapped all of a sudden. The kidnapper makes a call and demands the couple to start killing a select few in order to set their daughter free. On the other hand, the case is assigned to Kabir Sawant(Amith Sadh) who has his own past. What will Avinash and his wife do now? Will they start killing people to save their daughter? What are the problems they face and who is this kidnapper? To know this you have to watch the entire show.
What's good?
Abhishek Bachchan makes his entry into the OTT world with a bang. He as the desperate father does extremely well in the show. He has a tailor-made role and surprises you with his act. He does not show himself in a frustrated manner but is clever and shows all his pain through his eyes. Nithya Menen is a proven actoress and she does well in her character of Abha. Nithya's Hindi diction is spot on and she does superb job supporting Abhisekh in his act. The whole story is based on the couple and their chemistry is spot on.
Each of the episodes has a good twist which has been executed well. Sayami Kher is solid in her key role and brings a lot of depth to the show. Amit Sadh is also amazing as the cop.
The show has a stunning background score which makes the viewing even more engaging. The story looks simple but the twists and turns that are given in the narration are decent. A major twist in the story that is revealed in the middle episodes is shocking.
What's bad?
Even though the show is gripping until the end, there was absolutely no need to have 12 episodes. Things could have been wrapped up in just nine or ten episodes. Also, once the suspense is known, things get slow in a few scenes. The love story of Amith Sadh is dragged for no reason. The series could have been edited a bit better to make it even tauter.
Final Word
Overall, Breathe Into the Shadows is a web series that has a very good premise. The earthy characters, realistic performances, and twists keep you engaged most of the time. A very lengthy runtime in each of 12 long episodes and slow pace bore you at times. But still, this series has enough moments that makes up for a decent watch during this lockdown.
Rating: 3/5
Articles that might interest you:
Ad : Teluguruchi - Learn.. Cook.. Enjoy the Tasty food
TAGS:
Abhishek Bachchan
,
Amit Sadh
,
Breathe Into The Shadows Hindi Movie Review
,
Breathe Into The Shadows Hindi Movie Review and Rating
,
Breathe Into The Shadows Movie Review
,
Breathe Into The Shadows Review
,
Breathe Into The Shadows Review and Rating
,
Hrishikesh Joshi
,
Ivana Kaur
,
Nithya Menen
,
Resham Shrivardhan
,
Saiyami Kher
,
Shruti Bapna