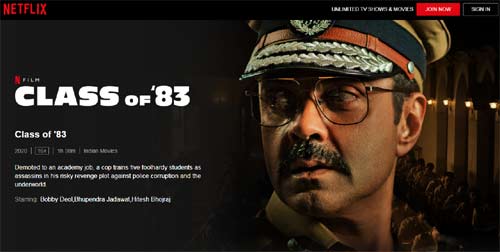 Starring : Bobby Deol
Directed by : Atul Sabharwal
Produced by : Gauri Khan, Shah Rukh Khan, Gaurav Verma
Music by : Viju Shah
Cinematography : Mario Poljac
Edited by : Manas Mittal
So, continuing the series of reviewing movies and shows during the lockdown period, our today's pick is the Hindi film Class of 83. The film is available on Netflix and let's see how it is.
Story:
The film is set in the '80s and senior cop Vijay Singh(Bobby Deol) is posted as the dean of a police academy in Nashik. There, Vijay Singh spots five aggressive and revolt headed guys and trains them separately. Behind all this is Vijay Singh's personal vendetta involving the Maharastra CM(Anup Soni). How does he unleash his whole mission of taking on the big guns with the help of these five young cops is the whole story.
What's good?
The film is made on the noted book called The Class of 83 and Bobby Deol plays the main lead and he is dam good. He sheds his young hero image and for once plays this mature role and proves what an actor he can be if he chooses such good roles. The premise of the film is terrific and the old gangs in Mumbai have been showcased well.
The young actors who play the cops do well in their roles. The emotional performance of Bobby deal in a graveyard scene is superb. The casting, BGM, and production values by Shahrukh Khan are neat. The film has some realistic underworld scenes and the manner in which the young cops kills a local don is showcased so well.
What's Bad?
The film has traces of brilliance but does not make use of it. The build-up of cops getting trained in the academy is showcased well but that is not used well to showcase the mission. The director Atul Sabarwal did not make use of the solid story and his narrative is naive and does not impact you.
After all the hype, the climax and Bobby's revenge is not showcased well. Scenes wise, the film looks pretty good and has depth but there is no flow in the screenplay as it has no proper emotions. The emotional angle of Bobby and his wife does not create any impact at all. The film could have been superb drama but is spoilt by some wayward narration and looks abrupt in the end.
Final Word :
On the whole, Class of 83 is a cop drama that does not live to its hype and is only good in bits and pieces. The premise, performance, and visuals are top-notch but the narration is rushed and not gripping. Bobby Deol makes things interesting with his act but the key climax and emotions are missing making this realistic film a dull watch. Watch it only if you have nothing else to do
Rating: 2.5/5
Articles that might interest you:
Ad : Teluguruchi - Learn.. Cook.. Enjoy the Tasty food