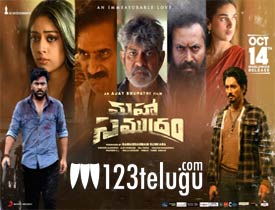 Release Date : October 14,2021
123telugu.com Rating : 2.75/5
Starring: Sharwanand, Siddharth, Aditi Rao Hydari, Anu Emmanuel, Jagapathi Babu, Rao Ramesh, 'Garuda' Ram
Director: Ajay Bhupathi
Producers: Sunkara Ramabrahmam
Music Director: Chaitan Bharadwaj
Cinematography : Raj Thota
Editor: Praveen KL
Maha Samudram is a film that has created a lot of hype for itself in the last few days. It has been released on a big scale today and let's see how it is.
Story:
The film is set in Vizag and is about two close friends Vijay( Siddharth) and Arjun(Sharwanand). Vijay has a girlfriend called Maha(Aditi Rao) and is on the lookout for easy money. After a tragic turnaround of events involving an underworld don, he runs away from Vizag leaving his pregnant lover Maha(Aditi Rao) and Arjun in deep problems. This is also the time Arjun is forced by his uncle Chunchu Mama(Jagapathi Babu) to take up smuggling in Vizag. Arjun takes the plunge and decides to take care of an upset Maha as well. When things seem to be going fine with his life, Vijay suddenly comes back with a vengeance to kill Arjun for cheating him. How all these problems are solved forms the basic story of Maha Samudram.
Plus Points:
The production values of the film are very good. The manner in which the film is set in Vizag also looks impressive. Aditi Rao looks good and suits her role well but she does not have much to do in the latter part of the film.
Siddharth makes a strong comeback and is good when he plays the baddie in the second half. Rao Ramesh is the best of the lot in his negative role. His look, dialogue delivery, and performance are top-notch in the film.
Saranya is neat in her role. Anu Emanuel is also effective in her small role. Jagapathi Babu once again impresses as Chunchu Mava. The camera work is quite impressive as the visuals are top-notch.
Last not the least, Sharwa does a superb job as Arjun. He shows good intensity in his role and carries the film on his shoulders. All his scenes with Siddharth are handled well.
Minus Points:
Maha Samudram has multiple demerits. Ajay Bhupathi's first film, RX100 had a strong conflict point and that is missing big time in this film. The story chosen is simple and there are not as many twists as expected.
Ajay Bhupathi has written terrific characters for each actor and also introduced them well. But the drama that is showcased between the characters in the second half lacks focus and has no depth. Siddharth leaves Vizag and not much is known about him. Jagapathi Babu's character graph is left incomplete in the end.
The second half is a letdown and the way the director handled Siddharth's character looks uneven and lacks clarity. He is also brought back late into the story and when everyone thinks there will be great animosity between the two heroes, things are ended in a jiffy.
Technical Aspects:
Technically, the film is quite strong and has great visuals. The production design needs a special mention and so are the dialogues. Music by Chaitan Bhardwaj is also good and so was his BGM.
Coming to the director Ajay Bhupathi, he has surely not lived up to the hype created after his first film. His canvas, actors, performances, and backdrop are perfect but the needed conflict and drama are missing in the film. When you expect great action, emotion, and confrontation to happen, Ajay loses control of the film and drags it for no reason.
Verdict:
On the whole, Maha Samudram does not live up to the hype created. The film has an impressive backdrop and scope for solid drama but they are not utilized well. Considering the good star cast and sincere performances, this film can be given a shot this festive season. But go in with your expectations in check.
123telugu.com Rating : 2.75/5
Reviewed by 123telugu Team
Articles that might interest you:
Ad : Teluguruchi - Learn.. Cook.. Enjoy the Tasty food