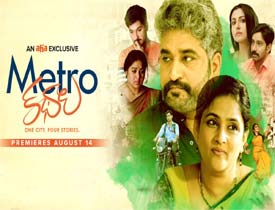 Release date : Aug 15th, 2020
123telugu.com Rating : 2.25/5
Starring : Gayatri Bhargavi, Rajeev Kanakala, Ram Maddukuri, Nakshatra, Jayasri Rachakonda, Nandini Rai, Ali Reza
Director : Karuna Kumar
Producers : Ram Maddukuri, Kiran Reddy Mandadi
Cinematography : Venkata Prasad
Metro Kathalu is an anthology kind of a film that has multiple stories. It has been promoted a lot and is out now on AHA. Let's see how it is.
Story :
The film has five stories. In the first story, a modern girl(Nakshatra) responds to her colleague's(Thiruveer) marriage proposal in a very weird manner. In the second story, a middle-aged woman(Sana) gets physically attracted to a young guy(Ali Reza). In the third story, a fed-up wife,(Nandini Rai) who is away from her husband encounters a health scare. In the last story, a Muslim man(Rajeev Kanakala) always fights with his wife(Gayatri Bhargavi) and disagrees to go to his friend's house. Why are all these characters behaving in such a way is the whole story of the film.
Plus Points :
In all the various stories, the one which makes a lot of sense is the Nandini Rai episode. It is emotional, has good drama and also a lot of pain which has been showcased well. Nandini Rai is pretty good in her role and performed well in her emotional role.
Rajeev Kanakala does well in his story with a very settled and mature performance. The first story is quite contemporary and is showcased in an interesting manner. The manner in which Nakshatra responds to her proposal is also shown nicely. Ali Reza is okay in his small role.
Minus Points :
The stories are a bit different and have decent backdrops but it is the narration which is disappointing. Except for Nandini Rai and the first story, the rest do no make any sense. It is unclear whether it is called a film or an extended short film where simple stories have been narrated.
The makers rush up things so much that there is no scope for needed drama. Most of all, the Sana and Ali Reza's block looks bad and has no emotional connection at all. This part is executed in a very bad manner. The title is Metro Kathalu but the city of Hyderabad is not used in any which way.
The stories had a very good scope to be made as a web series and showing them in detail. But the makers have rushed things in such a way that the film does not create any impact on you. The stories are not set up well and their endings are also dull. More clarity and some good drama in detail would have made a lot of sense.
Technical Aspects :
Looks like the film was made on a really low budget and this shows on screen. The production values, setting, and the way scenes are cut abruptly make this film look weird. However, the BGM of the film is really good. Dialogues are good so was the casting.
The film is based on the stories of noted writer Khadeer Babu but director Karuna Kumar does not make use of it well. His direction is jaded and emotions are rushed expect for Nandini Rai's episode.
Verdict :
On the whole Metro Katalau is an amalgamation of several stories that fail to click. The stories are good but the poor execution and lack of strong emotions, bad production values, and falter in narration make things go down. Except for Nandini Rai's emotional performance, this film ends a boring and dull watch during this lockdown. Ignore it.
123telugu.com Rating : 2.25/5
Reviewed by 123telugu Team
Articles that might interest you:
Ad : Teluguruchi - Learn.. Cook.. Enjoy the Tasty food