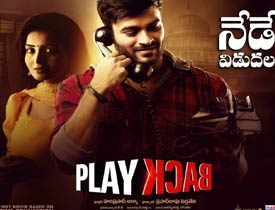 Release date : March 05, 2021
123telugu.com Rating : 2.5/5
Starring : Dinesh Tej, Ananya Nagalla, Arjun Kalyan
Director : Hari Prasad Jakka
Producer : Prasad Rao Peddineni
Music Director : Kamran
Cinematography : K Bujji
Editor : Bonthala Nageswara Reddy
Play Back- Good concept not handled properly/ Concept okay execution not okay/ Narration could have been better/ Narration dominates the concept
Continuing the trend, a small film titled, Play Back has also hit the screens today. Let's check how it is.
Story:
A crime reporter named Karthik( Dinesh Tej) comes to a house as a tenant along with his friend. Soon after, Karthik's focus shifts to an old model landline phone that is already there in the house. Within no time, the telephone rings and a lady named Sujata ( Ananya Nagalla) gets in touch with Karthik. Later, repeatedly, Karthik will be receiving from Sujata. Who is Sujata? What is her story? What is the common connection between Sujata and Karthik? What is the role of the telephone in the entire setup? To know that, you have to catch the film in the theatres near you.
Plus Points:
The concept of interlinking two different time periods by using a telephone as the platform in good. The scenes related to the same are executed in a decent manner in the first half.
Looks-wise, actor Dinesh Tej is good and his performance is okay in this concept-oriented movie.
Actress Ananya Nagalla is the show stealer as her natural acting and beautiful expression bring depth to the proceedings to an extend. All her telephone conversation scenes with Karthik are executed in a decent manner.
Tv5 Murthy and TNR are okay in their roles as baddies. Heroine Spandana, a child artist and actor Arjun Kalyan are okay in their roles.
Minus Points:
After an okayish narration in the first half, the core concept is coated with yet another subplot related to a murder that has not been presented in an engaging manner.
As Tv5 Murthy and TNR are the key people in the flashback murder mystery, a few more scenes related to them would have been added in the execution part to bring authenticity.
As the film jumps between 1993 and 2019 time zones, too many episodes related to this involving main cast will confuse the audience and dilutes the core concept.
Technical Aspects:
Director Hari Prasad Jakka's idea of drawing comparisons between two different time periods by using a telephone is good but he could have worked more on writing a better and easy screenplay for much better results.
Music by Kamran is good as his background score works at parts in the proceedings.
Cinematography by Bujji is decent and so is the case with editing work by Nageswara Reddy.
Production values for this low budget film are okay.
Verdict:
On the whole, Play Back is a family thriller that has a fresh concept that deals with a cross-time telephone conversation. Though the movie has a few interesting moments here and there, lack of proper narration in the second half comes as a speed breaker. Watch it if you have enough time during this weekend.
123telugu.com Rating : 2.5/5
Reviewed by 123telugu Team
Articles that might interest you:
Ad : Teluguruchi - Learn.. Cook.. Enjoy the Tasty food