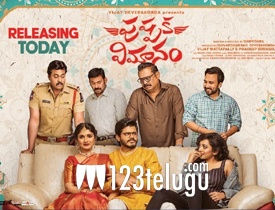 Release Date : November 12,2021
123telugu.com Rating : 2.75/5
Starring: Anand Deverakonda, Geeth Saini, Saanve Megghana, Sunil, Naresh, Harsha Vardhan & others
Director: Damodara
Producers: Govardhana Rao Deverakonda,Vijay Mattapally,Pradeep Errabelly
Music Director: Ram Miriyala
Cinematography : Hestin Jose Joseph
Editor: Raviteja Girijala

Pushpaka Vimanam was being promoted a lot by the Devarakonda brothers for the last few days. The film has been released today and let's see how it is.
Story:
Chittilanka Sundar(Anand Devarakonda) is a government school teacher who marries Meenakshi (Geeth Saini). But to his shock, Meenakshi elopes with someone else. Things get worse for Sundar when he comes to know a shocking truth about his wife. What is that truth? Where is Meenakshi? Why did she elope in the first place? To know all this, you have to watch the film on the big screen.
Plus Points:
With Pushpaka Vimanam, Anand Devarakonda takes a huge leap in terms of performance. He as a soft-spoken school teacher is impressive and does not go overboard. His body language, dialogue delivery, and the way he showed subtle emotions suit the character perfectly.
Geeth Saini gets a crucial role and does well within her limitations. But the other lead, Saanve Meghana is superb in her role. She is a very talented actress and will go a very long way in her career. Saanve has showcased good comedy and her expressions are also very neat.
Sunil does well in his cop's role but his character was dragged a bit. Naresh is quite good as the headmaster. The fun generated in the first half is quite good and the way both serious emotions and comedy is interlinked looks good. Kireeti is also good in his role and evoked decent laughs.
Minus Points:
After seeing the trailers everyone would think that the film is a laugh riot but it is not. The makers bring a murder mystery into the story and though it is decent, the execution should have been effective.
Sunil does well but the way he investigates the murder is over the top and has been dragged. Due to this, there is a lag in the second half and the final portions are wrapped up in a simple way instead of a bang.
Technical Aspects:
Production values of the film are decent and the camerawork showcases the mood of the film well. Music is a big plus and the way songs are brought into the narrative is impressive. The production design and the entire backdrop are good.
Coming to the director Damodara, he has done a passable job with the film. His story idea is good and he also executes the first half well. Damodara handles the emotions well in the second half but the way the investigation is done could have been showcased in a serious manner. He had more space to create comedy but he did not.
Verdict:
On the whole, Pushpaka Vimanam is a simple drama with decent fun in the first half and passable thrills in the second half. The film has good moments but the dull climax and lag in Sunil's character make the film go down a bit and end as just a passable watch.
123telugu.com Rating: 2.75/5
Reviewed by 123telugu Team
Articles that might interest you:
Ad : Teluguruchi - Learn.. Cook.. Enjoy the Tasty food
TAGS:
Anand Deverakonda
,
Anand Deverakonda Pushpaka Vimanam Review
,
Geeth Saini
,
Naresh
,
Pushpaka Vimanam Movie Rating
,
Pushpaka Vimanam Movie Review
,
Pushpaka Vimanam Movie Review and Rating
,
Pushpaka Vimanam Rating
,
Pushpaka Vimanam Review
,
Pushpaka Vimanam Review and Rating
,
Pushpaka Vimanam Telugu Movie Rating
,
Pushpaka Vimanam Telugu Movie Review
,
Pushpaka Vimanam Telugu Movie Review and Rating
,
Saanve Megghana
,
Sunil