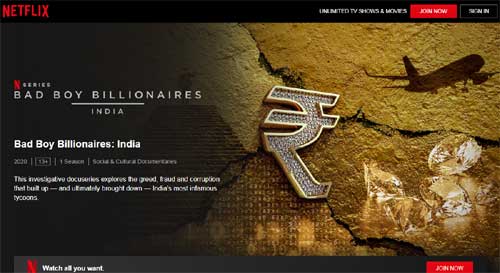 Based on : Vijay Mallya, Subrata Roy, Nirav Modi
Directed by : Dylan Mohan Gray, Johanna Hamilton
Produced by : Reva Sharma, Francis Broadhurst
Music by : Nainita Desai
Editing by : Dominic Coke
So, continuing the series of reviewing movies and shows during the lockdown period, our today's pick is the latest documentary series Bad Boy Billionaires, India. The series is available on Netflix and let's see how it is.
Story :
Bad Boy Billionaires is the Indian version of the popular international series with the same name and showcases the stories of business tycoons Vijay Mallya, Nirav Modi, and Subrata Roy, who were involved with big scams. Each story is close to an hour-long and showcases how these businessmen started from scratch and rose to the super richness and also came down like a pack of cards after cheating the government and public. The series also had the story of Rama Linga Raju, who owned Satyam Computers but as he filed a case, his episode has not been released as of yet.
What's Good
The first episode is about Vijay Mallya, a rich kid right from his birth. How Vijay changed the thought that social drinking was no more a taboo has been showcased superbly. How Vijay developed Kingfisher, how he launched his airlines, how it went into losses, and how he failed to even pay basic salaries in the end, all this is showcased quite dramatically and is super gripping. Vijay Mallya's grand bashes to his owning Formulae 1 team and how his empire came down, all this has been explained so well. More than anything his attitude to be the number 1 is shown in a detailed manner.
The second episode is the best part as it showcases how a small time diamond jeweler from Gujarat became one of the biggest diamond merchants in the world. How Nirav, in collaboration with Punjab National Bank raised huge loans to launch the biggest diamond stores in the world has been showcased so grippingly. Statements by the bank's employees, reporters, and close friends on how he became a rich man in no time make things so engaging in this episode. How Nirav Modi, ran away to London and how he was put behind bars and faces extradition to India is also nicely explained.
The last episode is about the super famous Saharasri Subrata Roy. How a small-time chit fund broker becomes of the richest in the country, how he used public money to build his empire through chit fund company has been showcased engagingly. How after a point, Subrata Roy became a self-proclaimed demigod for his people and how many assets he acquired is quite shocking. Like the above two, Subrata Roy did not leave India and stayed back after serving a two-year jail sentence.
What's Bad
All three episodes are showcasing some startling facts and the only small drawback is that things could have been explained in a bit easy manner for the common audience to understand.
Final Verdict :
On the whole, Bad Boy Billionaires-India is a gripping documentary web series showcasing the controversial lives of Vijay Mallya, Nirav Modi, and Subrata Roy. The manner in which the growth of these people, how they cheated the public with big scams is shown in a detailed and interesting manner. Many of us knew about these scams through the news but this documentary is a detailed step-to-step narration of the biggest scams that shocked India and ends as quite an intriguing watch.
Rating: 3.25/5
Articles that might interest you:
Ad : Teluguruchi - Learn.. Cook.. Enjoy the Tasty food