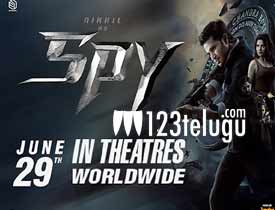 Release Date : June 29, 2023
123telugu.com Rating : 2.75/5
Starring: Nikhil, Iswarya Menon, Rana Daggubati, Sanya Thakur, Abhinav Gomatam, Aryan Rajesh, Makrand Deshpande, Jisshu Sen Gupta, Nitin Mehta, Ravi Varma, Krishna Teja & others
Director: Garry BH
Producer: K Rajashekhar Reddy
Music Directors: Vishal Chandrasekhar, Sri Charan Pakala
Cinematographers: Vamshi Patchipulusu, Mark David
Editor: Garry BH
Related Links : Trailer

Nikhil is back with yet another PAN Indian film named Spy. The movie is directed by famous editor Garry BH, and Rana played a cameo. Spy is about the death mystery of freedom fighter Subash Chandra Bose. The film has hit the screens today, and let's see how it is.
Story:
Khaadir (Nitin Mehta) is a most wanted terrorist who has become a big threat to India. RAW Agent Subhash (Aryan Rajesh) kills Khaadir, but under mysterious circumstances, Subhash too dies. RAW soon learns that Khaadir is alive and plans a mission to eliminate him. Jai (Nikhil) is one of the agents, who is the brother of Subhash. Jai has two objectives. The first one is to kill Khaadir, while the second objective is to find out who killed Subhash. What happened next? Is it RAW or Khaadir who got the upper hand? This forms the crux of the story.
Plus Points:
Nikhil once again is impressive with his neat performance in Spy. Nikhil looks good as a spy agent and performs with aplomb. He doesn't go overboard, and the young actor is terrific in all the action sequences. The actor gets nice support from Abhinav Gomatam. Abhinav gets a full-length role, and the actor is good at his part. His one-liners evoke a few laughs.
The cameo by Rana Daggubati is good. Though the cameo doesn't last long, it is effective. The way Rana explains the prominence of Netaji Subhash Chandra Bose is stunning. The cameo of Rana is followed by Azaadi song, and these portions generate interest.
Iswarya Menon is okay in her role. Sanya Thakur, Nitin Mehta, Markand Deshpande, and Ravi Varma did what was expected of them. Relatively the second half is better, as it has some decent moments.
Minus Points:
Though the movie has an interesting point about Netaji Subhash Chandra Bose, the makers didn't succeed in weaving a neat screenplay around it. The narrative is bland for the most part, and it doesn't excite us much. Those who expect thrilling moments will get disappointed due to the flat narration.
There isn't anything new that has been showcased here, and the movie is just another regular spy thriller. Things like honey trapping were not executed properly. Only there are a couple of scenes that talk about Subhash Chandra Bose, and the movie could have been better had the makers focused more on the unexplored side of the freedom fighter.
Aryan Rajesh's character is poorly written, as we don't get to see much of him. Hence Spy fails on the emotional front too. The way Jisshu Sengupta's character is designed is, again routine. Though a lot of action keeps happening, it doesn't really create any excitement.
Technical Aspects:
The background score by Sri Charan Pakala is not that great. Azaadi song is good on screen. The cinematography by Vamshi Patchipulusu and Mark David is pretty average. The visuals in a few scenes looked odd due to poor CG works. The production values are decent. The editing is alright.
Coming to the director, Garry BH, he did a below-par job with his debut directorial. Though the point taken has good scope, the makers resorted to cliches and delivered a regular spy thriller that hardly has any thrills. The movie also doesn't have any logics.
Verdict:
On the whole, Spy is a generic spy action thriller that doesn't have anything new to offer. Nikhil's sincere performance and a few decent moments here and there are its saving grace. The bland narration without any high or thrilling moments is the main drawback. It could have been much better had the makers concentrated more on Subhash Chandra Bose. Spy will end up being an okay watch, provided you keep your expectations in check.
123telugu.com Rating: 2.75/5
Reviewed by 123telugu Team
Articles that might interest you:
Ad : Teluguruchi - Learn.. Cook.. Enjoy the Tasty food