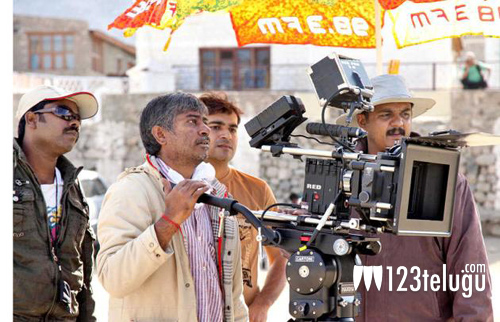 Chandrasekhar Yeleti has made a mark as a director who tackles interesting subjects. After a long gap, he is getting ready to test his fortunes with the film 'Sahasam'. In typical Yeleti style, the movie deals with an interesting subject. A treasure hunt is at the heart of his film and Chandrasekhar Yeleti is quite excited about the film's prospects. We caught up with him for an exclusive interview and had an interesting conversation. Read on to see what he had to say.
Q. You are testing your fortunes after a long gap. Are you happy with your efforts?
A. I am very happy with the product. I think it has come out well and I am optimistic about its chances. "Andhariki Nachuthundhi ane anukuntunnanu".
Q. You tend to pick unconventional subjects and films. Aren't you interested in chasing mainstream success?
A. (Smiles) "Nenu chesedhi kuda mainstream ane anukuntanu andi". Basically, I want to entertain them (viewers) for two and a half hours. Based on the subjects and budgets, some films may be geared towards multiplex crowds. If you take a concept film like 'Prayanam', it will be targeted towards a niche audience. But 'Sahasam' is different. It is a mainstream film with a mainstream hero. People will be entertained throughout the film. They will be hooked to the story.
Q. How did 'Sahasam' happen?
A. I saw a magazine article about property disputes dating back to the pre-partition era. I always wanted to make an adventure film and this article intrigued me. I built up an adventure story based on that line. What if someone from our place goes back to Pakistan to claim ancestral property? That journey will have a lot of hurdles. This is the base for Sahasam. When Gopichand and BVSN Prasad garu contacted me, I narrated this line and they immediately liked it.
Q. The scale of this project is big. Picking any of the top three heroes in the industry would have helped commercially. Why did you choose Gopichand?
A. Gopichand is a mass hero and I worked with him before. Like I said, I narrated this story to him when they contacted me and they instantly liked it. So we just went ahead.
Q. You shot some action sequences in Ladakh. How was the experience?
A. Ladakh is probably one of the most beautiful places on earth. It was quite tough to shoot there. But once you adjust to the climatic conditions, it becomes quite enjoyable. Fight choreographer Selva and his team of fighters did a great job and they put in a lot of efforts in that harsh climate. But the entire team enjoyed that schedule. There are a lot of places to capture visually in Ladakh.
Q. What role does Tapsee play in the film?
A. Tapsee has an important role in the film. She is the reason for the hero's journey to Pakistan. Her characterisation is quite interesting. She plays the role of a lady who is worried about the declining religious values in society. She tries to preach the importance of bhakti and religion in society.
Q. Gopichand told us that you insisted on Tapsee for this role. Any specific reason?
A. I feel Gopichand and Tapsee complement each other well. She is also a brave girl and she has done a good job in the action sequences involving horses etc.
Q. We have been hearing quite a bit about the film's special effects. What can you tell us about them?
A. The special effects in the film have come out very well. The last half an hour will have extensive visual effects. During the treasure hunt, we used CG work to make things interesting. Viewers will feel quite thrilled to watch them on screen. The team who worked on CGI and VFX will get a good name.
Q. The film looks quite grand visually. How did you manage that with our budget constraints?
A. As you said, budgets can go out of control when such projects are attempted. I must thank all my technicians for doing a fabulous job. There are so many technicians who put in a lot of efforts in order to make each frame look grand. For the money we put into this film, we definitely extracted a very grand product.
Q. Apart from films, what else do you enjoy doing?
A. I like to play with my kids and spend time with them. I keep watching TV, especially Nat Geo and things like that. I also read a lot. But hobbies keep changing from time to time. When we start doing research for a new subject, that will take up most of my time.
Q. Do you have any dream projects?
A. Let us say I have some scripts in mind. I have a few stories that I would like to showcase on the big screen. With growing budgets and scope of our films, someday I hope to make those films.
Q. Is there any particular hero you would love to work with?
A. I would love to work with Pawan Kalyan and Mahesh Babu. Their image and body language is closer to the kind of stories I write.
Q. So are you taking any steps to work with them?
A. I can't say anything for now. These things will depend on a lot of factors like success etc.
Q. What are your future projects?
A. I have some prior commitments to keep. So I am working on 2 – 3 stories right now. I hope to make my next film at a faster pace.
Q. Any specific message for viewers?
A. 'Sahasam' is not a brainy or intelligent film. It is a proper entertainer. Think of it as a typical Gopichand film with my touch. Watch it with an open mind and I am sure you will enjoy it.
With that, we wrapped up our conversation and wished Mr. Yeleti the very best for 'Sahasam'. He comes across as a very soft spoken and good natured gentleman. We hope you enjoyed reading this conversation folks.
Interviewed by Mahesh S Koneru
CLICK HERE FOR TELUGU INTERVIEW
Articles that might interest you:
Ad : Teluguruchi - Learn.. Cook.. Enjoy the Tasty food