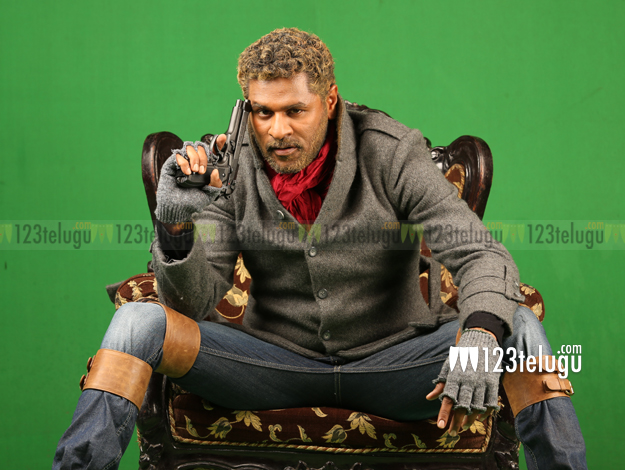 Prabhu Deva needs no introduction. The ace dance master and director is a household name in Andhra Pradesh. He has been enthralling movie lovers with his dances for over two decades now. Prabhu Deva has been making a name for himself in Bollywood as a director and he has two 100 Crore grossers to his credit. We caught up with Prabhu Deva for an exclusive interview. Read on to see what he had to say about his future plans, his comeback in Telugu and the reason for his extended stay in Bollywood.
Q. After all these years, you are still quite popular in Andhra Pradesh. You have a good fan following for your dances. How do you feel about this?
A. All I can say is, Thank You. Nannu inka gurthupettukunnandhuku chala santosham (Laughs). People are still showing me so much love after all these years.
Q. You have scored big Box Office hits in Telugu. But you have not directed a Telugu film since 2007. Any specific reason?
A. Nothing like that. I have some commitments in Bollywood and that is the reason for my absence. Nenu ekkadiki velthanu andi…Vacchesthaanu (Smiles) . Once I complete my commitments, I will come back.
Q. You seem to have found a comfort zone in Bollywood…
A. Nothing like that. As I said, it is just a question of commitments. I am comfortable in whatever industry I work in. I have very good comfort levels in the Tamil, Telugu and Hindi film industries.
Q. What makes you more happy? Dancing or teaching the art of dancing?
A. I like both. They give me equal satisfaction. But if you ask me what I like among acting, directing and dancing, I will say dancing. It is something that I enjoy a lot.
Q. Dance and choreography seem to be evolving very radically. What do you say?
A. About 10 – 15 years ago, roughly 1 in a 1000 used to dance well. About 5 years ago, it came down to 1 in a 100. These days, everyone is dancing well. So there is intense competition in this field. When there is so much competition, innovation and experimentation will happen. People will try out new dance movements. That is precisely what is happening now.
Q. As a director, who do you look up to for inspiration?
A. I like Shankar and K. Balachander sir in Tamil. In Telugu, I like Dasari sir and Raghavendra Rao sir.
Q. Among actors, who is your favourite actor in Telugu?
A. I have worked with almost all the actors in Telugu. Everyone treated me well in the industry. We have some very good actors in Telugu.
Q. You have worked with India's biggest stars. Who is the best dancer in India?
A. When it comes to dance, you cannot easily classify someone as India's best dancer. Each industry will have its own talent and taste. In Telugu, I have always been a very big fan of Chiranjeevi garu. In this generation, Jr. NTR, Allu Arjun, Charan and Ram are the best dancers. They are all doing a superb job. In Bollywood, Hrithik Roshan is the best.
Q. What can you tell us about Ramaiah Vastavaiah and Rambo Rajkumar?
A. I am happy with the output of Ramaiah Vastavaiah. The producer is happy and the technicians are happy. I hope the viewers also end up being happy after watching the film. As for Rambo Rajkumar, I have completed 80% of the shoot.
Q. Apart from films and dancing, what excites Prabhu Deva?
A. I don't know anything else apart from films and dancing. I just watch a bit of TV and some cricket once in a while.
Q. Do you have any dream projects?
A. Hmm, yeah. I want to make a horror film. I also want to make 'Ramayana' in 'Lord of the Rings' style.
Q. Wow. Are you making any efforts to bring these projects to life?
A. Not now. We need atleast 500 – 600 Crores to make such a film convincingly. Indian films now have 100 Crore budgets. In about 5 years, we will reach 500 – 600 crore budgets as our markets expand. I will tackle such subjects then.
Q. Do you think reality dance shows like 'Dhee' help upcoming choreographers?
A. Yes. If you notice, choreographers who participated in the first edition of 'Dhee' have managed to get some good film offers. So the show definitely helps budding choreographers as it gives them a platform to showcase talent.
With that, we wrapped up our interview and wished Prabhu Deva the very best for his future projects. The dancing legend's down-to-earth nature and friendly attitude made a very good impression on us. We hope you enjoyed reading this conversation folks.
Interviewed by Mahesh S Koneru
CLICK HERE FOR TELUGU INTERVIEW
Articles that might interest you:
Ad : Teluguruchi - Learn.. Cook.. Enjoy the Tasty food